---
Best Cookbooks Ever
---
Test of Time
The Joy of cooking comes at the top of the list of the best cookbooks ever! Its delicious recipes and tasty ingredients have stood the test of time, and this revised edition has elevated it to a new level! Written by Irma Rombauer, this book will teach you all you need to know about cooking.
Modern Requirements
Our tastes have changed since the first edition of Joy, so this update includes all the modern requirements for how to use the freshest produce and recipes for the health-conscious generation.
This top cookbook for beginners includes recipes for the basic home cook to those who want to try their hand at fine dining. Recipes for favorites like macaroni cheese are still in there, but our fascination with food from abroad is recognized. If you want to know how to make Asian street food or healthy vegetarian snacks, you will find the recipes in Joy.
Basic Knowledge
There is a chapter full of information describing the tastes, textures, uses, and storage of many products. The inclusion of "Rules" in some chapters will give new cooks the basic knowledge needed to produce successful dishes.
From cover to cover, The Joy of Cooking is filled with knowledge and passion. With a combination of old and new recipes, this edition promises to keep you cooking with joy!
---
Superb Volume
Mastering the Art of French Cooking is a superb volume that deserves a place of pride in every American kitchen. Even though it is more than fifty years old, it is still one of the most famous cookbooks in America's culinary history.
It was the first of its type and is classed as amazing because of the impact that it has had. The spirit of the author is infused in the recipes so it feels as if she is right there in the kitchen encouraging you to cook.
524 Recipes
With 524 recipes to choose from, there are methods that are suitable for beginners and complex recipes requiring masterful execution. Although it has plenty of detail, the recipes are easy to read and follow.
The authors: Julia Child, Simone Beck, and Louisette Bertholle have procured recipes of classic French dishes that impart the secrets of that delectable cuisine. The illustrations add a decorative touch and provide visual prompts for the cook. This elegant cookbook has timeless and universal appeal!
---
Ping Cuisine
If you are looking for simple recipes that produce delicious home-cooked food, then this is the must- have cookbook for you!
Mark Bittman scorns the pretentious gourmet cooks who, take hours to produce elegant plates of little substance, as much as he despises the "ping cuisine" or microwave culture.
1500 Recipes
How to Cook Everything has 1 500 recipes divided into sections that meet the tastes of most modern diners. He has included all the old favorites such as appetizers, salads, pasta dishes, and roasts but he gives hints and tips to change the flavors or add some twists.
This cookbook includes a glossary, measurement charts, and many illustrations and has engaging text. Bittman has managed to take the chore out of cooking for the family and put the enjoyment and flavor back in!
---
All the Favorites
They say that the old ones are the best, and that is certainly the case with this Better Homes and Gardens New Cook Book.
True, there have been several updates, but this particular edition is one of the best cookbooks because it has all the traditional favorites. Remember, the recipes that mom used to cook and you would hang around waiting to lick the spoon?
Straight to the Point
If you like bean salad, corn chowder, Spanish rice, or any of the potluck dishes that get cleaned out first, then look no further. Bakers rave about the best recipes for peanut butter cookies, ginger snaps, and yummy sponge pudding.
This cookbook is probably not for the gourmet chef who is only satisfied with fine dining. And in this edition, you will not find a section on international cuisine or vegetarian cooking. What you will find is a host of the best all-American family favorites.
---
Inspiring
If you can only afford to buy one cookbook, then you should choose this one by Cook's Illustrated Magazine. The New Best Recipe will inspire your cooking with thousands of meals that have been trialed in America's Test Kitchen.
For those of us who were not taught the basics of home cooking, The New Recipe is an answer to prayer. It provides the detail that ensures meals come out looking and tasting delicious.
Timeless Classic
This book will be useful for improving your skills in carving meat, beating, baking, and icing cakes to mention a few. The tutorials that are included, have illustrations and text that are simple to follow.
Because the recipes have been tested until they are perfect, you can be assured of success with every single one. The New Best Recipe is set to be a timeless classic in the kitchen!
---
All-Time Classic
Betty Crocker's Cookbook will surely go down as the best cookbook of all time! It's the one that mum's pack in when kids go off to college and it has been a favorite wedding gift for generations. This updated version of Betty Crocker's Cookbook is simple to use. With more than 1500 recipes, it is the only cookbook that you need. It is beautifully illustrated and has tips and hints to inspire all cooks.
Comprehensive Collection
Reviews of this traditional American cookbook are filled with thanks to Betty for creating such a comprehensive collection of recipes.
Some of the recipes tend to need a little extra seasoning, but this will depend on your taste. You should also remember that the food is designed for healthy home cooking and it is meant to cover international cuisine. Most cooks comment on how tatty their copies of this book have become through over-use. That is a great accolade for the Betty Crocker's Cookbook!
---
Feisty and Authoritative
Italians are passionate about their food and none more so than the late Marcella Hazan. Feisty and authoritative, Marcella was very strict about sticking to the rules when it comes to cooking Italian. She used her authentic knowledge from her homeland and produced the bestselling recipe book called The Essentials of Classic Italian Cooking.
If you follow her recipes to the letter, you are guaranteed to be whipping up classic tomato sauce, pasta, gnocchi, and risotto just like Mama used to make.
Worth the Effort
Forget about ever buying salad dressing again and remember to always use the best quality, fresh ingredients, and virgin olive oil! Some of the more complicated recipes require a lot of time and special ingredients, but it is worth the effort to be able to share genuine Italian food with your family and friends.
This top Italian cookbook will give you confidence as a cook because it covers all the basic techniques. Marcella Hazan has given American cooks an inspirational gift with her Essentials of Classic Italian Cooking.
---
Fusion
If you are looking for a fusion of classical French cooking with a dash of Californian sunshine, then look no further than this famous cookbook from the Zuni Cafe in San Francisco!
Judy Rogers trained in France and created her signature dishes at the Zuni Cafe. Fortunately, she also has a great writing style, so her combination of these skills has resulted in this cookbook. She has included her personality, wisdom, and passion in writing these recipes.
Unanimous Praise
The recipes range from simple crostini to dishes requiring skill, but never over-complicated or fussy. Always using the freshest ingredients, Rodgers teaches cooks how to make delicious stocks and sauces that give her dishes their unique flavor. One of the highlights of the book is the chapter on desserts. Once you have tried her oranges in a honey sauce with rosemary, you will be dreaming of it forever!
Reviewers of this bestselling cookbook are unanimous in their praise. It's an inspiration and an education all in one book. All the food is guaranteed to be delicious and will be savored and admired by anyone who is served a meal in your home.
---
Not Only For Vegans
If you have been struggling with food-related health problems, then you might want to take a look at one of the best cookbooks for vegans and others who want to eat healthier foods. The Oh She Glows Cookbook by Angela Liddon will provide you hundreds of delicious recipes that are predominantly dairy, gluten, and sugar (refined) free.
Easy to Follow
But do not fear! You will not miss all the additives and allergy-inducing ingredients because the food is delicious and healthy Liddon's explanations are easy to follow and her use of technical terms is precise.
The range of recipes is inspirational for all levels of cooks. There are also some delicious surprises like the nachos dip that was satisfying despite the missing cheese. Even non-vegan foodies will love these recipes!
You Will Not Be Disappointed
Some of the recipes in The Oh How She Glows Cookbook require the use of a food processor or a high-speed blender, so if you are going to make these delicious dishes, try to get top quality equipment to ensure the best results. Use the recipes from this amazing cookbook just as they are or substitute and adjust seasoning to suit your taste. You will not be disappointed with the finished products.
---
Masterpiece
When On Food and Cooking was published in 1984 it was declared a "minor masterpiece" by Time magazine. Harold McGee's understanding of molecular gastronomy is awesome and has changed how we view and taste food. It has helped countless cooks to gain new insights into the procuring, preparation, and presentation of food.
Science and History
On Food and Cooking lead the way in introducing a blend of science with the history of foods and cooking methods. Kitchen science takes a fascination with molecules and applies this knowledge to produce equipment and recipes that offer surprises in texture, flavor, and appearance.
Creative Recipes
On Food and Cooking is not just a cookbook, but a collection of fundamental facts that will form the basis of creative recipes for chefs who want to stand out from the crowd. Chefs are fascinated by the "neuro-anatomy" of flavor. This is the way our brains process the information that is passed from our nose and mouth.
---
Absolute Classic
If you have a sweet tooth, then this could be the best-sellers cookbook for you! How do peanut butter & jelly bars or chocolate cupcakes with peanut butter icing sound? If you are thinking that these recipes sound heavenly, you will be delighted with all the other superb recipes to be found in Ina Garten's Barefoot Contessa at Home cookbook.
Without any formal training, Ina bought a specialty food shop in 1978 and created a successful business for food-lovers. After selling the shop, she wrote her first cookbook filled with recipes from The Barefoot Contessa store.
Simple and Elegant
Her style of cooking is simple, yet elegant. The recipes are not for those who prefer the low-fat option, and she includes plenty of butter and other ingredients to ensure that the food always tastes delicious.
This cookbook is also a reflection of Ina's personality and her home. The inspiring photos and tips for entertaining at home are a bonus. The Barefoot Contessa at home is a cookbook full of ways to share your love of cooking with your family and friends.
---
All You Will Ever Need
The Silver Spoon (Il cucchiaio d'argento) is a bestselling cookbook featuring more than 2000 recipes of authentic Italian cooking. From basic sauces and marinades to game, fish, and pasta dishes, this is the only Italian cookbook you will ever need in your kitchen.
This book does not use flowery language to describe methods and ingredients. It is assumed that they will always be the freshest items available.
Slightly Challenging
Some of the ingredients needed are a little exotic, like the Woodcock and truffle meal for example, and may not be available in your local supermarket.
Methods are succinctly stated without illustrations or photographs. A novice cook may find using some of the recipes a bit challenging if they lack the basic skills required for Italian cooking. Highlights of this cookbook include "signature dishes" created by renowned Italian chefs that will bring a sense of "la dolce vita" to your dinner parties.
---
Helpful Basics
Vegetarian Cooking for Everyone is one of the best recipe books for vegetarians and meat-lovers alike! As a novice cook, you can learn so many helpful basics from this informative book. You will not be disappointed with the variety of vegetarian recipes.
This is the go-to book for any cooking technique that you need. Whether it be green vegetables, grains, or corn, you will find out how to cook it to perfection. It is straightforward and there are no fancy photographs or illustrations.
Become More Confident
There are alternatives to the dishes and tips on flavor matching, so as you become a more confident cook, you can adjust flavors to suit your taste. Madison understands how to do the basics well and explains how to prepare exotic vegetables or how to make a delicious vegetarian soup.
She is brave when trying different cuisines, but also respects the traditional aspects of recipes. She knows how to balance spices to create intriguing flavors and you will want to join her in making the vegetable element the highlight of the plate!
---
Half a Century
When searching for the top cookbooks with healthy, natural, and delicious foods, you will inevitably find The Moosewood Cookbook at the top of the list!
Written by Mollie Katzen, this book originated from the Moosewood Restaurant in New York where they have been serving creative, natural vegetarian dishes for almost half a century.
One of the Most Significant
The Moosewood Cookbook has become one of the most significant cookbooks of this generation. When it was first published in the 1970s, only the ultra "cool" set knew what samosas and guacamole were, and being vegetarian was certainly not commonplace.
American hippies were introducing a variety of healthy products and the use of the freshest produce to us all. We take all of this for granted at this time when we can get global ingredients from the nearest supermarket, but it was the Moosewood Cookbook that pioneered the style of healthy eating.
---
Intuitive
This intuitive cookbook is one of the best recipe books simply because it offers recipes for simple food that tastes delicious and is also a feast for the eyes!
Think of soda bread made with just four ingredients or a cauliflower salad with olives and capers and you will say that such a dish can't be too difficult to assemble.
Creative
However, it is all in the knowledge of how to balance flavors to achieve the most delicious meals. Alice Waters is a genius chef and she knows how to write about food. This is a book for a creative but laid-back cook who wants to deliver inspired food without any fuss.
---
Test of Time
The Fannie Farmer Cookbook is one of the best traditional cookbooks and it has stood the test of time. It was originally published in 1896 and it became the ultimate cookbook for teaching Americans how to cook.
Marion Cunningham updated the book in 1979, and while still maintaining the traditional feel, she brought it up to date with today's culinary tastes.
Insider Knowledge
The author has the characteristics of a good teacher and provides tips and insider knowledge that will delight cooks of every skill level.
This cookbook is a treasure trove of delicious traditional American fare that everyone wants to eat. If you want to cook Boston Baked Beans, Pumpkin Soup, or Anadama Bread, you will find the recipes here.
---
Food Philosophy
"This should be the year in which I think carefully about everything I put in my mouth." This is how Nigel Slater begins to describe his food philosophy in The Kitchen Diaries. He tells of his sad childhood with memories of tasteless food served without passion.
This famous cookbook will not only give you insights and inspirational recipes, but it also invites you into Nigel's kitchen and this brilliant chef's mind. His passion for fresh ingredients means that he never shops in supermarkets, and he chooses products by how they look and smell, as well as how they taste.
Enjoyment
His food is meant to be eaten for enjoyment rather than just sustenance. Using plenty of seasoning, butter, and cheese, the dishes are for sharing and making memories with people and places.
Nigel loves the food of warm climates and his kitchen is filled with light, sounds, and delicious aromas that make it more than just a place to prepare food. The Kitchen Diaries is beautifully written and like Nigel's food, it is uplifting.
---
From Novice to Professional
If you are passionate about the art of baking then The King Arthur Flour Baker's Companion is going to be the best recipe book for you. It will take you through his repertoire of baked goods and recipes and have you leavening, kneading, and shaping to your heart's content!
This baker's companion covers everything you need to know about making doughs of every shape and description. Including global bread trends as well as the everyday staples for the novice to the professional.
Intensive Research
King Arthur Flour has been making flour for the past 200 years and after intensive research on the science of baking, they now give you 350 recipes that have been trialed in their test kitchens.
The King Arthur Flour Baker's Companion packs in so much information and plenty of baking secrets to ensure that you can delight your family and friends with America's favorite baked goods.
---
Must-Have
Giada De Laurentiis has produced a must-have cookbook that will enable you to produce fabulous simple food that packs maximum flavor.
Everyday Italian is the best cookbook if you have little time, but you still like to cook meals for your family from scratch.
Simple Ingredients
You do not need a long list of exotic ingredients to prepare these dishes. Giada uses the things that everyone has in the kitchen and whips up sauces, pesto, roasts, and desserts for family dinners that will delight everyone.
Soon you too will be serving up baked pasta, stuffed vegetables, or a luscious tiramisu. Everyday Italian lives up to its title and you will be able to make Italian meals that are "delizioso".
---
Unexpected Humor
With unexpected humor and flair, Alton Brown has produced one of the best cookbooks ever! He brings his inimitable style to food and cooking.
Combining pop culture and the technical aspects of the science of cooking, I'm Just Here for the Food will have you giggling as you prepare his delicious dishes.
Master the Style
This quirky cookbook has diagrams, captions, and plenty of tips to enable you to master his style of cooking.
Each unit contains a master recipe such as Skirt Steak or Pot Roast and in this way, Alton teaches you how to cover the basics and the skills needed to take his dishes to the next level. It is not often that a cookbook is called funny and animated, but just like the author, I'm Just Here for the Food is unconventional and bubbly.
---
Wonderful Supply
Everyday Food is a wonderful supply of recipes for busy cooks. Anyone who cares deeply about the food they eat and who demands great taste with every mouthful, is the intended audience. Martha Stewart has lovingly produced this amazing cookbook that is jam-packed with tasty traditional food.
Seasonal cooking is the theme of this recipe book so that the cook can obtain the freshest ingredients available at a particular time of the year.
Nutritious and Delicious
Summer brings salads, grilled meats, and quick pasta sauces, which are quick and easy to prepare for parties and outdoor fun. In the fall, everyone will love the broccoli, chickpea and tomato salad and there is a hearty selection of soups for winter.
Martha Stewart has produced a glossy cookbook that has been voted as the best cookbook ever for on-the-go people who desire nutritious and delicious food, as well as providing inspiration for the home cook who has to produce family meals on a daily basis.
---
Very Detailed
This pair of authors have taken their passion for baking bread and created this detailed and well- written best-seller cookbook. Jeff Hertzberg and Zoe Francois are a doctor and pastry chef combo and they have applied their skills to making this helpful guide to baking.
The information about the ingredients, tools, and methods is broad and the inclusion of key points and photos helps to clarify complicated concepts. The problem-shooting chapter will probably be the most-used section of this book!
All the Shapes and Sizes
The varieties of bread recipes are vast – from their no-knead bread recipe to exotic loaves using different grains such as brioche and challah. Can you imagine being able to whip up a plate of delicious sticky buns the next time a friend pops in for a cup of coffee?
The no-knead bread is really simple to make. Adding a large tablespoon of yeast and then leaving it to rise for a short fermentation period means that you can bake a loaf of bread in a relatively short time. This pliable dough can be made into interesting shapes, allowing the baker to be creative. You will not be disappointed with the results!
---
Stylish Recipes
The Silver Palate Cookbook is a classic cookbook that has brought stylish recipes for fancy dinner parties in countless American homes. This is the perfect gift for anyone who aspires to be a stylish cook and hostess.
It contains 350 remarkable recipes that require the freshest ingredients and perfect seasoning that will delight any cook. It is also packed with information about how to use exotic ingredients as well as the homegrown variety.
Sheer Delight
The authors, Julee Rosso, Sheila Lukins and Michael McLaughlin, have included menus, quotations, and cooking traditions that make this one of the best cookbooks of all time! The old elegance of The Silver Palate Cookbook will never go out of style.
This is the perfect cookbook for any chef who enjoys fine dining and wants to create meals that will delight family and friends. The dishes are elegant and refined and it included serving suggestions for every occasion.
---
Essential Indeed
Cooks love The Taste of Home Cookbook by Janet Briggs and Beth Wittlinger. The reason for this accolade is because it is stylishly packaged and a rich source of recipes for cooks of every description. It is not called an essential cookbook for every American home for nothing!
From the "Kitchen Basics" chapter to cooking techniques and serving suggestions, this ring binder has every recipe you will ever need for home cooking.
Hours of Reading Pleasure
The gorgeous luxury recipes will be perfect for when you are entertaining. With recipe cards to jot down notes and fabulous color photographs, this cookbook will give you hours of reading pleasure as well as inspiring you to cook.
A unique addition is the inclusion of the nutritional details for each dish. There are recipes for the old favorites as well as some interesting international recipes for those with more exotic tastes.
---
800 Recipes
The New Book of Middle Eastern Food is one of the most famous cookbooks because when Claudia Roden published it in 1972, the food of the countries in the Middle East was relatively unknown in the rest of the world.
The 800 recipes of healthy fresh meals, as well as the necessary information to place the dish in the context of the place where it originated from, is a delightful read. Roden writes beautifully and with a charming intimacy.
Both Simple and Challenging
Many of the recipes in The New Book of Middle Eastern Food are light, vegetarian dishes, but some are more complex and have challenging techniques. Roden has included recipes for appetizers and salads and many that include yogurt as the main ingredient.
If you want to try making Persian sauces on rice then look no further than this amazing cookbook for all the exotic flavors of this region. It is no surprise that Roden has won awards for cookery writing and this book is a sure-fire winner!
---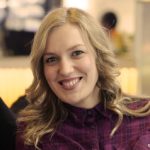 Alissa is an avid reader, blogger, and wannabe writer. (She's a much better cook than a writer actually). Alissa is married, has one human, one feline, and two canine kids. She always looks a mess and never meets a deadline.