---
Best Italian Cookbooks
---
By Italian Mama
The Essentials of Classic Italian Cooking is described as being amongst the best classic Italian cookbooks and should be on your kitchen bookshelf if you are a fan of Italian food. Marcella Hazan was your typical Italian mama and she ruled her kitchen with an iron rod. She believed that you had to get the basic right and would not stand for any compromising when cooking the food from her motherland.
Authentic
When she moved to America, she took her cooking knowledge and applied it to the letter. Now you too can be making authentic Italian dishes like tomato sauce, pasta, gnocchi, and risotto for your family and friends with this amazing essential Italian cookbook. You must use the best, fresh local ingredients and make everything from scratch, just like Marcella Hazan.
---
2000 Recipes
The Silver Spoon contains more than 2000 authentic Italian recipes that will have you singing opera as you cook them. The Silver Spoon has a recipe for every Italian sauce, marinade, appetizer, main, and dessert that you could ever dream of making. You only need The Silver Spoon on your bookshelf if you want to cook Italian food.
Straightforward
This is a straightforward cookbook, and the recipes are easy to follow. If you have not yet mastered the basics of Italian cooking, you may find some of the dishes a little challenging to cook successfully the first time. Some famous Italian chefs have shared their recipes in The Silver Spoon and their dishes will add a certain flair to your dinner parties!
---
Belle of the Ball
Of all the best new Italian cookbooks, Lidia's Celebrate Like an Italian is the top! Lidia Bastianich is the belle of the ball when it comes to entertaining. She knows how to make her guests feel welcome and they always leave talking about her delicious food.
Now you can learn all her tips and tricks from her latest Italian cookbook.220 recipes are designed for celebrations. Just try her Pear Bellinis, Campanelle, or Berry Tiramisu and you will feel like dancing.
Tips and Tricks
Lidia also throws in lots of advice for getting the party mood with tips on table settings and choosing the right wines. Now you will be celebrating festivals like the best Italians and everyone will enjoy your barbeques, picnics or large family gatherings. The beautiful color photographs will guide you as you recreate her delicious, yet simple recipes with this best Italian cookbook.
---
Traditional
La Cucina is one of the most authentic old Italian cookbooks available today. For a group of Italian scholars, it became imperative that they preserve the art of traditional Italian cooking. They founded the Italian Academy of Cuisine and set about collecting classic recipes from all the regions of Italy.
They sought out recipes from the elders in villages where the recipes had been handed down from generation to generation. They found that they had seldom been written down.
Specific Regions
The 2000 recipes that they collected were categorized according to regions and they discovered an amazing fact. Each region has its own customs, ingredients, and methods that change with the diverse geography of the different parts of Italy.
The traditional recipes are simple and wholesome. The food reflects the customs and folklore of the regions so La Cucina has become a collection of recipes that have kept Italians happy and healthy for generations. La Cucina is one of the vintage Italian cookbooks on traditional Italian cookery.
---
Words of Wisdom
"When you have good ingredients, you don't have to worry about cooking. They do the work for you." – Lucia, 85
Italian grandmothers only know one way to cook, and that is with love. Pasta Grannies by Vicky Bennison is in the top-rated Italian cookbook collection because it is something special. It is a collection of secret recipes that have been passed down from one generation to another.
All Kinds of Pasta
In the Pasta Grannies you will get 80 authentic Italian recipes from every region, and what Italians learn at their Nonna's knee is what you will have access to through this wonderful cookbook.
The first skill to be mastered is pasta making and you will make every different type from pici to lumachelle della duchessa – tiny cinnamon-scented tubes that require fine motor skills. Wrapped around these recipes are the folk tales and Cucina secrets like two warm, sun-kissed arms of a Pasta Granny. Let's now move further with our best Italian cookbook reviews!
---
To the Point
Frances Mayes's love affair with Tuscany is evident from the first page of The Tuscan Sun Cookbook. And more to the point, her love of Italian food is at the heart of this prime example of the best authentic Italian cookbooks.
Life in Italy revolves around food. Whether it is the growing of it, the preparation, or the cooking of delicious meals, it is pretty much what they live for. And it has been said that one should never, ever get between an Italian and his lunch!
Opposites Attract
If you have observed the grandiose style of the architecture, art, and music of Italy then the food is going to come as a bit of a surprise. It is very simple. Italians have been foraging since time immemorial and freshly picked chestnuts, almonds, blackberries, porcini, and truffles are staples in the culinary tradition.
This is one of the famous Italian cookbooks that will enchant and delight you with its beautiful photographs and dishes that will fill you to the brim with the most simple, yet tasty food imaginable. Rustic Tuscan food at its best!
---
Culinary Adventure
Rachel Roddy arrived in Rome in 2005 as a tourist, but she fell in love with the area of Testaccio and spent a year soaking in the sights, smells, and tastes of the delicious Roman food. My Kitchen in Rome is her retelling of a culinary adventure in the Eternal City.
This is not only one of the best Italian cookbooks, but also a travel guide to take you down the ancient Roman streets and into Rachel's tiny Italian Cucina. She shares how she shopped for fresh ingredients and prepared typical dishes of the region.
Remarkable Flavors
You will hear her stories of getting acquainted with this ancient, yet thoroughly modern city and taste the remarkable flavors that are part of authentic Roman cuisine. Imagine thick bean soups, handmade pasta, and tender, juicy meat dishes. If you cannot afford to visit Rome, then Rachel's cookbook, My Kitchen in Rome is the next best thing!
---
Renowned Authors
If you are looking for the best classic Italian cookbook then do not miss Lidia's Mastering the Art of Italian Cuisine. Lidia Matticchio Bastianich is a renowned author and presenter of Lidia's Kitchen, and with her daughter, she has created a complete guide to cooking Italian style food. You are in good hands with Lidia as she will teach you how to equip your kitchen and cook hundreds of delicious Italian meals.
Invaluable
With Lidia as your teacher, you will soon be whipping up risotto, tagliatelle, gnocchi, and ravioli with authentic Italian flavored sauces. There are also recipes for cooking meat, fish, fruit, and grains, as well as the essential spices that are needed in the Italian kitchen. The glossary that has been included is invaluable for cooking, and will also be a useful companion on your travels through Italy. It is one of the best-rated cookbooks from Italy you will ever need to buy.
---
Masterpiece
Marc Vetri is a famous Italian chef and he desired to write a book about pasta. After ten years he produced called Mastering Pasta, and it is a masterpiece! Including more than 100 recipes, Marc will inspire you with his expert knowledge and love of Italy and Italian pasta. If you want to learn how to make fresh pasta from scratch, including basic techniques to pasta for fine dining, then Mastering Pasta is the cookbook for you.
Mouth-Watering Flavors
Before long you will be stuffing and baking pasta in mouth-watering flavors. You will also have the insider tips for making perfect gnocchi and risotto. Cooking is about science and magic, and that is what Marc Vetri delivers with this one of the best professional cookbooks from Italy.
---
Tuscan Style
What do you get if you combine a traditional Italian cook with a sassy New York City foodie? You get one of the best Italian cookbooks to be found today! These two cooks and writers have combined forces to create Extra Virgin so that they can share their rustic Tuscan cooking style with you.
Gorgeous Food
This simple Italian cookbook is about sharing gorgeous food around the table with those you love. Your taste buds will be delighted with a sample of their Pecorino and Honey Dip, a sweet and salty appetizer; tart Grilled Apricots with Goat Cheese Ricotta, which was inspired by the wild apricot trees found in Tuscany; and simple Sausage and Beans, offering a hint of fennel in a traditional red sauce. Extra Virgin is bursting with love of the good life and good food.
---
Your Personal Guide
If you have been searching for the best Italian cookbooks of all time then look no further than The Pizza Bible for your guide to creating all the original and best-loved pizzas.
Do you start salivating at the mention of a Neopolitan, a Roman, or a Chicago? Tony Gemignani is a Guinness world record-holding pizza spinner and he can teach you a thing or two about making pizza! Pizza is simple food, but you can learn to elevate and personalize your pizzas to make them one of a kind.
Pure Pleasure
You can mix them up or go "old school", as long as you get the basics right. That is where the master of pizza making, Tony Gemignani, comes into his own. The Pizza Guide will give you hours of creating and eating pleasure – all within the confines of your kitchen. Why not have a pizza making competition and use the recipes from this book to impress your friends? One of the best-reviewed cookbooks from Italy!
---
Fast and Tasty
Most of us home cooks just want to produce something that will make our family happy every night of the week so that we can send them to bed knowing that they are well-fed and healthy.
That is the same wish that every Italian Mama has, and so Everyday Italian was created to help you achieve your aim. Giada De Laurentiis understands what it is like to provide good food and have it on the table fast. That is why Everyday Italian is one of the best Italian cookbooks around.
Every Day of the Week
You will never be caught short if you stock your kitchen with the staples that she recommends and you will be able to produce appetizers, kinds of pasta, roasts, and vegetables to bring to the family table. Simple Italian cooking, at home, is a possibility for you and your family every day of the week with this one of the best everyday Italian cookbooks!
---
Spin-Off
Laura Vitale moved from Naples, Italy to the USA when she was just twelve years old. She put all her energy and homesickness into cooking recipes she had learned at her Nonna's side. After helping out in her father's pizzeria, she was led to launch an online cooking show called "Laura in the Kitchen". This cookbook is a spin-off from her show and it is the best new Italian cookbook available now.
Delicious
You will find 120 of the most delicious, but simple recipes that are a fusion of Italian and American cooking culture. Laura's lovely personality shines through and her fans love her as much as her cooking! Laura in the Kitchen is one of the great Italian cookbooks for everyone and has recipes that range from day to day favorites to an Italian feast with all the required courses.
Got You Covered
You will not find anyone who is not impressed with Tortellini with Pink Parmesan Sauce or One-Pan Chicken with Potatoes, Wine, and Olives. From delicious appetizers to sides like Cheesy Garlic Bread, and desserts, Laura has it covered. Words cannot describe the No-bake Nutella Cheesecake so you just have to give it a go!
---
Authentic
Rosella Rago is the envy of anyone who loves Italian food because she has had the authentic experience of learning to cook the Italian way from her Nonna. This is one of the best-selling Italian books about cooking that will teach you everything you need to know about cooking for festivals throughout the year in Italian style. And believe me, the Italians know how to throw a party!
Something for Everyone
Cooking with Nonna: A Year of Italian Holidays will provide you will all the recipes you need to cook Struffoli, Christmas Fish, Manicotti, Cannelloni, Cannoli Cheesecake, and more. Having gathered the favorite recipes of Nonna's from every region of Italy, Rossella is confident that there is something for everyone in this best Italian cookbook.
Insider Tips
Insider tips from the Nonna's will have you cooking for a crowd, as well as Rosella's signature dishes. There isn't a single cause for celebration that has been overlooked in this comprehensive cookbook. Italian's are all about family, and this top Italian cookbook is all about making sure your family has the most superb Italian food for all your special celebrations.
---
Wholesome Italian Food
Anyone who needs comfort food will benefit from wholesome Italian food. It is always made from fresh, local ingredients and the rich, strong flavors will always bring love and nurturing to those who eat at your table.
If you are looking for the popular cookbooks from Italy, keep reading! The Italian Cookbook for Beginners is almost as good as learning to cook in your mama's kitchen and will undoubtedly bring joy to you and your family.
Italy in Your Kitchen
Salinas Press has brought together over 100 recipes in this one of the favorite Italian cookbooks. With this cookbook, you will have all the knowledge you need to resource and cook the best, yet most simple Italian dishes. The Italian Cookbook for Beginners will show you how to cook delicious meals that are affordable and will bring the aromas and flavors of Italy to your kitchen.
---
Tantalizing Delights
Straight from the oven of Sweet Maria's Bakery comes an example of the best Italian cookbooks ever that will provide you with sixty-five tantalizing festive delights for every special occasion. Your cookie-making dreams will come true with Sweet Maria's Italian Cookie Tray Cookbook.
Maria Bruscino Sanchez opened her bakery when she was twenty-six years old and has turned it into a thriving business. Using recipes that she gleaned from Italian upbringing, she has now turned her hand to creating this best authentic Italian cookbook.
Singing Opera
Find out how to replicate her drop, molded and cookies filled with creamy delights. Soon you will be making biscotti, taralle, pizelles, and many more Italian-style cookies than you and your family ever dreamed of. Do you fancy Chocolate Almond Macaroons, Pignoli Nut Cookies, or Ameretto Biscotti? This Christmas you could gift your family and friends with Christmas Honey Clusters or Angel Wings!
Your cookie jar is going to be singing opera when you lift the lid on these scrumptious cookies from Sweet Maria's Italian Cookie Tray. Without a doubt one of the top Italian cookbooks.
---
Secrets Unveiled
Carmine's restaurant in Times Square has the reputation for serving the best Italian food and now they have produced one of the best Italian cookbooks based on the recipes that they serve there with confidence.
Michael Ronis will introduce you to the traditional ingredients and seasonings that give their Italian food the smack of flavor from mama's Cucina. This traditional Italian cookbook holds all the tips and secrets you need. Soon you will be able to serve this quality Italian style food in your kitchen!
Spectacular Range
The recipes in this one of the top-recommended cookbooks from Italy include appetizers such as Carmine's renowned Caesar Salad, Pasta Marinara. Salmon Puttanesca and Shrimp Fra Diavolo. There are delicious sides like Spinach with garlic to Creamy Polenta, and do not miss the spectacular range of desserts like Chocolate Bread Pudding and Titanic Ice Cream Sundae!
This is the type of Italian food that American's love to eat and it is a warm reminder for many of their close ties with their ancestry. Carmine's Family-Style Cookbook will draw you into the bosom of mama's kitchen.
---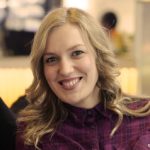 Alissa is an avid reader, blogger, and wannabe writer. (She's a much better cook than a writer actually). Alissa is married, has one human, one feline, and two canine kids. She always looks a mess and never meets a deadline.