---
Best Air Fryer Cookbooks
---
Answer to Your Cravings
If you love the taste of fried food and wish that you could have it whenever you like without the health problems and guilt, then The Skinnytaste cookbook is going to be an answer to your prayers. Gina Homolka understands your cravings and she had produced The Skinnytaste cookbook just for you! If you are new to this sensational new kitchen appliance, do not fear. This cookbook will have you cooking healthy, tasty food in no time at all.
You Won't Be Disappointed
With the air fryer, you will get the taste and texture of deep-fried food without the artery-clogging side effects of traditional deep frying. You can enjoy Avocado Egg Rolls and Coconut Shrimp starters. For your main dishes and desserts, you will not be disappointed with the roasted meats, vegetarian, and keto menu suggestions available in one of the most versatile air fryer books available today.
---
For Everyone
Jenson William understands how much we all want simple, fried food without the guilt and the calories. That is why he has brought us this amazing cookbook with 600 recipes for those who are newbies and the veterans who have been using an air fryer for a while. You will be amazed at the number of meat-based recipes for the air fryer as well as the snacks, desserts, and vegetarian recipes that are included.
Time Is on Your Side
It's hard to believe that you can have such delicious food and be healthy at the same time! We all know that slow-cooked food tastes good, so our expectations of the fast-food produced by the Air Fryer may be a little reserved. Time is on your side with the Air Fryer Recipes Cookbook so you can now prepare quick, easy, and tasty food to suit your new healthy-living lifestyle.
---
Expect the Unexpected
For many cooks, the Air fryer arrived on the cookery scene and did not get the respect it deserves. Until we all appreciate the health and convenience advantages of this revolutionary way of cooking, the top air fryer cookbooks will be waiting in the wings to enthrall us with their amazing recipes.
It's time to open your mind and expect the unexpected. Mixed Berry Muffins for breakfast? Done! Zucchini Melts for lunch and Spicy Thai Beef Stir-Fry for dinner? All of these recipes and more are available in this cookbook by Linda Larsen. This cook claims that the air fryer is "an all-purpose cooking machine".
100 Recipes
Just try a couple of the 100 recipes in this cookbook and you will be sold on this unique way of cooking. You could make omelet in Bread Cups or Sweet and Hot Chicken Wings. Indulge on Chocolate Peanut Butter Molten Cupcakes and you will never look back! Let's now move further with our air fryer cookbooks review.
---
Perfect for Beginners
If you are interested in buying only the best air fryer cookbook then this one by America's Food Hub is going to give you everything you desire and more! Can you imagine having hundreds of Air Fryer recipes at your fingertips? Well, this perfect cookbook for beginners is the most up-to-date, comprehensive cookbook for this popular appliance.
All these Air Fryer recipes are designed to be quick and easy to prepare and will suit people who are cooking healthy family meals on a budget.
Categories:
Breakfasts and Brunch
Poultry, Fish, and Seafood
Appetizers and Desserts
Vegan and Vegetarian dishes
Meat-based dishes
Simple and Easy
This not a cookbook for fine dining. The ingredients are simple and easily available. Each recipe has nutritional information, the number of servings, and timings. This makes it the ideal gift for anyone who is just starting on their Air Fryer cooking adventure.
---
Throw Away the Frying Pan!
You know that if you want to buy the top-rated air fryer cookbooks, America's Test Kitchen is sure to have produced the top recipes for you. All the recipes in Air Fryer Perfection have been tried and tested until they achieve perfect results.
In Air Fryer Perfection you will get 75 recipes that will have you using this appliance for every meal – not just to replace the frying pan! From breakfast to dinner, you will be using your Air Fryer to whip up meals in a fraction of the time it used to take.
Wide Range of Meals
And, you may be surprised to learn that you can make a wide range of meals than you previously believed. Steaks cook perfectly, you can roast Butternut Squash and even get crispy results from frozen goods. There is something for everyone in the family in this amazing cookbook, and even the kids will be thrilled with their "fried" meals and snacks that only you know are a healthy option!
---
All You Need to Know
Any collection of the best air fryer cookbooks would not be complete without Air Fry Everything by Meredith Laurence. For newbies to the air fryer craze, this cookbook will provide you with everything you need to know about making the most of this healthy way of cooking.
Now you and your family can enjoy those crispy fried foods that you love without the worry of blocking your arteries. But the air fryer is a versatile kitchen appliance and Air Fry Everything will soon have you cooking delicious meals like Beer Battered Onion Rings, Chicken Wings, Skinny Fries, and Crab Cakes.
Simply Unbelievable
When surprise guests arrive you can rustle up appetizers and desserts that you never dreamed were possible to make in an air fryer. The best thing about these recipes is that they take hardly any time to cook, so busy families can have their food fast and fabulous in minutes.
Meredith Laurence's air fryer cookbook will give you all the hints and tips for getting the best results from your air fryer and it will not be one of those appliances that get stuck up on a shelf or tucked away in a cupboard. Along with this cookbook, it will be your new best friend in the kitchen!
---
Simple and Informative
Paula Deen's cookbook is indispensable for all users of this versatile kitchen appliance. Beginners will find it simple to use and informative, with clear illustrations to support the text. Paula Deen is an experienced cook and she has tried and tested these air fryer recipes to ensure that you obtain the best results. She shares her passion for cooking and her knowledge of the ingredients that will work best in an air fryer.
Fresh Ideas
She also knows how to bring fresh new ideas and twists to the old favorites. Her Southern fried food recipes are particularly popular as they are tasty and nutritious. Try her Cajun Chicken Fries, bacon-wrapped onion rings, or the Asian roasted chicken to get an idea of how versatile and tasty these air fryer recipes are.
---
Vast Knowledge
If you are considering investing in an air fryer, you will also need to consider which the best air fryer books available are. This cookbook is a great place to start as Camilla Moore shares 800 recipes and her vast knowledge of cooking with this appliance. Air Fryers offer unique cooking possibilities. For lovers of fast, fried food they provide a healthy alternative, but the meal options are not only limited to that.
Fraction of Time
Baking, grilling, and roasting are a cinch with the air fryer and meals take a fraction of the time to cook. This cookbook enables you to have the food you love even on a tight budget. This cookbook has all the need-to-know information for getting started with your air fryer and includes a 21-day Meal Plan to make things easier for you from the start.
---
1000 Recipes!
If you are the proud new owner of an Air Fryer then you will be wanting one of the best air fryer books available. What could be better than 1000 recipes that would suit cooks of all levels? This cookbook by Robert Jones is a superb starter cookbook to set you up for successful cooking in your Air Fryer.
Many people are beginning to appreciate the health benefits of the Air Fryer and most people who own one are amazed at how versatile this appliance is. Every meal, snack, and dessert can be made quickly and easily in the Air Fryer, and you can be sure that whatever you cook will be delicious and ready super quickly.
Straight from Freezer
Recipes like Breakfast Puffed Egg Tarts, Fish and Fries, Roasted meats, and vegetables will all arrive succulent and crispy to your plate. You can even air fry food straight from the freezer!
This cookbook is the only one you will ever need. It has hints and tips galore, nutritional information, and color photographs to inspire you. So if you were wondering, where to buy the best-rated air fryer cookbooks with pictures, you don't have to go far.
---
Adjusted for Two
It's no secret that the Air Fryer has become the favorite kitchen gadget of recent times. Many cookbooks have loads of recipes for families or large gatherings, but if you are looking for the best Air Fryer books for couples, you will be pleased to find this amazing cookbook by Gina Kleinworth.
Gina has tried and tested Air Fryer recipes and adjusted the portions and timings to make enough for two people. There are delicious recipes like Apple Cinnamon Fritters or Louisiana Fried Catfish to name a few.
Fast, Healthy and Tasty
Air Frying is fast, easy, and healthy, and this cookbook will ensure that you have all the nutritional information and a range of recipes to suit every lifestyle choice. You will be amazed at how many different meals can be cooked in your Air Fryer – from breakfast through to dinner and everything in between. The Essential Cookbook for two is the only top air fryer cookbook you will ever need to buy.
---
Not-So-Guilty Pleasure
Now you can give up the fruitless battle against fried food and indulge guilt-free. This cookbook is an answer to prayer for those who crave this type of food but are aware of the health dangers. Brandi Crawford has produced this prime example of the best air fryer book and she wants you to enjoy her food!
Do you want Fried Chicken? You can have it. Do you hanker after Cinnamon Sugar Donut Holes? Help yourself! This cookbook provides you with simple, healthier recipes that you can treat yourself and your family to every day of the week.
Easy-Peasy
The air fryer will give you tasty food that has a crispy outside while being tender and succulent on the inside because of its unique hot air blasting technology. With this cookbook, you will get 100 easy-peasy recipes to prepare your favorite meals in a fraction of the time it usually takes. An air fryer is a versatile appliance so you can do so much more than you ever imagined.
Meat, Fish, Vegan, Vegetarian, and many more food choices are possible, and tips on how to get the best results are included. Wishing you many healthy air fried meals in the future and I hope that you and this one of the best-selling air fryer cookbooks have many happy years together!
---
Healthy and Wholesome
How do you balance the need to produce healthy, wholesome food, and a busy lifestyle? The answer is to invest in an air fryer and the Every Day Easy Air Fryer book by Urvashi Pitre.
Urvashi has used his extensive knowledge of Indian cuisine and created recipes for the air fryer that make it possible to have delicious food on the table in much less time than before. This is one of the best air fryer books around because it introduces a wide range of options that have not featured in other cookbooks.
As Healthy as It Gets
Even if you are new to using this kitchen appliance, Pitre has provided clear instructions and you will be air frying with confidence in no time. His recipes require the freshest local ingredients so you can rest assured that you are getting the healthiest version of cooking these dishes.
And you will never have to worry about eating bland food again. Every Day Easy Air Fryer has tasty recipes like Thai Chicken Sate, Chinese Spare Ribs, and a host of Indian, Korean, and Mexican dishes. This is a cookbook that suits everyone – from young students to retired couples and large families.
---
Beyond Comprehensive
You may find it hard to believe that the humble air fryer can meet so many of your dietary and healthy eating choices. Just take a look at the recipes in this perfect book and you will begin to see what I mean. This is the best and most comprehensive of the air fryer cookbooks available today.
Everything You Need
Not only can you enjoy healthy fried foods, but you can also bake, grill, and roast quickly and easily in the air fryer. Starting to cook in an air fryer is quite different from using other appliances and you may feel a little daunted at the prospect. However, Alice Newman has covered everything you need to know to become a confident air frying cook. Now you can enjoy the foods you love and maintain a healthy lifestyle at the same time!
---
Pump Your Taste Buds!
Just because you have chosen a healthy vegan lifestyle does not mean that you want to eat dull, wilting vegetables for the rest of your life! Tess Challis understands the need for crispy, crunchy fried foods that vegans can eat without a trace of guilt. This book is listed as one of the best vegan air fryer cookbooks to be found in any bookstore!
The delicious-sounding recipes will get your heart pumping and your taste buds jumping! Sweet Miso-Glazed Brussel Sprouts, BBQ Jackfruit Nachos, and Cinnamon Crisps are just some of the treats you will be serving up in no time at all.
What Are You Waiting For?
This essential vegan cookbook will teach you everything you need to know about producing top quality vegan food by air frying. There are tips and guidance on preparation, portion sizes, and timings so that you are always satisfied with the results.
There are recipes for breakfast, lunch, and supper and now you can even enjoy a healthy version of French fries. What are you waiting for? Grab a copy of this cookbook and start air frying today!
---
Healthy Fast Food
When life gets busy, it's easy to slip into bad habits when it comes to healthy meal preparation. When we are under pressure, often it is easier to reach for fast food rather than make the effort to shop, prepare, and cook from scratch.
With the arrival of the air fryer on the culinary scene, we have the possibility of preparing healthy fast food in our kitchens. Maria Emmerich has prepared the perfect cookbook for you to follow a low-carb, keto diet with the help of an air fryer.
Easy to Prepare
Rated as an example of the best air fryer book around, Keto Air Fryer brings you over a hundred healthy recipes that take very little time to cook. The air fryer can be used to fry, bake, grill and roast. You can even cook some things directly from the freezer.
Keto Air Fryer has simple instructions to prepare a large variety of scrumptious vegan dishes. So, the Keto diet has just got tastier and easier. There are recipes for chicken wings, baked goods, and even omelets that you can serve to a hungry hoard in no time at all.
---
175 Quick Recipes
You can now combine the Keto diet with an air fryer to make a match made in heaven! The "I Love My Air Fryer" Keto Diet Recipe Book will make this all possible with 175 quick, simple and delicious meal ideas. You will not believe how easy it is to make even healthier keto food in the air fryer.
Deep, Crisp and Even
Sam Dillard explains that the air fryer supplements the keto diet, which is a high-fat diet, by using the natural oils in foods to cook them "deep and crisp and even." I Love My Air Fryer Keto Diet Cookbook provides recipes for cooking steak, tofu, bacon, vegetables, and desserts and it is one of the best easy air fryer cookbooks that support people on a keto diet. Welcome to the easiest method for making fast food in a healthy and delicious new way!
---
Without Guilt
With so many people hooked on fried food because of the speed that it can be cooked and the matchless flavor, it has become a global health hazard. Doctors have been recommending that we reduced the amount of fried food in our diets until the introduction of the air fryer to the culinary world. Now, this wonderful cookbook by Chef Effect will allow you to indulge in the foods you love without the bad side effects and the guilt!
No Oil Required
If we are forced to change to a healthy diet, at least with this amazing cookbook, our food does not have to dull and tasteless. With the recipes in this cookbook, you will be able to have the flavor of your deep-fried favorites without all the additional oil. Now you can enjoy fish and chips, roasted meats and vegetables, as well as cakes and desserts.
The Missing Piece
You will find out everything you need to know to use the air fryer to maximum advantage. The timings and serving portions are set out. With this cookbook and your air fryer, you will have the missing pieces of the puzzle to be the new, fit and healthy you! That's all folks, we hope you enjoyed our reviews on air fryer cookbooks and your perfectly cooked meals even more!
---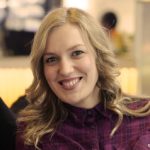 Alissa is an avid reader, blogger, and wannabe writer. (She's a much better cook than a writer actually). Alissa is married, has one human, one feline, and two canine kids. She always looks a mess and never meets a deadline.