A Writer of Science
Chances are, you have probably heard of the American novelist Richard Powers at least once or twice in your life. He is an artist who takes his inspiration from how the ever-developing science and technology change us. I would like to warn you though, your mind might have drifted to science-fiction with this description but his works are more in line with literary or contemporary fiction genres.
The novelist was born in the city of Evanston on June, nineteen-fifty-seven. He spent his years generally within Illinois until age eleven when his father decided to take on a job at International School Bangkok. As a result, Richard lived there for about five years and also developed an interest in reading along with music. This is surprising for a kid of his age but he preferred to read non-fiction books.
Not a fan of Restrictions
After their five-year stay in Bangkok, the Powers family returned back to their home state of Illinois. Robert finished his high-school education at DeKalb High School and then went on to study physics at the University of Illinois. It did not take him more than a semester to switch over to English literature. He did not like the restriction of the subjects in Physics and liked literature better anyways. After that, he became a literature professor for almost two decades and counting.
---
Best Richard Powers Books
---
Bold Choices
What better book is there to start this article with than the one that takes first place among the most popular Richard Powers books, The Overstory? It is one of his most recent works with it having been published just four years ago, in twenty-eighteen. It must also give you a clue about the book's quality when a new book by a writer with a successful history receives the spotlight.
It is really hard for me to give you a glimpse of the plot without spoiling anything about it. There are a lot of bold narrative and creative choices made by the author that not only complicate the plot but the feeling of the book as a whole. It is a book made up of two, it is a collection of tales from another world, but the best way to describe is that it is not a story, it is an overstory.
A Profound Story
For some reason or another, the word that I think fits in the best with this book is profound. It is written beautifully from cover to cover, despite the complexity that I mentioned above. More so, the message it is trying to give us is nothing short of spiritual insight. Sometimes one book is enough to make you appreciate a writer, The Overstory did exactly that to me and it is definitely one of the best Richard Powers novels.
---
Meaning of Nurture
I have said The Overstory was a recent publication but it is not the latest Richard Powers book. That tile goes to Bewilderment with its publication year of twenty-twenty-one. It mainly revolves around the idea of us, as humans, breaking free from our wilderness and the process of social education that makes it possible. Knowing Richard, this matter is handled with scientific concepts.
Life for our protagonist Theo Bryne is hard. Not only is he an astrobiologist who spares no amount of effort and sacrifice, but he is also the single father of a particularly challenging nine-year-old named Robin. Richard is by no means equipped with the capabilities to nurture Robin on his own so, he seeks out a new way. That new way is an experimental behavioral "therapy" that uses the recorded brain activity of Robin's mother.
Unexpectedly Emotional
Reading the new Richard Powers book turned out to be an emotional experience for me which may I add, was very unexpected. There are two major punches in the book. The first one is that the absence of maternal nurture most of us take for granted is almost certainly crippling. The second is, we could be within just a year's reach of finding a "cure" for these kinds of disadvantages.
---
Beyond Race and Identity
Taking third place in this list of Richard Powers book reviews, we have the sensational piece The Time of Our Singing. Unlike the previous pieces that we have gone over, this novel does not concern itself with any kind of scientific or technological breakthroughs. It focuses inwards instead, on a societal subject that we can all use to be more aware of.
The book takes a look into the morbid racial injustice in the United States. It does so from the point of view of some of the most affected groups of people, mixed-race. Joseph, Ruth, and Jonah are from this group and they luckily have parents who are committed to raising them beyond the petty walls of race and identity. And although they grow up to be respectable individuals, they must struggle against a society still riddled with race.
Not Scared to be Original
The Time of Our Singing is a piece that is not scared to be original. There are not a lot of stories about mixed-race people, that is of course a fact. Yet, that is not what I am talking about. Powers takes the bold choice of handling a tragic issue by creating a scenario for a family affected by it. Most importantly, I think he does this pretty decently as well. The events of the book feel natural and not forced to confirm a pre-set belief.
---
Myth of Orpheus
The next stop in our journey through the best books by Richard Powers comes Orfeo, a novel inspired by the myth of Orpheus that can also be seen as a modern-day interpretation. The myth itself is the story of Orpheus saving the band of heroes titled Argonauts with his music, marrying Eurydice as a result, and venturing all the way to the land of the dead to resurrect her when she dies.
The story of Orfeo talks about a man of our times, Peter Els. He is a microbiologist with a very curious interest in searching for surprising patterns of music. In one of his regular experiments though, he is rattled by the Homeland Security officers breaking down his door and welcoming themselves into his home. From that point on, Peter turns fugitive and embarks on a journey that will lead him to create a most-notable piece of art.
Lacking in Soul
Orfeo is without a doubt a good book. However, I would consider it very far-fetched to call it the best Richard Powers novel. Sure, it has a cool concept and it is executed with great talent but I do not think it has as much soul as the other works by the author. The way I see it is that this story focuses more on the feelings it gives off rather than its actual content or meaning.
---
Personal Echo Chambers
Next up in our article, I will bring you one of the best selling Richard Powers books titled The Echo Maker. I almost say this in every one of my articles but titles mean a lot for a reader and this piece just nails it in that aspect. It is a mystery story that includes three sides. None of them are willing to completely accept the opinions of another and this results in them being stuck inside their own echo chambers.
Enough about the title though, let's get to the story. The twenty-eight years old Math Schluter is having a hard time driving through the remote roads of Nebraska on a fateful winter night. He eventually flips his truck and suffers injuries that are almost fatal. Waking up after a protracted coma, he is in complete belief that his sister was replaced by an identical copy. And, he is in possession of a note from an anonymous witness.
An Exploration of Human Cognition
The Echo Maker is by all means of the word, an exploration of human cognitive mechanisms. The thing I liked the most about it was that it did not go to extremely dark or depressing places just to make itself impactful. Instead, it recognizes that the human brain is already fascinating as it is and all there is to make a good book about it is keeping it simple.
---
About Technology Itself
We are continuing our Richard Powers book list with a book containing a fictional Richard Powers as the protagonist of its story, Galatea 2.2. It is a novel with a lot of focus on scientific aspects just like some of the previous novels we have gone over. The difference is that the previous ones were about humans utilizing technology, this one is about technology itself.
Richard Powers has spent years living off the coast of the United States before he finally returns to his home, and to the magnificent Center for the Study of Advanced Sciences. He partners up with the cognitive neurologist Philip Lentz for a project aiming to bring a man-made artificial intelligence "alive". They actually turn out to be quite successful in it as well, to the point where the AI wants to know its name, race, and purpose.
Simple and Sensible
Once again, the author manages to create an enhancing story by just keeping a wild trope simple and sensible. It is also very interesting to experience the story from the eyes of Richard Powers who is very much a reflection of the author himself. Galatea 2.2 is definitely one of the best novels by Richard Powers and an absolute must-read, especially for fans of Humanities.
---
Globally Acclaimed
More than halfway through the article, I will give you my piece of mind about one of the top rated Richard Powers books that is The Gold Bug Variations. Not only is it only a fan favorite, but it is also a globally acclaimed book. It was chosen as the best novel of 1991 by Time, it was on Publishers Weekly's "Best Books of 1991", and it was even nominated for a National Book Critics Circle Award.
Genetics and Human Connection
It is not exactly the simplest book to give a summary of but I will try to give you the basics. First of all, we have our narrator Jan O'Deigh. She is a librarian whose mission is to provide information to guests. There are also the historian Franklin Todd and the genetics genius Stuart Ressler. Through these characters, the author explores the concept of genetics and human connection.
As I have said, The Gold Bug Variations is a very complicated work of art. Every material aspect that it includes is tied down to a concept. More than that, everything in the book collectively works to build up a singular, greatly-encompassing idea. It might not be the easiest book to understand but in my eyes, it is one of the biggest contenders for the best Richard Powers book title.
---
Source of Happiness
Continuing our Richard Powers books ranked article, we have the piece Generosity: An Enhancement. It is another piece that concerns itself with genetics and this time around it revolves around the idea -or rather the science- of happiness. What would happen if we discovered the genetics of happiness, it asks. Will it improve our standing as a species, and do we have the courage for it anyways?
The story revolves around the university student Thassadit Amzwar who had migrated to the United States from her trouble-riddled country of Algeria. Still, she shines with happiness and virtue which makes her creative writing teacher Russell Stone and his eventual lover Candace Weld. As the duo draws attention to her, the whole world will consider as a genetic prophet of happiness.
What Would we do?
What I really liked about Generosity was that it did not pay unneeded attention to the irrelevant points in the story. It let the background be the background and it focused solely on the three main characters who are basically all that matters. This comes with its own disadvantage though. It gets a little predictable at times and eliminates the book's name from the best Richard Powers book race.
---
Narrative Variation
Nearing the end of our list, I will present you with yet another one of the best Richard Powers books to leave you on a good note. Gain is a particularly interesting book in the novelist's portfolio as it utilizes one of the most common narrative techniques of today, dual-narrative. It is one of his earlier books as well so I would take this as an experiment of style.
Conflicting "Lives"
As I stated above, the story is split into two different narratives. The first is from the nineteenth century that tells us about a family-owned soap and candle company. The second shares with us the story of a nineteen ninety's woman who lives in the same town as this company which now produces pharmaceuticals and pesticides. Most importantly, the company is now a threat to the safety of its neighbors as well as the whole planet.
What Gain tries to achieve throughout the whole of this story is to create a contrast between human life and corporate existence. He does not hold back from putting a character's life at an almost absolute risk of death to bring the two concepts face to face. He also turns the company into its own identity with its own life. I am not sure how to feel about it though, it feels a little bit forced.
---
A Historical Trauma
The last one of the Richard Powers books that I have in order for you is Three Farmers on Their Way to a Dance. It is a story of the past that takes place on just the brink of World War One, a historical trauma in the collective unconsciousness of our species. It is also another one of the author's earlier books and utilizes the multiple narratives technique.
The initial story brings us back to the spring of nineteen-fourteen. To be more specific, to the exact time the photographer August Sander photographed the three young farmers who are going to a country dance. The connected fates of these men result in two stories from our time; one of the narrator who takes great interest in the photograph and one of a writer named Peter Mays.
Not one of the Best
I am going to start off by saying this is definitely not one of the best Richard Powers books. I do not mean it as an insult though. It is just an old book that the author did not have a settled voice while writing and was trying out different ways to tell a story. It is still decent and you would probably enjoy it if you went in with no expectations but it can not compare to the author's other work.
---
Final Thoughts
Richard Powers is truly a writer of our times, for our times. Reading his work introduced me to so many brilliant ideas about the events of our day and of our possible futures. Not only that, but he also looks at some of the most controversial subjects of our history as a species such as happiness. He carries a quality that most other writers do not really care about anymore, intellectuality.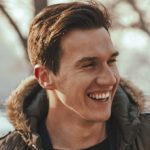 Michael is a graduate of cultural studies and history. He enjoys a good bottle of wine and (surprise, surprise) reading. As a small-town librarian, he is currently relishing the silence and peaceful atmosphere that is prevailing.