Bio
Robert Toru Kiyosaki was born on the 8th of April, in the year of 1947, in Hilo, Hawaii, United States of America. Robert Toru Kiyosaki is a prominent, well-known, well-regarded, and adored businessman and an author of many titles.
Early Life
Kiyosaki was born as part of the Yonsei Generation of Japanese-Americans. His parents were Marjorie O. Kiyosaki and Ralph H. Kiyosaki. Robert also had a total of two sisters and a brother.
---
Best Robert Kiyosaki Books
---
Education
In 1965, Robert Toru graduated from high school and acquired his Bachelor of Science degree four years later, while attending the United States Merchant Marine Academy. Robert was active during the Vietnam War and he was gilded with an Air Medal, as well. Robert married Kim Kiyosaki in 1986 and the two have been going strong ever since.
Career
Robert is most famous for his work with Rich Global LLC as he was the founder and with the Rich Dad Company. The Rich Dad Company was a company for private education, namely in finance, which granted financial, economic, and business insight for people by way of exceptionally motivational books and instructional videos which showed the potent charisma that Kiyosaki possessed. With that said, we can now take a look at what the best Robert Kiyosaki books are.
---
Legendary
Rich Dad, Poor Dad is undeniably the most famous work of Kiyosaki's. It has enlightened more than one generation and it has led countless people towards financial security. Rich Dad, Poor Dad was first published in the year of 1997 and it was, as were most of the Rich Dad books, co-written with Sharon L. Lechter. The series, itself, is comprised of thirteen works in total.
Two Fathers
Rich Dad, Poor Dad is the story of Robert's youth as he was growing up with essentially two fathers. The first person he regarded as his father was his actual father, the man that partook in creating him, and the other is his best friend's dad, the so-called rich dad.
Robert immediately lays out the differences between these two figures, not just in a financial sense, but also in their everyday lives. The two of them differed in the manner of how they handled money, investments, debts, and the like, and it showed.
How to Think
Of course, Robert's work isn't solely focused on money, but also on how we are taught to think; about those around us, about our schools, how opportunities are regarded as perilous undertakings, how even when money is in abundance, one can't make heads or tails of what to do with them and, if he does, why he is doing that particular thing. Robert's advice here is crucial to anyone looking to better themselves and their bank accounts. Definitely one of Robert Kiyosaki's best books.
---
Long Series
A short disclaimer that we feel is apt: a great portion of the top ten best Robert Kiyosaki books will contain individual books from his well-loved Rich Dad series. Rich Dad's Before You Quit Your Job is a novel that saw the bookshelves in 2005 and it spans some three-hundred pages. It is the tenth book in the series.
Making a Leap
Among all of the facets of Rich Dad's train of thought is how one can make the leap from being the employee to being the boss. It is the dream of anyone who has ever worked under the supervision or subordination of others as it describes a sincere, honest, and human trait: the need to transcend up whichever ladder. The ladder in hand is the career ladder, of course.
What Is the Advice of Robert Kiyosaki?
Robert Kiyosaki in the book being discussed talks about the one true secret that people seem to miss about proliferating money and getting to the point of financial liberty, to wit, how to become rich.
Kiyosaki illuminates his readers saying that the first part is starting your very own company, but not before reading his book from front to back. Robert discusses whether a particular idea is a good one, whether it will be conducive to success, whether others can invest, how to deal with taxes, and many similar questions. Without a doubt one of Robert Kiyosaki'sbest books.
---
Tons of Advice
Rich Dad's Prophecy: Why the Biggest Stock Market Crash in History is Still Coming… and How You Can Prepare Yourself and Profit from It! Is the twelfth book in the Rich Dad series and it only proves that even after so many books, Robert still has tons of advice to dish out to his readers and followers. It was published in 2002 and it is definitely one of the top Robert Kiyosaki books.
Baby Boomers
Robert Kiyosaki is not under the illusion that Baby Boomers are going to last forever or, even less so, that their funds are not going to dry out. Robert's pretense for the book in hand is that Baby Boomers are going to be retiring in the near future and that means that their retirement plans are finally going to come to fruition. However, does this bespeak an auspicious future for the rest of us?
Well, when the Baby Boomers eventually do get to the point of taking out their money, it isn't illogical to think that this will bring forth a massive devaluation of money in general, especially these savings.
Insightful Plan
However, Robert has us covered as he gives us a thorough, comprehensive, and insightful plan on how to ready ourselves for what is coming. Investing, real estate endeavors, self-employing, and many more facets of business are covered as Robert delivers one for the ages and one that our Robert Kiyosaki book reviews are especially fond of.
---
Sequel
The sequel to the original Rich Dad book is, of course, the famed Rich Dad's Cashflow Quadrant: Rich Dad's Guide to Financial Freedom. It was published in 1998 and it is one of the best-selling Robert Kiyosaki books.
Strategies and Stratagems
In Kiyosaki's Cashflow Quadrant, we are witnesses to his follow-up to his exceedingly first book. Here, Kiyosaki talks about the numerous strategies and stratagems that are at the disposal of people so as to not just get to a point of job security, but even of financial freedom. Why, one has often asked himself, do some people work more than others, why some pay less in annual taxes, why some are just richer? Well, it is all about the Quadrants.
Quadrants
Robert uses the Quadrants so as to paint a more easily understandable picture of the global economic state, noting that those on the right side of the Quadrant aren't the ones busying themselves with security by means of a job, but are interested in getting more income by way of creating their own business, investing.
These are the people that get to pay less taxes, have far more free time, all the while others are doing the harder labor. The words therein will enlighten us surely with one of the best Robert Kiyosaki books.
---
Our Favorite
Rich Dad's Guide to Investing: What the Rich Invest in That the Poor and the Middle Class Do Not! Is the Robert Kiyosaki Rich Dad series' third installment and also one of our absolute favorites. It was published in the year of 2000.
Stark Contrast
Anyone that has read the famous book that launched Robert Kiyosaki's career to the point of stardom surely knows of the antipode-like contrast between his own father's financial failures and his friend's father's numerous financial successes.
In the book in hand, Robert is prepared to give us some of the secrets that people in the know would surely want to keep to themselves. Investments are the name of the game and Robert wants to spill the beans on this one.
Advice
If one was looking for a step-by-step guide or pattern that one can employ in this book of Kiyosaki's, then one would be amiss. Here, Robert is focused on the adequate attitude that one must have before becoming rich.
Getting rich is not a single-way frontier, but a place with many approaches. One of the most noteworthy advices from Kiyosaki is that the average invests in comfort and in security, while the wealthy's priorities lie in getting even richer. This is a perfect example of the best Robert Kiyosaki book.
---
Fascinating Piece
The Business of the 21st Century is a first for this review as it is not one of the Rich Dad series, but a standalone book. Nonetheless, it is a fascinating piece of writing that was published in 2010. In our minds, it stands with the best of the best-selling Robert Kiyosaki books.
Network Marketing
In The Business of the 21st Century, Robert Kiyosaki delves into thoughts of how network marketing has seized the global market and how it is a crucial, essential part of anyone looking to get rich. What makes a business successful, but is also determined by the network marketing that the company is prepared to employ? Well, marketing is a multilevel operation, and Kiyosaki's thoughts can scarcely be condensed in a single review.
Tips and Tricks
Having a business of one's own is the way towards becoming wealthy, Kiyosaki believes. One of the basic tenets that would allow one to keep making more and more money is to be careful and wary of where one's money goes. His famous quadrants make an appearance here, as Robert also discusses assets, and only then puts forth his Network Marketing model, which we trust our viewers will find fascinating. Isn't it just the Top Robert Kiyosaki book?
---
More Than a Book
Published in 2001, Rich Dad's Retire Young Retire Rich: How to Get Rich Quickly and Stay Rich Forever! is more than just an interesting read. It is book number five in the Rich Dad series and one of our own favorites.
Daydreaming
Certainly, we are all guilty of having passing or even lasting thoughts about retiring young. How would it feel to have so much money that you don't have a burden yourself or your body with long years or even decades just so you can retire in a semi-safe manner?
Well, Robert has heard our thoughts and he is here to allay all doubts that we may have had. A financial plan is crafted expertly, as the man who retired at the age of only forty-four explains to us how we can do the same.
How to Retire Young?
In Robert Kiyosaki's opinion, one cannot make a mistake by investing smartly – the keyword here is smartly – in the real estate business and in the stock market. Debt, in Kiyosaki's words, is what one ought to utilize, not one's equity.
Capital appreciation is not your friend, but cash flow is here for you right now. Leverage is a close second to cash flow. Also, Kiyosaki differentiates between good and bad debt and grants us this absolute masterpiece from his oeuvre.
---
Recommended
Published in 2001, The Business School for People Who Like Helping People is a terrific book that we cannot recommend just enough. It is, without a doubt, one of the best Robert Kiyosaki books.
Network Marketing
The crux of the Business School for People Who Like Helping Other People is Network Marketing with all of its facets together. Robert Kiyosaki is adamant that he did not become rich by means of Network Marketing, but he also notes that he knows a thing or two about the twenty-first-century paradigm.
In Robert's own words, though paraphrased, Network Marketing is a very much viable way of getting wealthy, rich, and affluent. However, it is not an easy road by any means, so Kiyosaki's help is appreciated.
Network Marketing
The first goal towards getting a comprehensive understanding and grasp of Network Marketing is to get into a company that employs this tactic expertly. Then, one must educate oneself by means of the company's programs, by learning from and studying those that are most successful in this field.
A team will always allow one to master Network Marketing easier, and, as we mentioned, Network Marketing isn't an overnight solution, but a slow, worthwhile toil. This is undoubtedly one of the best Robert Kiyosaki books!
---
Packed With Knowledge
Book number thirteen and also the last book in the Rich Dad series is none other than Rich Dad's Increase Your Financial IQ: Get Smarter with Your Money. The book is a little under two-hundred-and-fifty pages, but it is packed with knowledge and insightful tidbits.
Time Investment
The best investment that one can ever make is not in the real estate business, not in a retirement plan, and certainly not in the stock market. The best investment a person can ever venture to make is to invest time into understanding how finances work and how to set yourself up to get rich in the long run, not just spend a quick buck. To get rich, in layman's terms, one must first comprehend how money works.
Valuable Advice
There are but five principles that Kiyosaki preaches and they are codependent on each other. Understand how much you are worth at the present, what your chances of getting rich are; protecting your money, and learning to deal with taxes; budgeting is your best friend, and this aspect is what allows some to reach heights that others can't even see; leveraging money, and the top priority is learning, learning, and learning. An indispensable read and one that is rightfully regarded as one of the best Robert Kiyosaki books of all time.
---
Terrific
The 2001 published and ninth installment of the Rich Dad series titled Rich Dad Poor Dad for Teens: The Secrets About Money – That You Don't Learn in School! is one of Kiyosaki's finest and a clear example that Robert Kiyosaki's books for kids are terrific, to say the least.
Never Too Early
All of us would have preferred to have been made aware of the battlefield that is adult financing and being on top of the economic situation when we were just a teenager, when everything was sunshine and rainbows, when we had the leisure to learn on our own time. Well, while other Rich Dad books cover how to get one on the road towards financial security once one is part of the workforce, this one is for the teens.
Learning what investing is, how one can invest, why one would invest, and when not to invest are the top questions that a teenager should read up on and learn. Credit cards might seem to be a godsend, but they are the devil in disguise, and teens are not made aware of this fact.
Happy Future You
When one learns from an early age what to expect, what to avoid, and what to welcome, one can be sure that their career, their finances, and their retirement plans will thank them for that. Kiyosaki's book here is one of the most insightful and one we wholeheartedly recommend.
More to Read
Two other essential reads from Kiyosaki are Rich Dad's Who Took My Money?: Why Slow Investors Lose and Fast Money Wins! and Rich Dad's Guide to Becoming Rich… Without Cutting Up Your Credit Cards.
---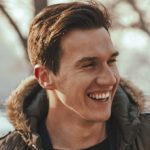 Michael is a graduate of cultural studies and history. He enjoys a good bottle of wine and (surprise, surprise) reading. As a small-town librarian, he is currently relishing the silence and peaceful atmosphere that is prevailing.