---
Best Sports Romance Books
---
Crossing Boundaries
Sports and romance are not necessarily two vastly different things. They themselves often cross through the boundaries of their definitions. For one, being devoted to sports implies that one bears a certain love for that particular sport. For two, when things aren't working out in a certain romance, one is told to be a good sport about it – this is of course a case of semantics, but a worthwhile point, nonetheless.
Popular Genre
For three, the closeness between working for a sports goal and working for a particular end in terms of romance are related in more ways than one. As such, we are not to be surprised by the abundant sports romance novels that have been written and published in the last two to three decades. With that said, we will now continue with our list of the best sports romance books.
---
Off-Campus Series
Elle Kennedy is a brilliant novelist from Canada. Kennedy has not disappointed her fervent fans and admirers once and her 2015 novel The Deal only set the bar higher. The Deal is also book number one of the Off-Campus series. We also covered it in our selection of the college romance books. Make sure to check it out!
Hannah and Garrett
The Deal's main characters are Hannah and Garrett. Hannah has been a hapless person for the majority of her life. However, in spite of the obstacles that have come and, by Hannah's hard work, gone, she is still content with what she has. Her college grades are top-notch and she is considered the best student in her classes.
Garrett, on the other hand, is a hockey player and his grades are being brought down by a particular class in which Hannah's expertise is noteworthy. Hannah has taken notice of Garrett and her eye does fancy him, but he'd never be with her, as she would be eager to note.
Past Demons
When Garrett asks Hannah to help him out with his grades, she is very much surprised that he would even interact with her. This is about when we find out that Hannah has a lot of demons from her past and so does Garrett.
Hannah is a survivor of a rape, while Garrett has never been in the limelight in any way, shape, or form, it seems, thanks to his father. Nonetheless, when Garrett and Hannah begin their negotiations, the question of sex comes up and it seems that their deal is going to be struck rather easily. However, when they fall for each other, all contracts fall into water.
---
Play by Play Series
Oklahoma's own superb author Jaci Burton has been featured on the NYT and USA Today bestseller lists more than just a few times. The 2011 novel The Perfect Play, the first of the fourteen-novel Play by Play series, is certainly one of her best novels yet.
Tara and Mick
The main characters of The Perfect Play are Mick Riley and Tara Lincoln. Mick Riley has been a professional football player for quite some time and he is considered an all-star. The man really is talented, but his prowess comes from his devotion to his craft and the hard work he puts in day in and day out.
However, when Mick isn't deep into his workouts and training, he tries to loosen up with the ladies. If you had the looks and the fame that Mick has, you'd surely be tempted to do the same. For most of his adult life, Mick's nightly meetings have brought him a new girl each new night, but this one is different.
Just For Himself
When he comes by the wonderfully attractive and self-sufficient Tara, he isn't content with just a casual fling. He needs to have Tara for himself, but when she says an unambiguous no, he is stumped. He'd never had to make an effort like this and now he's been rejected.
Tara, on the other hand, is a single mom, and concurs that their time in bed was brilliant, but she doesn't want to jump in the limelight with Mick. However, Mick is used to working hard, though in a different sense, and he will not let anything hinder him from changing Tara's mind. This is one tale that we can recommend wholeheartedly to anyone.
---
Standalone Novel
Mariana Zapata is a terrific writer from the beauty that is Texas, USA. Zapata's works are always there to amaze us and the 2016 novel The Wall of Winnipeg and Me is an easy to pick entry on our list of the best sports romance books.
Vanessa and Aiden
The main character of The Wall of Winnipeg and Me is none other than Vanessa Mazur. Vanessa has seemingly made it big being the great professional football player Aiden Graves' assistant for the past two years, but things are rarely as they seem.
She finds Aiden really annoying with the way that he can be passive, terse, and impolite. Also, Vanessa isn't exactly content with being an assistant her whole life, so she made a decision to resign from her job as Aiden's assistant and she took to going after her dreams.
The Wall of Winnipeg
Aiden, on the other hand, is known as the Wall of Winnipeg. He is a great football player, playing the defensive end on his team, and everything was going well until Vanessa just quit her job. He knows that he can be brash and rude, but what can he do without Vanessa in his life?
Having no other recourse, Aiden walks up to Vanessa's home a couple of weeks after she quit and asks her to come back to him. Vanessa is surprised at the fact that Aiden actually showed up to her doorstep, but has no clue now what to do. Go back to Aiden under the condition that he betters himself or stick it out with her decision?
---
Superb Novel
Mariana Zapata is back on our list of the best sports romance books with her superb 2015 book titled Kulti. Kulti is a terrific novel that we and pretty much everyone that's picked it up adore.
Reiner Kulti
Reiner Kulti, the titular character, was once the hero of the other half of the novel's main character Sal Casillas. Sal had absolutely loved and adored Sal as she was growing up. Even before she was in high school, Sal had been a fervent and passionate fan of Kulti, despite the fact that the man didn't even know Sal existed.
As time went by, Sal eventually became a professional soccer player herself and even made it on the team of Kulti, himself. Sal is positively ecstatic at this news, but we have to stress that it's rather short-lived.
Shadow of Himself
In just a little while, Sal finds that Kulti is not the person that she expected him to be. Where she had always envisioned a spirited, strong, tumultuous, and intense player, when she does meet him, she sees that he's but a shadow of himself. Nonetheless, she's on the team so she has to play.
As she and Kulti begin having some back and forth moments, witty banter, and the like, it seems that Sal is the only one that can get a reaction out of the reserved man. In just a little more than a while, Kulti seems to be getting around to gaining his former glory, at least in a sense, and Sal is who has to thank. And Sal can think of more than just one way that he can thank her.
---
Pucked Series
Toronto's own amazing authoress Helena Hunting is on fire with her Pucked series and there is no way around this fact. The series has a total of six novels in its composition and the first, coincidentally our favorite, is called Pucked. Pucked, the novel, was self-published by Hunting in the year of 2015
Violet and Alex
The main characters of Pucked are Violet Hall and Alex Waters. Being that Violet's own stepbrother is a very, very well-known National Hockey League player, it comes to no surprise that Violet herself knows a lot of the hockey players.
Accordingly, she also knows how hockey players tend to be on the field of love. She is aware that they are not the most faithful or most willing to stick with one girl, so she is pretty cautious around them. However, when she finds herself in bed with the handsome and swoon-worthy team's captain Alex Waters, Violet chalks it off as just a very casual fling.
Violet's Terms
After all, Violet knows that hockey players never stay with just one girl, especially the team players. She had her fun that night and that'll be that. And then Alex begins calling her up, messaging her, showering her with various gifts, and trying to get her alone.
Violet seems to have misjudged Alex after all, but the way that the tabloids speak of him, Violet just doesn't want to end up a hockey player's ex-girlfriend. That's why if they're going to be together, it's going to be on Violet's terms. Violet knows very well how to get the things she likes and she likes Alex a lot.
Enjoy!
This is the end of our best sports romance books review. We hope you like it and don't hesitate to pick one of those wonderful books!
---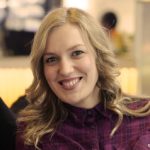 Alissa is an avid reader, blogger, and wannabe writer. (She's a much better cook than a writer actually). Alissa is married, has one human, one feline, and two canine kids. She always looks a mess and never meets a deadline.