Kylie Scott
Alas, our trusty friend, the Internet, has failed us this time. Exceptional writer Kylie Scott is as enigmatic as they come, seeing as information is exceedingly scarce to be found for this one. Very few are the things we know of Kylie Scott, one such thing is that she hails from the continent of Australia.
Life
Kylie Scott is amongst the most beloved Australian writers of romance novels, as she was even named and gilded with the title of Favorite Australian Romance Author in 2013, and then in 2014 again at the Australian Romance Readers Awards in Canberra.
---
Lick Book
---
Achievements
Other awards that Kylie has been the recipient of include the award for Favorite Continuing Romance Series for her superb series Stage Dive, Favorite Contemporary Romance, and Favorite Cover for the series' second novel, Play. The Australian Romance Readers Awards of 2017 for the Favorite Contemporary Romance was also awarded to Kylie Scott.
The authoress' works have been featured on the prestigious New York Times bestseller list as well, namely for her novel Dirty. Today, the writer resides in her home country of Australia. With that said, we can now take a look at our book review.
Stage Dive Series
Lick is rightfully considered one of Kylie Scott's best novels to date. It is a thrilling rockstar romance novel and it will stay with the reader long after the book has been finished, and even longer after one inevitably rereads this gem.
It is a part of Kylie Scott's famous Stage Dive series, which is comprised of a total of four books, with a few tie-in novels between the primary novels. Lick book is the first in the series and it was published in the year of 2013.
Evelyn Thomas
The main character of the story is none other than Evelyn Thomas. The big celebration of finally turning twenty-one and finally being of drinking age is something that Evelyn has been anticipating impatiently for quite some time. As such, the ideas and the plans she had for the night were as large as possible. A group of her close friends? Check. They're in Las Vegas? Check. A night of drinking as much as feasible? Double-check.
Unexpected
What she hadn't been expecting was coming to herself on the floor of a toilet. That and the outstanding pain of the hangover setting in. But, even these things might seem tame to the realization that she is beside a partially unclothed man covered in tattoos, and a giant diamond on her fingers. What exactly transpired is Evelyn's primary mission to deduce.
Blacking Out
It doesn't take long to get to the bottom of what happened, even though she has no memories of the night passed. However, the tattooed gentleman in her bed can recount everything that happened to the most minute detail. She finds out that the ring she is sporting on her hand, besides being very sizeable, was given to her so as to marry the guy.
But, if he isn't hungover and remembers everything that happened, might it mean that he was completely aware of marrying Evelyn? In a few moments, she understands that he is also in a band, and the tattoos are wonderfully blended on his perfect skin. Now, is annulling the marriage a possibility, or is she going to have to go through the rigmarole of divorcing?
Sydney's Life
Let's back up a little. The young girl's life might have taken a turn last night, but before that everything was fine and dandy. She had a very clear road that she would take in her life.
Sure, she might not have devoted any time to her intimate love life, but you can't build a career out of a boyfriend. Schoolwork was the name of the game in the eyes of Evelyn, and everything else was on the bottom of the list so far as she was concerned.
A Bit Messed Up
But, now to wake up and married to someone she's never met might make a permanent alteration on these plans of hers. Slowly, fragments of the night creep up to Evelyn and she remembers the blissful feelings she felt when the body of hers and the body of David Ferris, her husband for what it's worth, mingled, came together, and enjoyed each other… David seems to not mind getting an annulment, but Evelyn might not be as sure as now.
So far as David, himself, is concerned, he's a guitarist in a famous band. This doesn't allow him to have any privacy, so he has to be very careful and cautious about going about his days. However, the night passed offered him a brilliant opportunity to get close to someone normal, even if it means getting married.
An Annulment or an Extension?
When Evelyn denies remembering anything of the night, he takes everything in a bittersweet manner; he isn't going to push for anything, but his disappointment speaks volumes about his intentions and feelings.
In spite of what had transpired between the two strangers, the morning of astounding revelations, moments of rancorous acceptance, they still feel an attraction. Evelyn knows that she felt wonderfully last night and David knows that he loved getting married to Evelyn, so the two of them decide to give it the old college try.
Taking It Slow
The two take it slow, get to know each other, though their bodies are more than familiar with each other's secrets, and their spark takes an intense glow soon after. They just work. David loves the fact that Evelyn sees him as his own person, not a guitarist, and Evelyn adores the liberty she feels with someone like David. May they actually stay married?
The story is a gripping, humorous, and endearing one. It speaks volumes about the kinds of people that we have become, what with our career-centric living and our expulsion of privacy, but it then conveys a frivolity that is dear to us and that we've missed. A wonderful novel, as our Lick book review surely has you believing.
There's More
The other stories in the Stage Dive series are waiting for all the lovers of Lick book. They are just as good and doubly more exciting.
---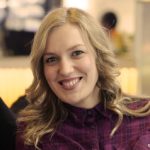 Alissa is an avid reader, blogger, and wannabe writer. (She's a much better cook than a writer actually). Alissa is married, has one human, one feline, and two canine kids. She always looks a mess and never meets a deadline.