Sophie Kinsella
Authoress Madeleine Sophie Townley, or more familiar to readers by her pen name Sophie Kinsella, was born on the 12th of December, 1969, in London, England, the United Kingdom. Sophie is a superb English writer.
Achievements
Thus far, Kinsella has sold more than forty million copies of her work in sixty countries. The works have also been translated into more than forty languages. As we noted, Sophie was born in London. Her father was David R. Townley and Patricia B. Townley, maiden name Kinsella. Sophie was the first child. She had two sisters, Gemma Townley and Abigail Townley.
---
Can You Keep a Secret? Book
---
Education
Kinsella first began studying Music, however, she had a change of heart and made a change to PPE (Politics, Philosophy, and Economics). She attended Putney High School, St. Mary's School near Shaftesbury, Sherborne School for Girls, and New College, Oxford. Upon graduation, but prior to becoming a full-time author, Kinsella took up a job as a financial journalist.
Career
Kinsella was aged twenty-four when she finished the first of her books, The Tennis Party. Instantly, the novel was regarded as a critical success, easily becoming a bestseller. It wasn't until 2003, after having published ten books between the Madeleine and Sophie pennames, that the identity of Kinsella was finally uncovered with her wonderful Can You Keep a Secret?
Most Famous Works
The most famous of her works, however, is by far the Shopaholic series that focuses on character Becky Bloomwood, a financial journalist. Sophie, at the present moment, resides in London with spouse Henry Wickham, who manages her business affairs. The couple married in 1991. Sophie and Henry have had five children in total. With all of that properly noted, we can now give our book review.
Amongst the most famous and most beloved funny romance works of Sophie Kinsella, this book is frequently mentioned, and rightfully so. It is a standalone novel from the superb authoress, which was published in the year of 2003.
What Is the Novel About?
The main character is none other than Emma Corrigan. Emma is fairly young, a girl in her twenties. Emma is working as a marketing assistant and, for the first time in her life, she is on a business trip alone. She was sent so as to represent her company, Panther Cooperation. In the ambitions and aspirations of Emma, she sees this as her opportunity to transcend from assistant to an executive.
However, things don't go her way, but actually go as awry as they feasibly could. While they are in the air, the plane experiences an uncomfortable amount of turbulence so that Emma can't ease her nerves anywhere but by drinking more vodka tonics than she can without becoming drunk. As one can surely tell, this spells trouble from the very start.
All the Deep Secrets
Now, intoxicated completely and with a slight air of panic, Emma tries to make small talk with the very attractive man beside her. Drunk out of her mind, she unabashedly tells Jack all of her deep secrets, without a care in the world. Everything from her friends, family, intimate life, her work.
She's sure that they'll never see each other again, so what can it hurt? The relief of letting everything off of your chest is unlike any other, after all. And to do it with a complete stranger? There's definitely nothing better.
The Downfall of a Blabbermouth
Well, it just so happens that the following Monday, upon getting to work, Emma sees Jack at her job. Two and two are put together and Emma makes the realization that the person whom she spilled all of her embarrassing truths and secrets, is actually the CEO of the company that employs her.
Emma, upon understanding this, supposes that all of her work has just gone down the drain. However, Jack doesn't do anything to the detriment of Emma or her ambitions pertaining to work and business. In the stead of that, he takes up a somewhat frivolous tone and attitude towards Emma and has a fine segue into humorous, though romantic banter.
Getting Serious
From then on, whenever they happen to cross each other's paths, and this happens very, very often now, Jack always teases Emma with quips about the secrets that she relayed to him. With time, of course, the frivolous and lighthearted relationship they have, blooms into something far more serious.
Jack catches feelings for Emma, and Emma does the same for Jack. However, Emma thinks that the prospect of being together is altogether too daunting. After all, he's the CEO of such a large company, while she's an assistant.
Aren't Meant to Be
However, Emma is, as it turns out, single. The guy with whom she had a relationship, Connor, doesn't exactly interest her anymore. Connor actually works in a different division at the same company as Emma, but she comes to terms – during the flight, too – that she and Connor just aren't meant to be.
With time, Emma breaks the news to Connor and breaks up with him, asking him to be tightlipped about the whole ordeal, but Connor can't exactly keep a secret, so he embarrasses her at a party.
Becoming Deeper
Now, being that she is single, Emma doesn't have many excuses to give to Jack so the two of them start dating. The story has a few twists and turns, what with Connor being annoyingly persistent in questioning Emma about whom she is dating at the present moment; then, the confrontations that she has with many characters in the story, one of whom was her division's boss. Through it all, however, Emma and Jack's romance deepens and it works up to such a satisfying climax.
Amazing Novel
Really, the story can't be recommended enough. If anyone was hesitant about taking it up, our book review of Can You Keep a Secret? has hopefully helped you make your choice. The Shopaholic series of novels of Kinsella's can't be suggested enough, really. They are just so endearing and satisfying to read.
---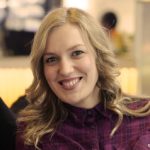 Alissa is an avid reader, blogger, and wannabe writer. (She's a much better cook than a writer actually). Alissa is married, has one human, one feline, and two canine kids. She always looks a mess and never meets a deadline.