Lisa Kleypas
Exceptional authoress Lisa Kleypas was born on the 5th of November, 1964, in Temple, Texas, United States of America. Kleypas' works primarily belong to the contemporary and historical romance subgenres.
For her brilliant novels, Lisa has been the recipient of the RITA award from the RWA. So far, she has published more than twenty novels, which have been translated in more than a dozen different languages.
---
Devil in Winter Book
---
Life
Kleypas, as we noted, was born in Temple, Texas, to father Lloyd and mother Linda. Her father worked as an architect, while Lisa was attending Wellesley College and pursuing her degree in Political Science.
While going to college, Kleypas started writing from time to time, with her mother and father offering support upon graduation for her to publish her debut. Aged twenty-one, Kleypas' debut book was sold. Accordingly, Lisa was dubbed Miss Massachusetts despite her very short figure.
Career
It was in the year of 1998, towards the end, that the home of Lisa and her family was the victim of flooding which resulted in their losing practically everything. Kleypas' colleagues helped the family with some bare necessities, though in her own opinion the moment that defined her career, even life, was the second when she and her mom picked up a novel – a romance novel, in fact – so that it could help them get through the trying time.
From this moment forward, Lisa never looked back or questioned her decision for writing romance books. At the present moment, Kleypas resides in Washington with her spouse, son, and daughter. Having noted all of that, we can now give our book review.
Wallflower Series
This historical novel of Kleypas is one of her most beloved and rightfully considered as one of her best, to date. It is a gripping tale whose wonders are nothing short of awe-worthy. Devil in Winter is a part of Kleypas' Wallflower series comprised of four primary novels and a couple of tie-in ones, as well. For more information about the series, check out our selection of the Christmas romance novels.
The book is not the first in the Wallflower series, but actually the third. It was published in the year of 2006. However, the main characters aren't ones that repeat from one book to the next, though they are featured in one form or the other, but in a side character shape.
Young Girls and Their Dreams
Nonetheless, the Wallflower series is based on a premise of four young girls who, one day, whilst attending a ball make a vow to find partners for each other. The first novel deals with Annabelle Payton and her search for her soul mate, while the second tackles Lilian Bowman and her own troubles. Devil in Winter is the novel that introduces us to and follows Evangeline Jenner.
Evangeline Jenner
As we learn rather early into the story, Evangeline has found herself in a bit of a pickle. It has become that case that Evangeline's father is on his deathbed and it isn't expected that he will hold out much longer. Upon the man's passing away, the relatives plan to set up a marriage between Evangeline and her cousin in order for the family riches to remain in the boundaries of the family.
Evangeline is not the most willing to go with this, though she knows that she would be blatantly forced if she doesn't take things into her own hands. The worst is that they aren't even allowing Evangeline to see her dad even as he's dying.
Doing What Has to Be Done
Seemingly on a whim, Evangeline asks of the opportunity to see the nefarious libertine St. Vincent. Evangeline wants to offer Vincent something that he could never, not once in a million years say no to. Evangeline offers Vincent the chance for them to elope so that she can avoid marrying her cousin.
Vincent is intrigued by the offer. Evangeline knows that he is scarcely a faithful or loyal prospect, but in light of the happenings, she has to act quickly. In spite of this, she does propose a little bit of a challenge to Sebastian: he is not to have sex for a quarter-year upon their first night as lawfully wedded partners. Sebastian accepts swiftly.
Unjust Disdain
As we come to meet him, we see that Sebastian is not the hero that one might have expected him to be. Being that he is a rake, the people regard him with a lot of disdain, which, as it turns out, isn't uncalled for.
Accordingly, he might be facing a bit of financial issues, so the fact that he is going to be married to the Jenner gambling establishment's inheriting owner is definitely a happy circumstance. The challenge, on the other hand, might be proving a bit too much for his appetites. Instead of just cheating or doing something gratuitous, Sebastian tries his hand at seducing Evangeline.
A Change of Heart or a Lesson in Trickery?
When this is unsuccessful, it seems that all he can do is wait the allotted period before he can embrace his ravenous inhibitions or maybe, just maybe, see what this love business is all about.
Throughout the novel we see both main characters as they grow and develop and eventually, one could even go so far as to say, they might be good for one another. It all depends on whether Sebastian can reform his ways and disregard the faculty of vice. Nonetheless, the story is a superb one and exceedingly absorbing as our Devil in Winter book review hopefully shows.
Worth a Read
The other novels in the Wallflower series are more than worth the reader's time. Actually, any Kleypas' novel is worth picking up. We assure the reader that he will not be disappointed.
---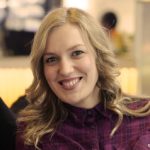 Alissa is an avid reader, blogger, and wannabe writer. (She's a much better cook than a writer actually). Alissa is married, has one human, one feline, and two canine kids. She always looks a mess and never meets a deadline.