---
Best Historical Romance Books
---
Vivid Imagination
When one's own time has become somewhat mundane, boring, or monotone, one tends to focus and turn his or her mind to the time that come and go. One might not even have lived in such a time, but the imagination can do outstanding things, as we know. Similarly, romance novels can sometimes get muddled because one is used to his own time. When this happens, we tend to try and jump into romance stories that are set in a bygone time.
Pleasant and Exciting
It feels pleasant and even exciting to jump into a time that is not one's own, so we have come up with a whole genre for such a thing: regency, medieval, renaissance, Viking romance stories, and so on and so forth. For this reason, we will now proceed with our list of the best historical romance books and hopefully pique the interest of readers to pick up one of the novels.
---
Wallflower Series
Lisa Kleypas is without a doubt one of the best authors in the romance genre. Her works have never even flirted with the line of disappointing her readers, and the 2006 Devil in Winter is by no means exempt from this pattern. Devil in Winter is the 3rd story in the awesome romance series named Wallflower. For more information about the series, take a look at our selection of Christmas romance books.
Evangeline
The protagonist of Devil in Winter is Evangeline. Evangeline has no idea what do to next seeing as her conundrum is mindboggling. Her dad has only a little time left before he dies, but Evangeline isn't being allowed to see him.
Instead, her family plans to marry her off with her cousin so that they can seize in wealth. Having no other recourse, Evangeline goes to the ill-famed roué Sebastian Vincent and asks him to elope with her so that her father's fortune isn't squandered by her wicked family.
Honest or Faking?
Eva knows that Vincent would probably cheat on her, but she had no other way to gain control of the situation. Sebastian, however, accepts to not have coitus at all for an astounding three months after they marry, much to the surprise of Eva. Sebastian's interest in marrying Eva is based on the fact that she's very beautiful, but also that he would get the gambling house of old Jenner.
However, with time, the libertine begins softening up to Evangeline and tries his best at becoming a good husband to her. Whether he is just pulling the wool over everyone's eyes or he is being honest, we can't say, but we will note that the novel is positively brilliant.
---
Bridgertons Series
Julia Quinn, born as Julia Cotler, is from New York City. The genius mind of Quinn is never to be understated as her works are always satisfactory. The 2000 novel named The Duke and I, belonging to the Bridgertons series, is viewed as Quinn's best work by fans and critics, alike. As such, we consider as a proper candidate for our list of the best historical romance books.
Simon Basset
Simon Basset has not lived an easy life by any means. He was born with a speech impediment so that he would often stammer, much to the chagrin of his father. As such, Simon's dad regarded him as a flawed, deformed son, and he doesn't even care to give him the time of the day, as the proverb goes.
Simon grows up without knowing what the problem was, whether he had done something, and eventually becomes given to the anger for his father. With time, Simon has grown up to surmount his stammer and has become the Duke of Hastings.
Daphne
We then met Daphne. Daphne is of the Bridgeton's family and she is getting towards the age when she is to marry. Her brother is as overprotective as they come, so Daphne has to find a way to gain her liberty.
That's when she and Simon meet. The two come to an agreement to trick the others that they're together. Simon proposes so that the people will stop annoying him with requests for marriage and Daphne will gain her freedom.
Obstacles to Overcome
There is not a flaw in their plan save on that they somehow overlooked. Once Daphne and Simon fall head over heels for each other, it becomes apparent that the shoe is on the other foot, and they are the ones that have been tricked. However, no relationship is perfect and neither is theirs as they both have troubles and obstacles to overcome.
---
Outlander Series
Diana Jean Gabaldon Watkins was born and raised in Flagstaff, Arizona, United States of America. Gabaldon has been writing novels for quite some time and her stories have yet to cease amazing us.
Her 1991 release of Outlander is widely thought to be her best novel and we concur. This is truly not only the best novel of hers, but one of the best historical romance books in general.
Claire Randall
In the year of 1945, the protagonist, Claire Randall, having worked as a combat nurse during the terrible and atrocious period of the second world war, has just come back home. Claire and her husband go on a honeymoon so that they can enjoy themselves following the time they had spent apart.
They go to Scotland and are having a wonderful time when Claire comes upon the olden circles which can be found around the Isles of Britain. Out of nowhere, Claire finds a standing stone, and she is transported to a Scotland which is deep in the war of 1743.
Two Centuries Past
What happened and how Claire has just found herself more than two centuries in the past, she cannot comprehend. Soon, Claire has to fend for her life if she intends to survive and find her way back home.
It doesn't take long for Claire to meet a man named James Fraser, a fairly young Scotsman, and, though she has a husband back home, begins developing fingers for him. Claire has not the slightest inkling of what to do next, but she knows that her heart yearns for two men from two different centuries.
---
The Hathaways Series
There wasn't a chance in hell that we would feature Kleypas' amazing writing just once in our best historical romance books review. The 2007 novel Mine Till Midnight is one that we recommend with ease. Mine Till Midnight is also the first of a five-boo series named the Hathaways.
Amelia Hathaway
Amelia Hathaway is in her mid-twenties and has a lot on her plate. Her parents have passed away, so that she and her siblings are left on their own. Her older brother Leo isn't exactly living a virtuous life as he is wasting whatever small wealth the family has in a gambling establishment. The establishment is also featured in another Lisa Kleypas story: Devil in Winter.
We come to learn that it is being run by none other than St. Vincent. Amelia makes her way to the gambling house with her gypsy friend Merripen. Here she meets a half-gypsy and half-Irishman named Cam Rohan. From the first moment that she and Rohan met eyes, they were head over heels for each other.
Conquering the Obstacles
While Rohan is oftentimes not given as much respect as when the old Jenner was alive, he is still well-regarded. He has made everything in his life by working, but he is missing a wife so that he can be properly treated.
With time, Amelia has somehow juggled both keeping the family together, has gotten Leo to behave more mature, and is trying to make things work with Cam. She knows that he isn't just a simple man, but a man of much wisdom and she intends to meet the true Cam. As the story develops, the reader can't help but root for the two of them to conquer all obstacles and they just might.
---
Mackenzies & McBrides Series
Jennifer Ashley is an extraordinary writer, through and through. Rarely does an author write with such emotion, power, and control. The 2009 novel The Madness of Lord Ian Mackenzie is a perfect example of the writer's brilliant work.
Ian Mackenzie
Ian Mackenzie was sent away to an asylum as he was observed to have some kind of a mental problem. At the time of the novel's happening, Asperger's was not a known ailment, so Ian was classified as insane. The greater part of Ian's childhood and years of youth were spent in the asylum before his brother got him out of there.
The people, however, still referred to him as being Mad Mackenzie. He was noted to go into rages or fits, which the people saw as a sign of his insanity. What they didn't know was that Ian was exceedingly smart, his memory was impeccable, and he is also very handsome.
Beth Ackerley
One day, by happenstance, he meets a lady named Beth Ackerley. We find out that Beth was widowed after her husband, a vicar, passed away and she inherited the estate and wealth. Beth doesn't really want another spouse, but more so a person to spend her abundant time with.
Falling in Love
Ian proposes to Beth out of nowhere after so little time of knowing her and Beth thinks he is just joking around. She goes to Paris and Ian follows her all the way there. As the two spend time together and get to know each other, they learn how to appreciate each other's presence, and they soon fall in love. In spite of Ian's condition and in spite of Beth's thinking that she doesn't want a husband, the two found each other in the confusion of their time.
---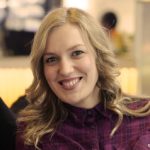 Alissa is an avid reader, blogger, and wannabe writer. (She's a much better cook than a writer actually). Alissa is married, has one human, one feline, and two canine kids. She always looks a mess and never meets a deadline.