---
Best Christmas Romance Books
---
No Time Like Christmas
There is no time in the year quite like Christmas time. The fact that we can listen to Christmas carols, decorate our houses, front lawns, and our Christmas trees is something that elates the lot of us.
We all associate Christmas with a time in the year when we are happiest, most delighted, and relaxed, and who of us doesn't just love a Christmas miracle? Sure, not all things are rightfully miracles, but we have the leisure to label it as a miracle because why wouldn't we?
Ones We Love
Accordingly, Christmas is a time when we spend time with the ones that we love and we are prepared to do pretty much anything just to have these same people feel the Christmas spirit around them. With that said, it is completely reasonable that we are now going to take a look at our picks for the best Christmas romance books.
---
Wallflowers Series
Novelist Lisa Kleypas surely needs no introduction. Kleypas has won the prestigious RITA award, has written more than twenty historical romance novels, and has yet to disappoint us. Her 2008 novel named A Wallflower Christmas is a proper entry on our list of the best Christmas romance books. A Wallflower Christmas is a tie-in novel in the Wallflowers series, between books four and five.
Rafe Bowman
Christmas is nearing as the protagonist Rafe Bowman makes his way from the United States of America to London. Rafe, himself, is from the US, but he has a meeting with a pretty, and genuine lady named Natalie Blandford.
Natalie's parents are Lord and Lady Blandford, so she certainly comes from a respectable family. Rafe is quite a handsome man, too. He is tall, with a beautiful face, smooth hair, though his attitude and repute don't invite much enthusiasm. However, he is sure that Natalie's hand will be gilded with a ring soon.
Not the Way it Used to Be
As a man that is quite used to immediate gratification and being given whatever it is that he desires, Rafe is somewhat dumbfounded that this isn't the case with getting a bride. As he soon learns, the cynic in him will need to either be suppressed for a time or uprooted completely if he holds any wish to get Natalie.
A Promise
Before any of this can even get started, Rafe understands that he has to rule the way that Londoners act, so that he doesn't come off as too odd. It doesn't take long for Rafe to make the decision to better himself in the Christmas spirit, but when he sees Natalie, his promise is cemented completely. We covered one book of the series in the standalone article. Take a look at our Devil in Winter book review!
---
Perfect Indeed
Authoress Debbie Macomber was born on the 22nd of October, 1948, in Yakima, Washington, United States of America. Macomber's writing is always per excellence and the 2009 novel The Perfect Christmas is coincidentally a perfect example of this rule.
Cassie Beaumont
Cassie Beaumont has lived a reserved, calm life, but she is now at the age of 33 and she is still unmarried. Knowing that her biological clock is ticking ever faster and that she'd better get on top of finding a husband sooner rather than later, Cassie has tried it all.
Cassie has gone on the Internet for online dating, she's gone on a number of blinds dates, and she's even trying not concentrating on love and just letting it fall into her lap, however the results are distressing. From time to time, Cassie would complain to a friend of hers about this aspect of her life, so that one day this same friend advertised a matchmaker called Simon Dodson.
Three Tasks
As Cassie tries her chance with Simon, he comes up with a suitable match for her named John. However, to even get started, Cassie pays a whopping thirty-thousand dollars. That's not even the most of the price as before Cassie can even acquaint herself with John, she is given three tasks to accomplish.
All the tasks are Christmas themed, as Cassie has to ring bells for a Charity, to put on an elf costume for the kids, and to call the neighbors that she can't stand for a dinner. As Cassie gets closer to finishing the tasks, a true Christmas miracle is about to happen.
---
Virgin River Series
A Virgin River Christmas is a terrific novel from amazing sixty-nine-year-old writer Robyn Carr. A Virgin River Christmas is the fourth novel in the Virgin River series and it was published in the year of 2008. Let's find out more about it in our best Christmas romance books review.
Marcie Sullivan
Marcie Sullivan had been with her husband Bobby for quite some time before he, unfortunately, passed away the previous years' Christmas. As a year has gone by, Marcie is taking a trip to Virgin River so as to do something that she's wanted for a long time: to meet the man that rescued Bobby and granted her a couple more years of time so that she can be with him.
Bobby had had an accident in Fallujah when he was deployed a couple of years ago and ended up a quadriplegic. If his best friend Ian Buchanan had not been there to help him out, Bobby would have certainly died.
Vanishing
However, in light of the fact that his best friend was now quadriplegic and less than capable of caring for himself, Ian blamed himself and just vanished as he could not take the emotional toll of seeing his friend like that.
In the coming years, Marcie would send letters upon letters to Ian, though to no avail. Marcie has found that Ian resides in the small town named Virgin River and she confronts him here. While Bobby might have been physically crippled from the accident, Ian is emotionally crippled.
Just What He Needs
However, Marcie is not just going to let the man sulk and waste his life like that especially knowing that he's the reason that she had Bobby for as long as she did. Christmas is a time of effort and love, which is everything that Marcie wants to give him, and that is just what Ian needs.
---
Carrie Slayton
Debbie Macomber finds herself once more on our list of the best Christmas romance books with her 2013 novel Starry Night. The main character of Starry Night is none other than Carrie Slayton.
Slayton is at the moment employed as a columnist for a newspaper, though she doesn't exactly find her job fulfilling. Carrie would much more prefer to be able to write stories that would have a serious, candid impact on people.
Free to Choose
With that noted, the editor of Carrie gives her a task: she is free to choose and write about whichever thing she likes, however on the condition that she gets an interview with the writer named Finn Dalton, who is known to live a secluded life.
Finn, himself, resides in the beauty that is Alaska. His terrific novel about survival in the wilderness was received with universal acclaim and it sold quite a lot. However, Finn is against talking to the media, and the people that know where he is can be counted on one hand.
Difficult Choice
As Carrie becomes determined to find and land that interview, she prods deeper and deeper into Finn's Life. In spite of it being Christmas, she sets out to find him and find him she does.
The hardheaded Finn isn't going to give up just as easily as that and Carrie finds herself and the Christmas time with her family imperiled. She has to make a choice: chase the interview and thus her story or go back and be with her family. As Carrie is in quite a quandary, we see that an unlikely thing – a Christmas miracle – begins to take shape.
---
Three Different Authors
Let It Snow is a brilliant novel which is attributed to John Green primarily, though two stories in the three-story novel are written by two different writers. Released in 2008, Let It Snow book was written by John Green, Lauren Myracle, and Maureen Johnson.
Three Different Stories
Let It Snow is written by three different authors, who themselves oftentimes write quit diverse novels, but together they make such a fine story that one can't help but marvel at the brilliance that is in front of us.
All three writers are at their top in these stories, as the first story is called The Jubilee Express and is written by Maureen Johnson, the second is A Cheertastic Christmas Miracle by John Green, and The Patron Saint of Pigs by Lauren Myracle.
Stories
In the first, we follow Jubilee Dougal as she, in the light of her parents' humorous arrest, is on a train towards Florida. However, the snow and the ice hinder the train's movement, so that she gets off and goes to a local Waffle House. Here, she makes the acquaintance of Stuart and a Christmas kiss appears to be just what Jubilee needs.
In A Cheertastic Christmas Miracle, Tobin likes his good friend Angie, though he hasn't been vocal about it. As Tobin, Angie, and another friend get a call to get to their local Waffle House, Tobin seems to be ready to come out to Angie.
Positive Change
If nothing else, the Christmas spirit is there to help him, so what's the worst that could happen? And, in The Patron Saint of Pigs, Addie has just broken up with her boyfriend Jeb seeing as he failed to come to their date. However, Addie isn't going to mope, but finds that Christmas is just the time when she can make a positive change.
---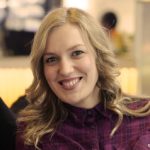 Alissa is an avid reader, blogger, and wannabe writer. (She's a much better cook than a writer actually). Alissa is married, has one human, one feline, and two canine kids. She always looks a mess and never meets a deadline.