---
Best Romance Series Books
---
Huge Effort
Romance stories can be quite difficult to genuinely finish. The fact of the matter is that the reader will always be willing to wait for another installment to a particular story, provided that it ensures the story is not yet finished and the characters will return. However, the writer can often find it a Herculean effort to end a story in a satisfactory manner.
Alluring Quality
On the other hand, some stories define the writer so that he or she will continually find themselves pondering whether to write another addition to the story. As such, we come to the series of books in the romance genre, which whether by cliffhanger or natural progression always has an alluring quality that sucks the reader in. Now, with that said, we can go on with our countdown of the best romance series books.
---
Wonderful Series
Helen Hoang's wonderful and worthwhile modern romance series named The Kiss Quotient is one that we recommend with our hearts in our best romance series books review. The series has three novels in its composition. The novels are the following and next to the name of the novel is the year in which it was published or is to be published:
The Kiss Quotient, 2018
The Bride Test, 2019
The Heart Principle, 2021
Stella
The two novels that have already been published, namely The Kiss Quotient and The Bride Test are genuinely two fine pieces of romance writing. The protagonist of the first novel, The Kiss Quotient, is Stella.
We see as Stella struggles with her disorder – namely Asperger's – as she has found that she needs to learn a lot about love, romance, sex, and the like. She supposes that an escort would help do the trick and she finds one named Michael.
Anxiety and Awkwardness
The two of them have trouble sometimes when communicating, what with the obvious anxiety and awkwardness of Stella, though we do see that Michael is an all-around great guy. He doesn't push, egg on, or nag Stella nor does he hurry her. He gives her all the space and the time she needs, as she maneuvers through all the emotions she wants to learn of until she and Michael both come to the most invigorating of all emotions: love.
In the second novel, Khai and Esme are the main characters. In a similar fashion as Stella, Khai has Asperger's, too. He has trouble communicating his emotions because he doesn't think he feels them.
Esme
The mother of Khai thus tries to find him a girl to help him with this and here enters Esme. Esme is living her own troubled life when the opportunity of a lifetime falls in her lap. We can't spoil everything, but The Bride Test is a terrific novel and is one that warms our hearts each time we read it.
---
Endearing
Jasmine Guillory's The Wedding Date series is one that strikes with a gripping and endearing potency. It is one of the best romance series books, without a doubt. In the same manner as the last enumeration, the novels in the series are:
The Wedding Date, 2018
The Proposal, 2018
The Wedding Party, 2019
Royal Holiday, 2019
Drew and Alexa
The Wedding Date, book number one, features Drew and Alexa. Drew is a pediatrician who not too long ago broke up with his girlfriend, now ex. While closure might have been expected, the best friend of Drew actually started dating Drew's ex and now they're getting married.
To top it all off, Drew was picked as the best man. In normal circumstances, Drew wouldn't be caught dead there, but for his friend, he has to suck it up. On his way to his hotel room, Drew gets stuck in a malfunctioning elevator with one Alexa Monroe.
As the two get to talking, Drew asks her whether she'd like to be his plus one, and, much to his surprise, Alexa says yes. Alexa's own reasoning is that it'll just be a weekend and they'll never see each other after that.
Sudden Spark
However, when they find that they have a lot in common and that they can't stop thinking about each other, they decide that their only recourse is to try a long-distance relationship. Their personal issues aside, they make quite the couple, though things aren't as easy as they might have thought.
The other novels in the series are quite similar in the fashion of the plot, though they do prod into and examine different, more intriguing themes. All four novels are finely written, with a story to amaze and entrance the reader, and with a zest that is unmatched. This is why we think that The Wedding Date series is one of the best romance series books.
---
Famous Series
Diana Gabaldon is a brilliant novelist and there's no way around this fact. Her Outlander series is one of the most inventive stories out there, not just in the romance genre, but historical as well.
Outlander, 1991
Dragonfly in Amber, 1992
Voyager, 1993
Drums of Autumn, 1996
The Fiery Cross, 2001
A Breath of Snow and Ashes, 2005
An Echo in the Bone, 2009
Written in My Own Heart's Blood, 2014
Claire Randall
World War Two has just ended and protagonist Claire Randall is making her return to Scotland. She has seen her significant other Frank for quite some time so the two decide to go on a honeymoon.
Claire, with her interest in botany, while on this little honeymoon with Frank finds a large circle of stones, and close by is a curious sort of plant. As Claire starts frequenting the circle, she begins hearing the stones scream, and out of nowhere she is transported to somewhere completely different.
Two Centuries
We learn that Claire is still in Scotland, though she finds herself more than two centuries in the past. While she had just come back from WWII, the war in Scotland is still underway and Claire is out of the frying pan and into the fire, seemingly.
No Other Choice
Soon, Claire has no other choice than to adapt to the time period and hope that a miracle will save her. She goes through a number of adventures, juggles a double life between the 20th and 18th century, falls in love, and many more odd happenings, but the journey on which we walk with her is nothing short of eye-opening and life-changing.
---
Plenty of Praise
Sylvia Day was born and raised in the beauty that is Los Angeles, California. Day has a very attractive style of writing and her stories are always worthy of much praise. The Crossfire series of books is one that we love of hers and it is composed of the following novels:
Bared to You, 2012
Reflected in You, 2012
Entwined with You, 2013
Captivated by You, 2014
One with You, 2016
Eva Hammel and Gideon Cross
We covered the second novel in our adult romance book list. Eva Hammel and Gideon Cross meet at Gideon's company. Eva had given up living on the family money with the intent of providing for herself and working her butt off until she had made her own future.
She doesn't have a hard time finding a job and that's where she meets Gideon and from that moment on, it was love, passion, and a bit of torture. They cannot have enough of each other; their time in the bedroom at times seems like it will burn the pages of the book with its intensity. However, their problems are manifold.
Controlling and Possessive
Gideon has trouble with trust. He asks to be believed and trusted no matter what, while his own propensity for not being honest is more than just obvious. While Eva is always honest, Gideon is so controlling and possessive that the relationship begins to get messy.
Throughout the series, we see both of them slowly mature – keyword being slowly – as Gideon steadily gets a better grasp on his mysterious and secretive ways, while the naivety of Eva morphs into a more realistic, grounded aspect of her.
There's More
The whole billionaire romance series happens in a span of a few months, but the story is one that you won't forget. If we made you interested, you can take a look at our selection of the alpha male romance books, where we mentioned the first book of the series, Bared to You.
---
Engaging
Stephanie Perkins is a notable American novelist, whose works are always top-notch and very engaging. Her Anna and the French Kiss series is rightfully on our list of the best romance trilogy books and we will explain why. The series consists of the following novels:
Anna and the French Kiss, 2010
Lola and the Boy Next Door, 2011
Isla and the Happily Ever After, 2014
Always a New Cast
Throughout the series, we meet, in each novel, a new cast of main characters. In the first novel, we meet Anna. Anna is living an okay life, is getting closer to graduating from high school and prom when she gets hit with the bombshell that she's going to finish her senior year in a boarding school in Paris.
The reader is immediately sold on the fact that Anna is a relatable character and one grounded in reality. She doesn't want to leave all her friends here, but she can't do anything to stop what's happening.
Etienne St. Clair
In Paris, though, she meets a guy named Etienne St. Clair. While Anna had thought that Paris would be a snooze fest and she couldn't wait until everything had ended, once she comes by Etienne, her mind comes around to the fact that Paris isn't all that bad. However, Etienne having a girlfriend doesn't bode well for Anna, though a few circumstances do seem to be acting in her favor. The French kiss is as good as hers.
More to Read
The other books in the series, Lola and the Boy Next Door and Isla and the Happily Ever After are ones that make our hearts flutter every time we pick them up. A little tidbit for those that have stayed with us: Lola, Cricket, Etienne, Anna, and Isla all appear, though not in main character roles, in the Isla and the Happily Ever After novel.
---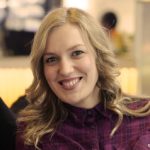 Alissa is an avid reader, blogger, and wannabe writer. (She's a much better cook than a writer actually). Alissa is married, has one human, one feline, and two canine kids. She always looks a mess and never meets a deadline.