Jasmine Guillory
Jasmine Guillory's intimate and personal life remains a bit of a mystery seeing as there isn't any definitive information about where and when the authoress was born. Still, there are things that we know for certain of Jasmine.
For instance, we know that Guillory is a prominent American author of romance stories. The books which she has written often feature main characters that are African-American. The first of her books to have reached the heights of the New York Times Best Seller list was her 2018 novel The Proposal.
---
The Wedding Date Series
---
Education
Jasmine went to the Bishop O'Dowd Highschool, situated in Oakland, California, United States of America, in the year of 1993. Her major was in history, as she graduated in 1997, from Wellesley College, in Wellesley, Massachusetts.
Upon graduating, Jasmine worked professionally for a period of two years. Following this, Jasmine went back to school, namely the Stanford Law School, graduating in 2002. Following graduation, Guillory worked in the Federal District Court in San Francisco, then later went on to work in a law firm.
Career
It wasn't until 2015 that Jasmine decided that her true vocation was writing. Guillory took part in National Novel Writing Month, wherein she finished one half of the book draft for her novel The Wedding Date. This book and the reception it received, indeed, is what spawned the following few in the book series. As such, we are now going to take a look at our The Wedding Date Book series review.
Gentle Romance
This book series from wonderful author Jasmine Guillory is one of the starkest examples of gentle storytelling in romance novels of our time. The series, itself, features four books, as of yet. These books are the following:
The Wedding Date, published in 2018
The Proposal, published in 2018
The Wedding Party, published in 2019
Royal Holiday, published in 2019
Heartfelt and Sweet
The first novel in this romance series is a wonderful, heartfelt, and sweet story. The way that it is written, it feels like the author's been writing for years and years, but it's actually the debut of Guillory. The novel is a pleasant, passionate read and it doesn't disappoint in any facet.
The main characters of the first book are named Alexa and Drew. Drew is from Los Angeles. Drew works as a pediatrician. Drew used to be together with this one person, though their relationship had to come to an end.
Complications
Now that he has broken up with her, she is now engaged to one of his friends, and that friend has asked Drew to be one of the groomsmen, particularly the best man. Drew was reluctant about going to the wedding, but decided to accept as the groom is, in fact, one of his close friends.
Drew even had a plus one for the wedding night, but only a day prior to the wedding, itself, she canceled. Justly, Drew is unwilling to go the wedding without a plus one, as he'd be the subject of gossip, staring eyes, and the like. In spite of all that, he comes to the conclusion that he'll just get with one of the bridesmaids, a drunken one as he hopes, and spend the weekend with her.
Fate Smiles at Drew
As Drew is going to his hotel room in San Francisco, it just so happens that the elevator experiences some trouble and malfunctions: he's stuck with a lady in it. The person in the elevator stuck with Drew is none other than Alexa Monroe.
Alexa works as the chief of staff for Berkeley's mayor. Alexa doesn't find herself in these situations often, and less often does she go for random white men in elevators. However, she, by way of conversation and sensing a certain charm in him, accepts to be his date for the wedding. After all, it's only for a wedding; a day or two later, he'll be back in Los Angeles, and that'll be that.
Better Than Anticipated
As one might have been expecting, Alexa and Drew hit it off far better than they had anticipated. Their fling lasts the whole weekend. Alexa had been told by Drew that he isn't someone that likes relationships, now, so she's probably correct in her anticipation of his departure to Los Angeles.
However, neither Drew nor Alexa seem to be able to keep each other out of their thoughts. In a little while, they begin to exchange visits. Unable to keep their hands to themselves, they seem to be a perfect match for each other.
Alexa, however, doesn't think that Drew has the same feelings that she harbors for him so much so that she's actually frightened of asking him. Drew, on the other hand, has never felt like that about anyone before. He's afraid that this seemingly perfect relationship will meet its end as soon as she begins to get to know him better.
As Good as It Gets
The story is as gentle, attractive, and entertaining as one can expect it to be. The other books in the series don't feature a recurring cast, but are wonderful in their own respective ways. It's a genuinely outstanding that a freshman author like Jasmine has written and published such great romance novels. It is because of her and writers like her that the genre is flourishing once more.
The series will be expanded by one more book this year. The title of the to-be-released novel is Party of Two.
---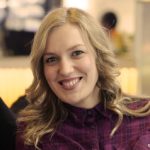 Alissa is an avid reader, blogger, and wannabe writer. (She's a much better cook than a writer actually). Alissa is married, has one human, one feline, and two canine kids. She always looks a mess and never meets a deadline.