Bio
Karin Slaughter is a prolific American novelist. She has nineteen published books under her belt so far, some of which are in development to be turned into screenplays for film and television, such as Pretty Girls and Cop Town.
Career
She is firmly established in the crime genre niche and immensely successful worldwide. Her books have been published in more than 100 countries and translated into 37 languages. Some of Karin Slaughter's best books have been granted international recognition.
---
Best Karin Slaughter Books
---
Awards
Blindsided, her first novel, was shortlisted for the Crime Writers' Association's Dagger Award for "Best Thriller Debut" of 2001. Later, in 2015, Cop Town would win the British CWA Ian Fleming Steel Dagger Award. Other still have gone straight to numero uno in countries such as the Netherlands or Germany and the much sought-after New York Times Bestseller List.
Philanthropist
A philanthropist and bibliophile, this Georgia native also founded a non-profit organization with the mission to help public libraries in the home country under the name "Save the Libraries". All best Karin Slaughter books have a few recurring characters in common, that pop up time and again to greet the faithful fans of this murder-mystery genius to help solve the cases.
---
Mysterious Disappearance
Julia mysteriously disappears when she is 19 years old. Her body is never found, no suicide or running- away-from-home note have been left behind. She just vanishes into thin air.
Her family members each have a hard time dealing with her disappearance, in their own particular way. The lives of her sisters, Claire and Lydia, take very different paths in an attempt to grieve their loss.
Perfect Trophy Wife
Claire is married to a successful architect, the picture-perfect pretty trophy wife. Lydia, on the other hand, has struggled with drug addiction and has only now found her footing again. Neither of them is on speaking terms with the other.
Twenty-plus years after the disappearance, Claire's husband is suddenly attacked and killed in an alley. Seemingly unrelated, this event sparks an investigation that is destined to bring the two estranged sisters back together and unearth some disturbing truths about their past.
Chilling and Disturbing
Chilling and disturbing, Pretty Girls is packed with twist and turns so powerful they'll have you reaching for your motion-sickness pills. Be warned though: this novel is not for the faint of heart.
---
Andrea Oliver
Andrea Oliver is certain she, like all daughters, knows her mother well. Her mother is a lovely, even- tempered woman who likes to live a quiet life in the even quieter beachside town of Belle Isle.
However, Andrea will learn that her mother hides a muddy past. And not the kind that involves embarrassing hook-ups and tax returns that were never filed. Pieces of Her is one of the best books by Karin Slaughter.
Becoming a Hero
Andrea and her mother, Laura, get caught up in a shooting at a mall. Laura reacts in a way Andrea has never seen her act before. After becoming a hero for the way she handles the situation, Laura still ends up in hospital. Someone from her past has tracked her down, and wants answers.
Race Against Time
In a race against time, Andrea will have to piece together the scraps of information she has on her mother to find out about her past. Because now, Laura's past is coming back to haunt them, and they are both in danger.
---
Heartsdale, Georgia
Grant County series is composed of six books that all take place in the fictional town of Heartsdale, Georgia, in the likewise fictional Grant County that gives name to the series. The recurring cast centers around three main characters.
Characters
Sara is the local pediatrician who also acts as a part-time coroner, a fiercely independent woman who was born and grew up in her home-town. Jeffrey Tolliver is Heartsdale's chief of police, an incorrigible ladies' man and Sara's ex-husband. Lena Adams is Jeffrey's subordinate – and the only female detective in Heartsdale – her character is rebellious, confrontational and controversial.
Throughout Blindsighted, Kisscut, A Faint Cold Fear, Indelible, Faithless and Beyond Reach (called Skin Privilege in the UK) all three characters come together time and again to solve vicious crimes. Blindsighted solves the attack and murder of Sybil Adams, a blind professor who also happens to be Lena Adams' sister.
Kisscut
In Kisscut, Jeffrey is forced to shoot a 13-year old to stop her from killing another teenager. The autopsy performed by Sara and some detective work show that the group of teenagers that witnessed the deathly quarrel are hiding some dark secrets.
Faint Cold Fear
A Faint Cold Fear follows a series of suicides in a local college campus where two and two don't seem to be adding up to four for either Sara or Jeffrey, and the college authorities are desperate to avoid a campus-wide scandal.
Indelible
In Indelible, the Heartsdale Police Station is taken hostage – and among those taken in is Sara, with Jeffrey wounded. The situation is tense, and Lena Adams has to work fast to find out what they gunmen want, or, more specifically, who they are after, as it is slowly revealed that Sara's and Jeffrey's past wrongdoings are catching up with them.
Faithless
Faithless starts with a gruesome discovery: the lifeless body of a young woman is found buried in a coffin in the Georgia woods. The autopsy reveals she was buried alive and then murdered underground. Jeffrey and Sara set to work on finding the identity of the evil killer behind the case.
Beyond Reach
Beyond Reach has Lena Adams arrested for murder in her home town of Reese, and calling on friends Jeffrey and Sara to help her get out of the situation. Sara already has a plate-full of problems to tend to, as she is facing a malpractice lawsuit that has shut down the clinic she has spent 16 years building up. As the couple rake through the evidence, a story of vengeance starts to appear that will put all three of their lives in danger.
Awesome Series
The Grant County book series is perfect for those readers who – aside from enjoying crime, detective work and thrillers – also enjoy getting attached to recurring characters, and watch them develop along with the gruesome details of Slaughter's gripping prose.
---
Prolific Writer
This review on the best books by Karin Slaughter include not one, but two series. As we mentioned, she is a prolific writer, and The Will Trent series spans over 9 books and two short stores.
Will Trent and Faith Mitchell
Here, the main characters are GBI special agent Will Trent and his partner, Faith Mitchell, who initially is loath to work with a man who disgraced his mother. Will Trent's childhood friend, Angie Polanski, also shows up regularly in the series due to the unstable nature of her relationship to the special agent.
Fans of Grant County will be pleased to know that their favorite doctor, Sara from Heartsdale, pops up in on the action. Below are the Will Trent series books, for those that want to know a little about the plots.
Triptych
A serial killer is mutilating young women in Atlanta. Local police detective Michael Ormewood is forced to work with GBI agent Will Trent to find the predator behind the brutal murders.
Fractured
Abigail Campano gets home and walks into every mother's worst nightmare: her teenage daughter is lying dead on the ground, and a man is towering over her, a bloody knife in his hands. When Atlanta police botch the investigation, it is handed over to the GBI, where Will and Faith will have to join forces, however reluctantly, to avoid future victims.
Undone
A tortured and brutalized woman stumbled into the Atlanta hospital ER, where she is attended by Grant County runaway Sara Linton. Will and Faith must examine the crime scene only to find a torture chamber. The three team up in a serial killer hunt that draws Sara back into the world of violence and horror she thought she had left behind.
Broken
Broken takes readers back to their beloved Grant County. A young woman is fished out of a freezing cold lake, her murder made to look like a suicide. The lead suspect appears dead in his cell. Will Trent, whose vacation is interrupted, will find out just how hard it is to squeeze the truth out of a close community like the one in Grant County.
Fallen
Special agent Faith Mitchells rushes to her mother's house when her keen police instincts are raising some serious red flags. Her baby daughter is in the shed, locked out of the house. Inside, a dead man and a hostage situation. But her mother? Nowhere to be found. From cop to witness to suspect, Faith Mitchell relies on Will Trent and Sara Linton to help her solve this murderous puzzle.
Criminal
In Criminal, Will Trent's past will sneak up to him through a bloody murder of a woman discovered in a seedy Atlanta apartment. His supervisor, Amanda Wagner, is unkeen to have him on the case as it all seems to link back to the orphanage where their paths briefly met almost 40 years ago. The recent murder seems to hold the key to the case that launched detective Wagner's police career.
Unseen
Will is undercover in Georgia, posing as a violent bike rider. Sara has no idea where he is or why he left. However, a gun shooting at Sara's stepson's house will have both of them working on the same case – and this twist of fate will put their lives at risk in the process.
The Kept Woman
A body is found in an abandoned construction site, but Sara quickly realizes that there is too much blood for just one person. There's another victim, a woman, who is missing and her time is running out. Unfortunately, the site belongs to a big-shot athlete protected by
The Last Widow
A scientist is kidnapped and disappears. A bomb goes off in one of Atlanta's busiest neighborhoods. Apparently unrelated, a conspiracy will emerge…
---
Not the Friendliest Place
Atlanta Police Department in the 1970s is not the most female-friendly place. That doesn't stop the two women Cop Town follows from trying to become the best police officers they can in the male dominated world that fights so hard to keep them side-lined.
Kate and Maggie
Kate Murphy is a widowed Jew, and it's her first day on the force. She will have to face harassment, and be looked down upon by her male colleagues.
Maggie Lawson comes from a family of cops, but none of them want to see her join the force. It's just not a place for girls. Regardless, this strong-willed woman keeps marching forward to fulfil her dreams.
Cop Killer
A cop killer is on the loose in Atlanta, and it has everyone at the station in a frenzy. Naturally, both women are banned from working on the investigation, but that doesn't stop them. Maggie and Kate join forces to conduct their own parallel investigation to find the perpetrator.
Cop Town is a brutally honest portrayal of the place and time it is set in. Georgia was a changing place in the 70s decade, and Karin Slaughter researched the environment of racism, homophobia, and bigotry in depth to make this action-packed book as life-like as possible.
Hooked Up
Karin Slaughter is considered one of the best crime novelists in America, and has a way of hooking her readers in from the beginning to the end. You should definitely take a look at some of the Karin Slaughter's best books.
---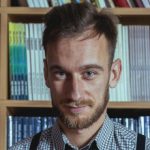 Robert is a science fiction and fantasy geek. (He is also the best looking Ereads writer!) Besides reading and writing, he enjoys sports, cosplay, and good food (don't we all?). Currently works as an accountant (would you believe that?)