Bio
James Paul Czajkowski was born on the 20th of August, in the year of 1961, in Chicago, Illinois, United States of America. James Paul Czajkowski is certainly more familiar to readers and fans by the penname of Rollins.
Career
Rollins is a notable American author of action-adventure, thriller, mystery, and techno-thriller books. Another pseudonym that James uses is James Clemens, under which he has published a number of fantasy novels.
---
Best James Rollins Books
---
Family Life
As noted, James Paul Czajkowski was born in Chicago, Illinois. Paul's dad was employed for Libby's canning plant, while his mom was a housewife. James Paul is one of seven children, and he has noted that he lived a sort of Brady Bunch lifestyle.
Education
James Paul went to Parkway South Junior High School, though he graduated from Parkway West High School in Ballwin, Missouri. James attended the University of Missouri in Columbia, where, in the year of 1985, he graduated with a doctorate in veterinary medicine. Not long after, James Paul relocated to Sacramento, California, where he opened his veterinary practice. Now, with all of that said, let us take a look at the best James Rollins books.
---
Most Popular Series
The first entry on our James Rollins book list that we'll be taking look at is Rollins's Sigma Force series that is home to some of the most popular Rollins books of all time. With sixteen books in its composition, let's see what Rollins's Sigma Force series in order looks like:
Sandstorm
Map of Bones
Black Order
The Judas Strain
The Last Oracle
The Doomsday Key
The Devil Colony
Bloodline
The Eye of God
The 6th Extinction
The Bone Labyrinth
The Seventh Plague
The Demon Crown
Crucible
The Last Odyssey
Kingdom of Bones
World Imploding
With Rollins's Sigma Force series order behind us, we'll be taking a look at what Rollins's Sigma Force books are about. It all starts with an inexplicable explosion.
The explosion shakes the antiquities collection of a certain London museum, triggering alarms in secret companies around the world. Lady Kara Kensington, her friend Safia al-Maaz and the internationally known adventurer Omaha Dunn are the group that has to explore something strange.
Civilization Under the Earth
What they have before them is a lost city, one that lies in the lower regions of the Arabian desert. But the three are not the only ones who are seeking answers, because life-threatening dangers are becoming the norm.
The ultimate goal is either to bring about a utopian bliss over the world or to plunge humanity into oblivion. We were not joking when we said that there are some amazing novels in Rollins' Sigma series.
Monk's Cloaks
The second novel in Rollins' Sigma Force reading order is Map of Bones. During a service in a cathedral in Germany, fiends in the guise of monks let loose a terror upon the world.
These murderers did not set out to seek a monetary fortune, but rather something invaluable – bones. These bones used to belong to one of the three Magi, who came to pay tribute to newborn Jesus in Bethlehem and they have tremendous magical power.
Mystical Orders
Vatican is very much uneasy and anguished about what has happened, so the Sigma Force, commanded by none other than Grayson Pierce, are given the mission at hand. The Sigma Force is dragged from the first to the last of the seven world wonders, but its finale only comes when they arrive at the home of an old, mystical, and horrible secret order.
As scientific creation and religious incantation mingle, the world will know true fear and terror. It is no surprise why we consider Rollins's Sigma novels to be some of the best James Rollins books.
The Holy Book
Book number three in Rollins's Sigma series book order is Black Order. If you follow the strictest chronological order of Rollins's Sigma series, there is a tie-in novel between two and three, but we do not think it's necessary to enjoy the main plot.
What only began with a Copenhagen bookstore being set on fire soon turns into a great, unwavering hunt across four continents of the world. As it soon turns out, a Bible that belonged to Charles Darwin is at the forefront of this hunt.
Disarray
Gray Pierce and the Sigma Force then start on a journey going back to Nazi Germany and even all the way to Polish mountain with a hidden laboratory. A single continent away, madness follows a remote monastery high in Nepal. A Buddhist monk has found himself given to the gluts of cannibalism and torturing others.
Lisa Cummings, the doctor who analyzes this event suddenly becomes the target of an assassin. Painter Crowe, the director of Sigma Force, and Lisa are left alone, but the group has to find a way out because time is running out. This book of all Sigma Force novels by Rollins is perhaps our favorite.
Treachery and Treason
Book four among Rollins's Sigma series novels in order is The Judas Strain. The Judas Strain is a term in science that describes an organism that is the main factor in driving an entire species to extinction. From the deepest abysses of the Indian Ocean, a completely disastrous and deadly disease has come to the surface.
The worst thing is that this is only the beginning. Lisa Cummings and Monk Kokkalis are on a cruise ship trying to find the answers to what happened. However, their ship is soon captured by terrorists who use the ship as a laboratory for biological weapons.
Hot on the Trail
A whole world away, Gray Pierce tries and succeeds in preventing and stopping the schemes of a murderer because it may be the first clue to finding a cure for the plague that has ravaged the world.
Soon enough, Pierce is trailing one of the most famous explorers in all of history, Marco Polo. Pulled into a world of antiquity, biological weapons, plagues, and much, much more, Gray Pierce and his Sigma Force might just have their very own Judas. It is with due reason that we consider this to be one of the best James Rollins series ever.
---
Blood Gospel Series
Sanguines series is also known as James Rollins Rebecca Cantrell books because it was written as a collaboration of two authors. It belongs to some of the best-selling Rollins books and sometimes it is referred to as Rollins's Blood Gospel series which is not correct as it bears the title of the first book. Speaking of Rollins's Sanguines series order, the rest of the books goes as follows:
The Blood Gospels
Innocent Blood
Blood Infernal
Entombed in the Mountains
With the order of Rollins's Sanguines series covered, we'll take a closer look at what the series is actually about. Masada, Israel, was shaken by a terrible earthquake, one that claimed the lives of hundreds of people, but it also revealed something at odds with what was believed – a tomb buried in a mountain's heart.
It is up to Sergeant Jordan Stone, Father Rhun Korza, and Doctor Erin Granger to investigate what has been uncovered – a temple with a mummified girl that has been crucified.
Ancient Malevolence
However, after a terrible attack on the site, the trio is forced to flee as they attempt to reclaim what was in the temple – a book supposedly written by Christ himself.
Their nemesis, an evil that is more than just ancient isn't going to let them off lightly. Erin, Rhun, and Jordan will soon find themselves forced to stand against such an ancient past as the strangest events take place around them. It deserves to be considered James Rollins's best book.
---
Short Series
Rollins's Tucker Wayne series is one of the most important thriller works of the author. It consists of only two novels, so Rollins' Tucker Wayne series in order looks something like this:
The Kill Switch
War Hawk
Two of a Kind
The two of Rollins's Tucker Wayne novels are among our favorites and we'd even go so far as to name them some of James Rollins's best books. It is worth mentioning that these two James Rollins books were written together with Grant Blackwood.
Ex-Army Ranger Tucker Wayne together with his military dog Kane were recruited by none other than the group known as Sigma Force. Their task is daunting and requires a steely will and an unwavering heart.
From Africa to Siberia
Wayne got a mission to extract a pharmaceutical magnate from Siberia. While undoubtedly a genius, the man holds in his hands something that could easily be used to terrorize and beleaguer the world.
From the savannas of Africa to the steppes of Siberia, the duo has a mystery to solve, and this mystery could cost them their lives in the face of many dangers. This is also a series that has earned its place as one of the best James Rollins series.
---
One In, Two Out
Amazonia is one of James Rollins's standalone novels, but it also rightfully belongs among the top Rollins books. Amazonia was published in 2002 and has a total of about five hundred pages. An expedition, one referred to as the Rand expedition, was being carried out in the thick wilderness of the Amazon, but none of the crew members returned.
Now, years and years later, it seems that one of the crew members has succeeded in getting out. The ex-Special Forces soldier has many scars, he is scared, and he is only a few hours away from dying. The strangest and most inexplicable thing is that the man was missing an arm when he came in, but now he seems to have both.
Searching For Answers
Since there is no other way to explain what happened, it is Nathan Rand, who is sent by the government to the impregnable Amazon rainforest.
Nathan Rand is the son of the man after whom the original expedition was named. He will face many secrets and mysteries, a force far too old to understand and far too great not to fear. However, Nathan has no other choice. This novel is a worthy candidate to be the best James Rollins book.
---
The Abyss
James Rollins book reviews can't stop talking about how awesome the story is. Therefore it is not so surprising that it is one of James Rollins books ranked as the best-selling. Subterranean was published in 1999 and spanned about four hundred pages.
Beginning the endeavor of journeying to the Earth's bottom, to that yawning, black, horrific chasm, is something wholly unnerving. Right below the sheet of hard ice, a team of specialists that had been chosen just for this mission, slowly walk towards the world's very center. While it may seem so, they aren't the first to make this venture, but they hope to be the first that succeed in making it out as others have never returned.
Heart of the Earth
Across a river that is blacker than the darkest night, just beyond the recesses and caverns, and a bit above the mighty rocks, one can see that he is not lonesome in these parts.
In the tenebrous fog of stark darkness, there are only mesmerizing wonders to captivate you and horrors to put your mind ill at ease. Just beyond the Earth's penultimate gulf lies the center of the world, where so many secrets are held. Candidly, one of the best-rated Rollins books.
---
Must-Read
One of the best James Rollins books if one were to put Rollin's books in order from ascending to descending is surely the novel titled Altar of Eden. Altar of Eden was published back in 2009, spanning just a hair under four hundred pages.
Something Let Loose
Altar of Eden sees the city of Baghdad as it falls. Men, armed to the teeth, can be seen as they loot the zoo of the city. As riots rage on, and as lives are either changed forever, or claimed, an underground lab that had been kept undercover is in tatters as a horrible thing is unleashed upon the world.
Two-thirds of a decade later, a Louisiana veterinarian named Lorna Polk examines a shipwreck where exotic animals were kept in cages, probably for sale on the black market.
Beast Market
However, there is something quite strange about the animals, they resemble some common animals but seem to behave in an unusual way. What they all have in common is their intellectual level, which is amazing, to say the least.
Lorna partners with Border Patrol Agent, Jack Menard, in order to illuminate what was happening with this bizarre cargo and what kind of a beast stalks the earth. One of the best books by James Rollins, in our opinion.
---
Recommended
Ice Hunt is in a league with the novels that we would wholeheartedly call the best James Rollins novels. Ice Hunt is a book that was published in 2003 and had a page count of about five hundred pages.
Frigid Cold
The Ice Station Grendel, which was seemingly carved into a moving island with a size about twice that of Europe, has been left all by its lonesome, with no one to control it for more than seven decades.
The brightest minds at the Soviet Union had joined forces to create it, and it is understandable why it is so invisible to the naked eye. The natural conditions of the environment would not (and could not) allow anyone or anything to survive.
Abandoned Halls
However, an underwater research ship from the United States came too close to Ice Station, so much so that they noticed that something was moving inside the supposedly barren building, even though survival in such harsh climate and weather is likely to be impossible.
It does not take long until intelligence officers, soldiers, and groups of scientists have the task of finding out the secrets of the station and keeping them hidden before everything is lost.
---
Digging Into the Earth
Excavation, perhaps the best James Rollins novel, is one of the few thriller books by the author that we would recommend to start with. The novelist is by no means inaccessible, but Excavation gets our pick for being the best in this manner. Excavation was published in 2000, although it is not the case that we look at the books from James Rollins by date.
A doctor named Henry Conklin has just made a truly monumental and outstanding discovery – a half-millennium old mummy that by all accounts should not be anywhere near the Andes. Elsewhere, deep in the South American jungles, Henry's nephew Sam has just discovered an amazing site of his own in the space between two peaks.
What Lurks Around
Elaborate traps had been placed in hope that those imprudent and hasty would be caught and thwarted, but the end goal is something that doesn't allow for anything less than absolute caution.
As Sam Conklin continues his endeavor forward, he encounters a mesmerizing, wonderful, yet ghastly necropolis, and even further beyond, a thing made by Man, but not in his own image, more so in the image of the most terrible beast ever conceived. So far as Rollins's novels in chronological order are concerned, Excavation is one of the first books Rollins ever released.
---
World on Fire
Deep Fathom is one of the best James Rollins books. A story that is both endearing, fascinating, and satisfying to read is what awaits the reader in this 2001 novel.
Deep Fathom sees the former Navy Seal member Jack Kirkland as he ascends from the underwater recovery mission, which unfortunately was aborted halfway through, only to find that the earth itself is on fire. The solar flares have led to a series of enormous and terrible environmental disasters. While hellfires and quakes are beginning to shake the planet, AFO – Air Force One – disappeared from the sky when the US president found his way out.
Last Chance
Since the apocalypse, the nuclear variant, will soon pose an all too real threat to the United States of America, it is up to Jack Kirkland to take his exploration ship, the Deep Fathom, miles and miles beneath the ocean's surface in the hopes of finding something to help.
Secrets, innumerable secrets are what await Jack as an elder civilization went through an all too similar set of events and Jack hopes that they can learn from its mistakes.
---
Entertaining
Rollins's Jake Ransom series is not just another of the James Rollins series to cap off our reviews, but an altogether entertaining set of books that we very much adore. These particular James Rollins books in chronological order are:
Jake Ransom and the Skull King's Shadow
Jake Ransom and the Howling Sphinx
Closure
Jake Ransom and his sister, Kady, were having a pleasant time until an ominous envelope came for them. Without any notice, the two are thrown into a series of unfortunate events that they can't back away from.
Their parents had discovered an invaluable artifact on an expedition from which they never returned. This throws Kady and Jake Ransom into a world that is so strange, so odd and so ancient that it may be the only way to draw a line under what happened to their mom and dad.
Lord of Skeletons
However, even as they make their way to this extraordinarily bizarre and incomprehensible place, grackyls, completely wild and diabolical, roam the skies waiting for the opportunity to attack.
Pindor and Marika, a Roman boy and a Mayan girl, join them on their journey and inform them that the grackyls were engendered by the malevolent alchemist known as the Skull King. Another thing they learn is that the Skull King has one wish at the moment and that one wish has to do with Jake and Kady. The Godslayer Chronicles series penned by Rollins under a different pseudonym gets our recommendation, as well.
---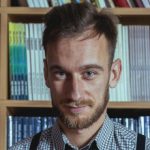 Robert is a science fiction and fantasy geek. (He is also the best looking Ereads writer!) Besides reading and writing, he enjoys sports, cosplay, and good food (don't we all?). Currently works as an accountant (would you believe that?)