Bio
Eisler was born in the year of 1964, in New Jersey, United States of America. While the date of Barry's birth isn't exactly a known fact, we do know that he is, at the moment of writing, aged fifty-four. Barry is a best-selling American author. He is most well-known for his John Rain series, but his Ben Treven series is also a prominent one in the thriller genre.
Barry was born in New Jersey. His mother was an environmental activist, while his father was a wholesale office supplier. In the year of 1989, Eisler graduated from the Cornell Law School.
---
Best Barry Eisler Books
---
Career
Upon graduating from law school, Barry was recruited for the CIA. He trained for a period of three years, after which he held a high position with the Directorate of Operations. However, in 1992, Barry took it to himself to resign from his CIA career. Instead, he joined the law firm Weil, Gotshal & Manges.
In 1994, Barry relocated to the San Francisco Bay Area so as to work for the technology license division of the same law firm. It has become clear that what we will be concerning ourselves with today will be seeing what the best Barry Eisler novels are. Let us commence.
---
Most Famous Work
Eisler's John Rain novels is the most famous from the New Jersey author. It contains a total of ten books in it. Below, you can find Eisler's John Rain books in order:
A Clean Kill in Tokyo, published in 2002, under the title Rain Fall.
A Lonely Resurrection, published in 2003.
Winner Takes All, published in 2004.
Redemption Games, published in 2005.
Extremis, published in 2006.
The Killer Ascendant, published in 2007.
The Detachment, published in 2011.
Graveyard of Memories, published in 2014.
Zero Sum, published in 2017.
The Killer Collective, published in 2019.
Main Character
The first book of Eisler's John Rain novels in order, A Clean Kill in Tokyo, is where we meet the ever-charismatic, dashing, yet silent assassin John Rain. Even if one isn't too fond of assassins as main characters, we encourage them to just take the time to try out a John Rain book, preferably this one. It really is that good.
Throughout all of the books, there is a certain permeating sense of loneliness that is nearly tangible. John embodied what a true cold-hearted assassin ought to be. In tandem, the Tokyo landscapes are also just superb. The noir setting along the brightness of the nightlife makes for an invigorating juxtaposition.
One to Follow
If one is through with the 'goody-goody two-shoes' kind of protagonists, then John is the one to follow. He's barely even a hero. He isn't a bad man, per se, but rarely does an anti-hero dance around that line quite as much as John does. The series has some of the best thriller books, let alone some of the best Barry Eisler books.
---
Chronological Order
Eisler's series called Livia Lone consists of four works. Eisler's books in chronological order are:
Livia Lone, which was published in 2016.
The Night Trade, published in 2018.
The Killer Collective, published in 2019.
All the Devils, published in 2019.
Nothing Lightweight
Livia Lone, the first of Barry Eisler's book series, is a genuinely tenebrous – in terms of content – and harrowing book. What keeps the reader going even after one has reconciled with the fact that this is no lightweight or frivolous story, is the main character, Livia, and the exceptional storytelling that Eisler employs.
Intriguing Character
Livia is a truly intriguing character, and the fact that the reader is given this knowledge in barely a few minutes after starting the book, is what makes her stick with the reader even months after setting the book down. The raw passion adopted and expressed by Livia make her a character that stands out, not just a character that ought to stand out. Future installments see Livia grow even more as the brave, intelligent character that she is.
The manner in which Eisler writes the action scenes, the suspense that enshrouds the story prior to the revelations, the subtle intricacies of all the characters, in all of the books, make these one of best Barry Eisler books.
---
Chronological Order
Eisler's Ben Treven series is another action-packed addition to the master thriller writer's bibliography. Barry Eisler's books in order are the following:
Fault Line, published in 2009.
Inside Out, published in 2010.
The Detachment, published in 2011.
The Killer Collective, published in 2019.
Simple Life
Fault Line, which is the first book from Barry Eisler's novels in order, sees attorney Alex Treven living a rather simple life. He wakes up in the house where he grew up, goes to work as a singularly ambitious attorney, comes back to his home, sleeps, and repeat. However, a certain case comes up and it might just be Alex's opportunity to sit among the big dogs in his law firm.
His client, however, is killed and Alex's life is threatened – as lives are wont to be threatened when such high stakes are under place. He calls upon Ben. Ben doesn't live the simple life of Alex. He's a contract killer, in fact. He wakes up in an arbitrary city, kills an arbitrary person he's been paid for, and goes on to the next arbitrary city, kills, and repeat. Even though the two haven't had contact with each other for about six years, Ben is there for his brother.
Realistic Story
The main characters of the book aren't perfect. They're flawed, but that's what allows for the realism of the story. They're all a bit stuck-up, self-righteous, but that's what enables the story to have a driving force, albeit an irritable one. Now, to address the elephant in the room. We've mentioned The Detachment and The Killer Collective on more than one occasion.
In truth, Eisler's The Detachment sees the worlds of John Rain and Ben Treven, amongst other irregular characters, collide. It is one of the most intense action-heavy stories that Eisler has written. The Killer Collective, however, sees the whole cast come together. Even the irregular characters like Delilah and Dox are incorporated. As such, the books are some of Barry Eisler's best books, especially Eisler's The Detachment reviews are very positive. What's more, it is one of the best-selling books by Eisler.
---
A Massive Payday
The year is 1990, and twenty-four-year-old Dox is back home in Texas after four years as a Marine and another as a CIA contractor fighting against the Soviet Union. While his friends are happy to have him home and his family needs him, Dox finds himself feeling restless, like the small-town life is a dead end that is slowly suffocating him.
Out of nowhere, the government offers Dox a five-figure payday, and he cannot help but wonder who he has to kill. Not only would this job get Dox out of his small town, but the money would help solve all his family's financial troubles. It might just be the solution to all his troubles.
One Thing Worse Than War
There is another secret war going on in Southeast Asia and Dox is about to learn that secret wars are never what they're made out to be. The money might be good but Dox is going to learn the lesson of a lifetime. He will very quickly find out that there is only one thing more dangerous than war: falling in love with your enemy.
This is the latest book from Barry Eisler, and it is not one that you will want to miss out on! You can tell he definitely did his research, as he seamlessly blends history and facts into his stories. If you are looking for a fast-paced, exciting, and easy read, then look no further.
---
Evelyn Gallagher
Barry Eisler's next book on our list, The God's Eye View was published in 2016. The book sees the thriller author taking a breather from the long-running, heavy-hitting series that he is famous for, and writing a superb one-off. Truly one of the best-rated books by Eisler.
We have Evelyn Gallagher as the protagonist in this story. She is an NSA Analyst, divorced. She has a son, Dash, who is, unfortunately, deaf and she's left caring for him every waking minute that she gets.
Face-Recognition
Her work involves the creation of face-recognition and camera-recognition programs, but a mistake is liable to happen even to the best of us. She informs the Director of the program that she has her own suspicions regarding the 'mistake'. Sure enough, she's stumbled onto something that she wasn't supposed to.
Murders
The director has quieted her fears, but he has her watched. We learn that some other investigators have come up dead, all with connections to the program. After we learn of what the God's Eye by Eisler is actually about, we see the director trying to keep it under wraps, determined to stop anyone from in his path. One of the most significant books that Eisler has written. Thought-provoking and thrilling stories that the author has penned. Truly one of Eisler's best books.
---
Contract Killer
This is ranked as one of Barry Eisler's best books and for good reason! This is a quick and easy short story about Dox from Eisler's book Amok, but it is one that will make you understand his character a lot better. Dox is working as a private assassin in Cambodia, waiting to be notified of who his next target is.
Dox kills time by playing tourist and sightseeing, drinking in bars and taking a different girl home every night. During this time, he meets Chantrea, a beautiful psychology student. But then the identity of the target is revealed, and it is a notorious child sex trafficker – or so Dox has been told.
The Hit
This job doesn't play out like Dox's previous ones; the person paying him to shoot the target is going to be there dining with him when it happens. Dox is already wary but is especially perplexed when he looks through the scope on his sniper rifle and sees the man he is being paid to kill. This man is not who his employer said he was. The hit is off.
This one is a very exciting read with a lot packed into such a short book. I loved how Dox may be an assassin, but he still has his principles. And no matter what anyone may think, he is not to be messed with. There's nothing overcomplicated about this story, but the descriptions are so vivid you can actually picture it.
---
Familiar Face
London Twist is another entry on our Barry Eisler book list and was published in 2013. Another stand-alone novel by Eisler, but a familiar face is here with us. Delilah is a Mossad agent, but instead of going for straight murder in the manner that Rain does, Delilah opts to seduce her hits. In Eisler's John Rain series, she was his lover.
In this story of one of the top books by Eisler, however, she is being contracted by the MI6. Her objective, at hand, is to infiltrate a network of terror. This particular one is operating out of the world's greatest cities – London. If she doesn't succeed in her mission, many lives will be lost at the hands of poison gas attacks on the civilian population.
Small Catch
There is, however, a small catch. Her current target isn't the male target she's used to, but a woman. This woman, named Fatima, is just as intelligent, cunning, attractive and determined as Delilah is. Being that her expectations and customary activities have been, in more senses than one, subverted, Delilah is left completely out of her element.
There comes even a point of mutual attraction and tension between the two femmes; it culminates with their respective first sexual encounter with a person of the same sex as them.
---
Final Thoughts
No other book explores quite as much what it takes to be what Delilah is, how she is, and, to quote a popular movie, why she is. The expert quill of Eisler has written many books, all of which are sure to slake the thrilling thirst of readers. One more book that we recommend in our review is The Lost Coast.
---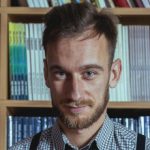 Robert is a science fiction and fantasy geek. (He is also the best looking Ereads writer!) Besides reading and writing, he enjoys sports, cosplay, and good food (don't we all?). Currently works as an accountant (would you believe that?)