Irving Chernev
Irving Chernev was born on the 29th of January, 1900, in Pryluky, Ukraine. Irving was a well-respected Chess player and prolific Russian-American Chess author. Chernev was also a national master strength player, and markedly devoted to the art of chess.
Though Irving was born in Pryluky in the, then, Russian Empire, he emigrated to the United States in the year of 1920. Unfortunately, Chernev died on the 29th of September, 1981, in San Francisco, California, United States. In the eternal glory of this great player and even greater author, we present to you our Logical Chess Move by Move book review. You can also find this book in our list of best chess theory books.
---
Logical Chess Move by Move Book
---
33 Complete Games
Logical Chess Move by Move: Every Move Explained by Irving Chernev was published in 1957, more than sixty years ago, but it was written during the period of the '50s. The classic is comprised of 33 complete games, as all of them are given the proper attention and time to be studied with an attentive and analytical eye.
No single move escapes the detailed explanation that Chernev has in store for it – everything has its reasons, and this reason are being examined by Chernev, here. All of the things presented are, without a shadow of a doubt, fantastical. A modern table is made up of the comparison and analysis of the mobility that pieces have when looked at in terms of the squares where they are located.
Combined Effort
Chernev does his best – and his best is more than combined efforts by other authors – to explain all of the potential modes of onslaught that one can utilize while in the battle. This allows for the readers to become aware of all the possible combinations that might follow, both on their and their opponent's part.
Chernev writes with a fascinating passion – by itself worthy of analysis, let alone when coupled with the context of the book's substance – and a sense of it being easy for him pervades all of the pages. Humor and wit are also present, as there is not a dull moment in all 250 pages of the book.
Not Much Focus on Endgame
Since it was written quite a long time ago, and many more improvements have been made to the game, there is a bit of an anachronistic quality to it. For instance, the endgame isn't as looked on as what one might prefer, but this is because during Chernev's lifetime most games would end in a tactical checkmate and not a long thought-out strategy i.e. endgame.
This flaw, however, cannot undermine the singular zest of the book. We only hope to have done justice to the absolute classic of a book in our Logical Chess Move by Move book review of.
---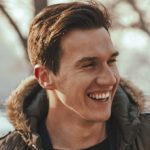 Michael is a graduate of cultural studies and history. He enjoys a good bottle of wine and (surprise, surprise) reading. As a small-town librarian, he is currently relishing the silence and peaceful atmosphere that is prevailing.