The Authors
Glade B. Curtis is a father of five, so his hands-on experience of pregnancy and fetal development has been hard-earned. Besides that, he is a certified member of the American College of Obstetricians and Gynecologists. His co-author is Judith Schuler. She has one son and writes from her home in Wyoming and Arizona. She has written seventeen books in collaboration with Dr. Curtis.
This is the only pregnancy book that you must have on your shelf. Glade B. Curtis and Judith Schuler are experts in the field of pregnancy and childbearing, and they will provide you with everything you need to know about the development of the fetus inside you.
---
Your Pregnancy Week by Week Book
---
Interesting and Enjoyable
Your Pregnancy Week by Week book is an enjoyable and interesting read. It is comprehensive and covers many current topics relating to the healthy development and contentment of babies.
It is just what both experienced and inexperienced parents need when they are facing a squirming new-born and wondering how to grow it into a responsible, healthy member of society. It covers all the basics of childcare, as well as the many common concerns that keep parents awake at night.
Weekly Guide
The most delightful aspect of this book is that it includes a weekly guide to the forty weeks of pregnancy. It will keep you informed and free from worries as the forty weeks of pregnancy slowly unfold.
The illustrations of the development of your baby are informative and enthralling for new parents. This amazing book has the recommendation of medical practitioners and has become the go-to guide for pregnant and new parents.
Perfect for New Parents
If this is your first pregnancy you will probably be experiencing a wide range of emotions. But most of all, you are probably very curious about the changes that are taking place inside your belly. This book will give you the insider knowledge of what is happening from the time of conception to the moment of giving birth.
Recommended by the Medical Profession
Dr. Glade B. Curtis and Judith Schuler have supported countless couples on their pregnancy journey. For many decades they have been advising on how to prepare mentally and physically for one of the most beautiful, natural, and challenging times of your life.
Couples report that it was good to know that experts were supporting them every step of the way, and this book should be on every new parents' shopping list.
Precise Weekly Information
If your knowledge of biology and the female anatomy is a little sketchy, then you might not have a clue about how a baby develops over the forty weeks of pregnancy. There are informative illustrations of the weekly development that will enthrall and excite you.
This wonderful book has a broad scope, but it is easy to read. Here is a list of some of the topics that are covered in the guide:
Topics
A complete list of all the usual medical examinations and procedures that you might be subjected to all the way through your pregnancy
Information on how to ensure that your body is getting the best nutrition
Examples of fun and relaxing exercises that are safe and helpful to keep you fit during pregnancy
The latest information on elective delivery
How to avoid pregorexia (the excessive control over weight gain during pregnancy which leads to anorexia-like symptoms)
The effects of smoking on the developing baby and whether electronic cigarettes are harmful during pregnancy
Great Reviews
Many new parents report that this is one of the most useful pregnancy books and the best of its kind. Of course, it is not realistic to expect a book to be able to cover absolutely every eventuality on the topic of child development, but this book has enough to reassure or alert concerned parents. It is not a book to be read from cover to cover, but rather, a textbook to be dipped into as the need arises.
Members of the medical profession, especially midwives, nurses, etc. say that the information is current and reliable. The updated versions ensure that the most relevant new information is available to parents, and answers questions that they hadn't yet thought of asking.
Put Your Feet Up, Read and Relax
As described in the title, this pregnancy book is the magical revelation of the miracle that takes place when you are pregnant. Just looking at the illustrations and photos of the weekly changes that are taking place should be enough to ensure that the mom-to-be develops a healthy glow of contentment.
Even when the going gets tough and your pregnancy is not exactly as comfortable as you dreamed it would be. The visuals of your developing baby will help you to understand what is causing some of your discomforts. It may even help you to relax and put you into a more positive frame of mind.
Involve the Whole Family
Fathers rave about this pregnancy book because it allows them to be involved to a much greater degree. It is a super book to share, as well as a way to involve siblings who are curious about your ever-expanding tummy.
You can buy this book for yourself or a pregnant friend. It is an indispensable book for anyone who wants to enjoy childbearing from start to finish. I am sure that you will be forgiven for being a little bit smug about your extensive knowledge about the weekly development of the baby inside you.
---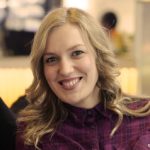 Alissa is an avid reader, blogger, and wannabe writer. (She's a much better cook than a writer actually). Alissa is married, has one human, one feline, and two canine kids. She always looks a mess and never meets a deadline.