---
Best Funny Pregnancy Books
---
Have a Good Time!
Really, the last thing you need to do when you are constantly at risk of wetting yourself is laugh! However, this selection of the most popular funny pregnancy books will be like a tonic if you are feeling fat, uncomfortable, irritable, and wish that you had never done what you did to get yourself into this situation. You will have the last laugh when you hold your beautiful baby in your arms.
---
Funny Advice
If you are pregnant and need some light relief, then grab The Big Fat Activity Book for Pregnant People by Jordan Reid and you will spend the next forty weeks with a big grin on your face. It is one of the best-selling funny books about pregnancy.
It offers super funny advice, coloring pages, and somewhere to journal your thoughts and emotions while you incubate that little human inside you. Who would have thought that it was possible to laugh your way through morning sickness, incontinence, and crazy cravings? There are all sorts of irreverent jokes and quotes that bring this superhuman experience back down to earth.
You Will Also Find:
Word searches on banned foodstuffs for pregnant women and god-awful baby name suggestions
Mazes e.g. how to make it to the bathroom before you throw up
Lists of things you need and those that you definitely don't need
Advice – most of which you should ignore
Quizzes
Perfect Gift
The Big Fat Activity Book for Pregnant People is a perfect gift for any pregnant woman with a good sense of humor because it is a perfect example of the top funny pregnancy book. There is a small health warning attached: you might laugh so hard that you wet yourself!
---
More Than Relatable
Emilie Sandoz-Voyer has cleverly created a satire based on the famous children's book by Eric Carle and called it The Very Hungry Pregnant Lady. There is not a pregnant woman on the planet who will not relate to this humorous portrayal of the constant state of hunger that persists throughout the thirty-nine weeks of pregnancy. It is the best of the funny pregnancy books for moms.
Caterpillar
The story of The Very Hungry Pregnant Lady is set in those small, lonely hours of the morning when the thundering growls of hunger from her enormous tummy make it impossible for the pregnant lady to sleep. The only thing for it is to get up and raid the pantry. The transformation that is happening to her body, as she grows her tiny human, is easy to compare with that of the caterpillar.
Lift Your Spirits
The entertaining text and fun images will lift your spirits when it's too difficult to lift your heavy body (except to reach for more food!), and a reminder of the exciting prospect of holding your baby in your arms at the end of it all. The Very Hungry Pregnant Lady will make a superb baby shower gift for a newly pregnant mom.
---
Down to Earth
This down-to-earth portrayal of pregnancy is side-splittingly funny and informative at the same time. I'm so Pregnant is the best of the best funny books on pregnancy. Line Severinsen will not terrify you with stories about the full range of things to expect during pregnancy, but you will appreciate the funny side of them when they happen.
The illustrations are bright and uplifting, which perfectly match the comic style of I'm so Pregnant. If you are newly pregnant or know someone who is, then do not venture down the pregnancy path without this hilarious book tucked under your arm. It is the perfect gift for a pregnant woman with a sense of humor!
Very Honest
And, if you are not one of those "pie in the sky" moms who think pregnancy is glamorous and all kinds of blossoming, then you will appreciate the honesty about the unpleasant bits, served with a big dollop of funny!
Severinsen describes the sleepless nights followed by morning sickness, crazy craving, and the heartburn that follows. I'm so Pregnant will make you laugh until you pee your pants (but you know that was going to happen with or without the laughter anyway!)
---
Side Effects
Pregnancy is a great leveler! As Jenny McCarthy explains, every woman who enters into the state of expecting a baby has to go through a long list of embarrassing side effects and humiliations. Belly Laughs just helps you to see the hilarious side of it all.
This funny pregnancy book reveals all the horrors of having a baby most humorously, and may just be what you need to get through the next nine months. Jenny is a famous actress and new to motherhood so she is well-placed to give expert advice. In Belly laughs she does just that with no details spared!
Crude Humor
She uses her extroverted, slightly crude sense of humor to discuss constipation, passing wind, sickness, and all the other humiliating and painful experiences women who are growing a new human being inside them will probably suffer.
You will also get too much information about uncontrollable hormones, hemorrhoids, having sex with a baby bump, and the inevitable labor and birth pain extravaganza. Prepare to laugh until your belly aches!
---
Refreshing Addition
Let's Panic About Babies! is an ironic tongue-in-cheek book about pregnancy. Alice Bradley and Eden M. Kennedy have managed to see the funny side of what most expectant parents take very seriously. The result is a refreshing addition to the list of funny pregnancy books while pregnant available.
The authors take all the myths and terrifying tales that expectant moms have sleepless nights about, and make them even worse!
FAQ
Here are some of their answers to frequently asked questions: Is it safe for pregnant women to eat fish? Answer: Consuming lax while pregnant will cause your baby to be born covered in capers. Is it okay to drink chamomile tea? This will result in children that enjoy "Hummel figuring-collecting."
There is also a wide range of unhelpful advice such as: "Preparing your public area for labor" and "Should you find out your baby's sex before the birth?" The answer to that is what the English would classify as "taking the piss" out of all the authorities on baby blogs and the like.
Good Laugh
If you are fed up to the back teeth of all the conflicting advice about pregnancy and babies, then Let's Panic About Babies! will not only give you a good laugh, but also some clever retorts to the stupid people who offer you unsolicited advice.
---
Restore Your Sanity
Many women give this little book five-star reviews. Funny Little Pregnant Things has been a lifesaver for many women who have been bogged down by horror stories and irrelevant information contained in other books. Emily Doherty has produced a funny pregnancy book that could restore your sanity at a very stressful time.
There is just enough common-sense information, and none of the waffle found in many of the serious tomes on pregnancy. Funny Little Pregnant Things is an easy read, and the fact that Doherty is a mom herself is relatable for readers.
Straight Shooter
If you like a straight shooter style of writing, then you will appreciate the candidness of this little book. Packed with simple, useful advice, Funny Little Pregnant Things will be a useful addition to the nursery shelf, or it will make an ideal gift for a newly pregnant mom with a good sense of humor.
---
Reliable Guide
Vicki Iovine is well qualified to write a book about pregnancy having experienced four of her own. She can write a reliable guide for newly pregnant women, who are bound to find The Girlfriend's Guide to Pregnancy very comforting. It is also a very funny pregnancy book!
As the title says, girlfriends who have had babies, are the best source of information for a pregnant woman. The Girlfriend's Guide to Pregnancy is the alternative to being able to share all the humiliating changes and inevitable fears with your real girlfriends. Sadly, in these hectic times, we have fewer opportunities to reach out to our friends for the help and support we need.
All the Info You Need
Almost all the information you have wanted, but been afraid to ask, is included in this example of the best-rated funny pregnancy books. Topics include morning sickness, the dreaded stretch marks, loss of bladder control, and the possibility of pregnancy sex. It is written in a relaxed and very witty style that is just right for getting you to calm down which makes it one of the best funny pregnancy books!
---
Don't Miss Out
With a plethora of funny books about pregnancy available, it begs the question of whether there is room on your bookshelf for another one. Warning! If you miss out on this hilarious pregnancy book by Dawn Dais, you will only have yourself to blame.
The Sh!t No One Tells you About Pregnancy is part of a series of books written by Dias to expose the horrible truth about what to expect when you fall pregnant. She is not fazed by having to talk about the darker side of pregnancy – the unpleasant bits that are happening underneath that beautiful bloom that all pregnant women get.
Reassuring and Funny
She discusses, quite frankly, things like unplanned pregnancy, hormonal rages, and the little pees that you just can't hold in. While making light of pregnancy, Dias is, nevertheless reassuring, using humor to deflect the serious issues that some expectant women face.
It's a great pregnancy book to chill out with, as well as share with your partner. The Sh!t no one tells you about Pregnancy would make a perfect gift for a baby shower, or as an encouragement for a new mom who is not having an easy time of it. Dias has written one of the top funny pregnancy books and you will be referring it to all your friends after laughing your way through it.
---
Hilarious
This hilarious pregnancy book by David Javerbaum is written from the point-of-view of the fetus and is easily the best funny pregnancy book I have ever read! What to Expect When You are Expected is quite different from the "momsy" books that can be found in abundance in bookstores.
Javerbaum said that the inspiration for the book came from witnessing his children coming into the world "naked, screaming and incoherent." Expected is a book full of outlandish advice that he would give to a baby while it is still in the womb and has the chance to prepare for modern life. He believes that forewarned is forearmed, and so the child is told about all the common mistakes expectant parents make.
Warnings:
They need to reject the silly names that parents may be thinking of calling it.
They should be aware that their parents are going to make them listen to Mozart in an attempt to make them more intelligent before they are even born!
Certain Questions
Javerbaum also addresses questions that he imagines the fetus asking, such as: "My mother just took a sip of white wine. Am I going to end up looking like some Chernobyl baby now?" This unique book will give you a good giggle while your baby is growing inside you. It might also help you to avoid many common mistakes made by new, well-meaning parents.
---
Sophisticated Drinks
Baby showers are big business these days, and no self-respecting mom-to-be wants to let her guests down by not serving the most sophisticated non-alcoholic drinks. Preggatinis by Natalie Bovis-Nelsen will ensure that your baby shower is the talk of the town!
The best thing about these drinks is that they taste wonderful and you don't even notice that they are "sans alcohol". The list of celebrity moms who have used the recipes in Preggatinis is as long as your arm, and some of the drinks have been specially created for them.
Super Tasty
There is Merry Berry Basil Mojito, Sparkling Sangria Cooler, and about seventy-five other delicious options. They are all made with fresh ingredients and herbs, and they are designed to be refreshing and will satisfy the palates of pregnant women who have been longing for a real cocktail.
This book is unique and will make your baby shower surprisingly different. You can also "spice up" the cocktails for the dads who attend, but just make sure that the containers are appropriately labeled!
---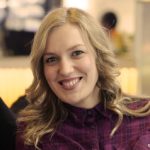 Alissa is an avid reader, blogger, and wannabe writer. (She's a much better cook than a writer actually). Alissa is married, has one human, one feline, and two canine kids. She always looks a mess and never meets a deadline.