The Path To Writing
English author Barbara Pym is one of those writers that constantly comes in and out of fashion. You may or may not have heard of her but trust me when I say that she is an author you'll want to know about. Born in 1913 in Shropshire, Pym was encouraged to be creative from a very young age. Pym always wanted to be a writer, and she applied for jobs in publishing, but the onset of WWII changed her plans.
Pym ended up joining the Women's Royal Navy Service in 1941. After the war ended, Pym started working at the International African Institute in London as an assistant editor for scholarly journals. This is what became the inspiration for her work, as she based a lot of her characters on the anthropologists she met while working there.
Know Her Name
Writing a novel and getting published is never an easy process, and Pym's first novel, which she wrote in 1935, was initially rejected by multiple publishers. Pym spent many years writing short stories instead which were published in women's magazines. She revised her first novel, Some Tame Gazelle, which finally got accepted for publication, and since then, Pym moved in and out of the writing space until she passed in 1980.
Pym became known for her series of social comedies, the best of which I will be reviewing in this article. Pym is one of those "cult authors", and she struggled to get the recognition she deserved until right before she died. We can't have people not knowing who she is, and for that reason, I am going to review the 10 best Barbara Pym books!
---
Best Barbara Pym Books
---
Good Humor
The first book you will most certainly want to add to your Barbara Pym book list is Excellent Women. This is one of Pym's most amusing works; I caught myself giggling quite a bit while reading it. The story follows Mildred Lathbury, a clergyman's daughter and 30-year-old spinster living in 1950s England. People are always telling Mildred about their problems, and every man she meets thinks that she's in love with them just because she's single.
It all starts with Mildred's new neighbours, Helena and Rocky. Their marriage is rocky (pun obviously intended) and both run to Mildred seeking her advice. It doesn't help at all that Rocky is a very handsome and charming man. On top of this, there are two other men who are not necessarily suitors, but very much enjoy Mildred's company.
Excellent Characters
What this book is essentially about, is those transitional spaces between platonic friendships and romantic relationships. It's snapshots of life and how it is actually lived, full of things unsaid. Mildred is an extremely entertaining main character and I loved her from the first sentence. She was so funny and raw and honest and has a very self-deprecating way of speaking.
This Barbara Pym novel sees women at their best: doing ordinary things and living ordinary lives. This doesn't sound exciting, but it actually really is; this book is just as funny, excellent and sweet as the women Pym wrote about. Definitely a must-read!
---
Ordinary People
Edwin, Letty, Norman and Marcia are four people on the late end of middle-aged. These four characters work in the same office and each is plagued by the same issue – they are lonely. None of them have families or friends, and they don't seem to do any actual work. It seems like they don't have much going for them.
These four characters are just ordinary people, and any one of us could become them when we reach our sixties. That's the beauty of this book. It delves into what lies before you when your younger years are gone, and your working years are almost over.
Ordinary Lives
These four characters have been working together for years, and while linked by their jobs, it seems that they know and don't know each other at the same time. At first, you'll start this thinking that these people have such small lives, what is there to actually know about them? But that's where Barbara Pym's novels are the best, because she creates characters that find the wit and humour in the melancholy.
This book is one of those slow burners. It's an overall fantastic read and has a lot of "British-isms". Despite where the characters find themselves now, they manage to hold on to hope in different ways. Pym writes about the grim realities of getting older and doing less but manages to sneak a laugh out of you when you least expect it.
---
Different People
One of Barbara Pym's best rated books, this one clearly shows how working at the International African Institute influenced her writing. Pym decided to throw anthropologists in the limelight with this story, pitting them against one another in matters of the mind and heart. Academia is always a rich backdrop for a novel.
This story focuses on a group of student anthropologists and how they are competing for research money, while also dealing with their personal relationships. Tom Mallow is an anthropologist who is dating and living with Catherine, a romance novelist. They love each other, but both have very different ideas of the future. When Tom comes back from a two-year research trip, he meets a student named Dierdre and falls for her.
Human Interactions
Tom's return shows that there is clearly something lacking in his and Catherine's relationship; maybe they don't quite understand each other. Tom studies people for a living and Catherine writes romantic stories. But Pym actually shows how there is a connection between authors and anthropologists, and how they both study people and their interactions.
It's difficult to give you a breakdown of what exactly this Barbara Pym book is about because it follows her usual style of being a character-driven story. At first it feels like Pym is giving a brief overview of the characters, but then you realise that she is placing these characters, their needs, desires and choices under a microscope. Of course, she does this with her typical wit and humour. A very enjoyable read and one I definitely recommend!
---
A Tale Of Two Sisters
Sisters Harriet and Belinda are in their fifties, living a comfortable existence in the English countryside. Belinda is the quieter of the two and has been harbouring feelings for the town's archdeacon for years. Harriet is the one who is more of an extroverted and bubbly character and is constantly shutting down proposal after proposal for her hand in marriage.
These sister's peaceful village life, where nothing much usually happens, is disturbed when Mr. Mold and Bishop Grote arrive. The sisters wonder if their lives will ever go back to the normal daily routines that they're used to. This book is very English based and centres around the Church of England.
More To The Story
You'll probably be thinking that this sounds like a very simple story, however, it is anything but. Pym shows her masterful writing with extraordinary characters who make you realise that life is all about the small, but important, things. It's somehow serious and silly at the same time.
This is the first of Barbara Pym's best-selling books and is actually based on her and her sister. Pym wanted to imagine what their lives would have been like in the future had the war never happened. It's actually a beautiful story of two women who have lived their lives and chosen to remain independent, but also reminisce over lost hopes and dreams. With hilarious and biting commentary, this book is where we see Barbara Pym at her best!
---
Opposites Attract
Another hilarious and highly satirical best book from Barbara Pym. Jane Cleveland and Prudence Bates couldn't be more different. Jane is a vicar's wife who speaks her mind a little too often (for that time at least) and loves to interfere in other people's lives. Prudence is a serial dater with a flair for fashion, working in a job that bores her to death. The only thing these two women have in common is that they both attended Oxford University.
Both women are highly educated but lead different lives. Jane is older and slightly dreamy, doing her wifely duties, whereas Prudence is a younger woman searching for love but never actually wanting to commit to marriage, as is expected of her. When Prudence visits Jane in her small village, Jane can't help but try to play matchmaker for her friend.
An Extremely Enjoyable Read
Jane's matchmaking ploy brings about all sorts of village drama. What ensues is a social commentary on the lives of Jane and Prudence and the people around them. With quirky characters and unrequited love, this book will have you smiling throughout. I honestly didn't want it to end!
Pym's female characters often remind me of Jane Austen; these women are intelligent and ambitious in their own ways but are somehow still stuck in the mindset of what women were expected to be in the 1950s. It's about everyday people who are surprisingly honest, and just makes for a really good and really enjoyable read.
---
Same Old, Same Old
Out of all of Barbara Pym's books, Crampton Hodnet is ranked the highest with a four-star rating on Goodreads. Pym actually started writing this book in 1939 but it was only published in 1985, after she had passed away. It again shows a parallel between Pym and Jane Austen and is probably my favourite out of all her books. This is a very amusing story about the lives of the people in North Oxford.
In 1930s England, the residents of North Oxford live quite predictable lives, where nothing very exciting happens. It's a quiet village full of spinsters, widows, students and the odd visitor. The spinsters and widows often get their kicks gossiping about the happenings at the university nearby.
Meet The People
Miss Morrow is content as a paid companion for spinster, Miss Doggett. When a new cleric, Stephen Latimer, becomes Miss Doggett's new tenant, Miss Morrow's quiet life is thrown off course when he proposes to her, something she had long ago accepted would never happen to her. Miss Doggett's nephew, Mr Cleveland, is a handsome professor at the university, with a docile wife and a pupil that adores him.
This is, of course, a dangerous combination, and one that sets the town gossip flying. Is Mr Cleveland willing to sacrifice his marriage and reputation for passion? And what is this town that Mr Latimer clumsily tells Miss Morrow about? It's a little white lie, but appearances can be deceiving.
---
Numerous Characters
Another one of Barbara Pym's top books, set in a North London parish called St Basil. By now it goes without saying that the main focus of this novel is the characters, and there are a fair few. There's Mark Ainger, the vicar, his wife Sophia, and her cat. Then there's the eligible bachelor and anthropologist, Rupert Stonebird.
Working in the library is Ianthe Broom, a high-class girl who forms an unhealthy attachment to a young man. Mervyn Cantrell is the chief librarian who loves to criticise and complain. Then there is also Daisy Pettigrew and Sister Dew. I promise it's easier to keep track when you're actually reading the book!
Simple Truths
The best novels by Barbara Pym all share the same distinct features: ordinary people living ordinary lives, having ordinary thoughts, doing ordinary things, just like the rest of us. But it is within these happenings that the simple truths are presented, and it almost makes you appreciate them more. 35-year-old Ianthe Broom is the main character, a kind and gentle woman who is unmarried.
She is branded a spinster by her neighbours, but Ianthe has met a younger, good-looking man at the library whom she fancies. Her neighbours, while kind, are very nosy people and want to be involved in all aspects of her life. You might think this wouldn't appeal to you at all – but trust me, Pym's genius is in how she makes the ordinary sound humorous and fascinating.
---
Obsessive Women
The tale of a woman's obsession with a man, this book is funny and thoughtful, and the reviews for this Barbara Pym book agree with me on this one. Dulcie Mainwaring is living alone in her large family home in London after her mother died. Working from home, Dulcie is generally content with her life, even if it's not particularly exciting.
Dulcie goes to a conference where she meets Viola Dace, a woman besotted with the good-looking Dr Alwyn Forbes, one of the speakers at the conference. Alwyn, of course, has his own problems; his marriage has ended, and he faints while delivering his lecture. And so, Dulcie's obsession with Alwyn begins.
A Grand Old Time
With the help of Viola, Dulcie starts her investigation into Alwyn's life – which in this day and age we would simply call 'stalking'. Dulcie is having a grand old time digging up Alwyn's roots, and in the meantime, her young niece Laurel is moving in, and so is Viola. Laurel starts a tentative relationship with the boy next door, but Alwyn has now also taken an interest in her after seeing her in a coffee shop.
What seems somewhat convoluted plays out rather well, each character dealing with their own problems. There is plenty going on in this story to keep you entertained. And what's a popular Barbra Pym book without the most laugh out loud moments or driest wit?
---
Bored Housewife
29-year-old Wilmet is happily married to Rodney, a handsome army Major who takes care of all her needs. This leaves Wilmet with a lot of free time on her hands, so she finds ways to keep herself busy. Wilmet likes getting attention from other men, not in the sense of having an affair, but more in the sense that she likes the attention.
Wilmet is a bit bored and so she busies herself while her husband is at work with the company of three unmarried priests. She just wants to be useful to those around her, because she doesn't have much else to do. It's in these moments where you can see that Wilmet doesn't really understand men too well, and she reads into interactions, picking up on many things, while also completely missing what's right in front of her.
Immensely Readable
Being in a fairly complacent marriage, Wilmet finds herself flirting with her best friends' husband and brother. One has no interest in her, the other does. A fairly self-involved character, Wilmet is completely oblivious to the relationships blossoming around her. She learns a lot of about love and herself throughout the story.
This best book by Barbara Pym ends on a happy note, and it plays out as a sort of romantic comedy. The humour is understated, and you cannot help but be endeared to Wilmet. She's completely entitled, but also naïve and a little wacky at times. But her observations of the people around her are often wickedly funny. A very easy to read and enjoyable book!
---
People Watching
The last of the best books by Barbara Pym, this one is perfect for if you need a break from modern day life and want to immerse yourself in an English village filled to the brim with oddball characters. Emma is staying at her mother's cottage so she can finish some anthropological papers and while she is there, she finds herself studying the people around her as well.
There's Tom, the widowed rector living with his sister in a large rectory. A young doctor and his wife have their eye on the rectory, with the notions of moving into it to start a family. The older doctor is somewhat ineffectual, prescribing hot drinks for insomnia. There is also the elderly spinster who reminisces on her life gone past. Then there's the proud restaurant critic, Adam Prince, and Daphne, a girl longing to go to Greece.
Everything And Nothing
Emma finds herself drawn to the lives of the residents of the village, seemingly more interested in that than her potential love interest, Graham. But then there's Tom, who seems to have his eye on Emma as well. There is so much going on in this small town, but at the same time, nothing at all.
An engaging read with eccentric characters and amusing scenes; you will definitely want to add this one to the list! Pym has a way of making a book seem simple when it is anything but. This was the last book she released before she passed, and it carries the same magic all of her other books do!
---
Final Thoughts
One thing I haven't mentioned is that many of the characters in these novels feature in other books, and they might not be the focal point of the story, but it's like the comforting hug of seeing a familiar face. You don't need to read Barbara Pym's books in order, because you won't miss out on anything in the story when these characters do make an appearance!
There isn't much else to say except that Pym was a master of her craft. She managed to take the simplest of stories and make them exciting, interesting and funny. It's all about the characters, and you would think that books without a progressive plot wouldn't work, but Pym works her magic and you find that you just can't put them down!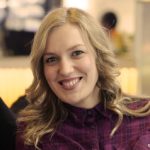 Alissa is an avid reader, blogger, and wannabe writer. (She's a much better cook than a writer actually). Alissa is married, has one human, one feline, and two canine kids. She always looks a mess and never meets a deadline.