Bio
John Hoyer Updike was born in 1932 and died in 2009 from lung cancer. He achieved a lot of success in his life and became a great American writer, novelist, poet, short story writer, art critic, literary critic, and more. His career as a writer began in the 1950s and after rising to fame and success, John became one of the four other writers who won a Pulitzer Prize for Fiction more than once at that time.
More than a hundred of his short stories, poems, reviews, and other works have been featured in The New Yorker and other popular magazines. Some of the best-rated John Updike books you will want to read include his most famous series ever, the Rabbit Angstrom series. The list also features The Centaur, Bech series, and others.
---
Best John Updike Books
---
Super Exciting
It's no surprise that we are starting our list with his most famous work ever. Updike's Rabbit Series features 5 of the most exciting books you will ever read. The first book in the series, Rabbit, Run, is the book that put John among the major American novelists of his time. The main character, the one that makes the story inside mind-blowingly exciting is called Harry Rabbit Angstrom.
You are going to have a great time learning about Harry and discovering what kind of a character he is. All you need to know from our list of books by John Updike is that Harry is a one-time high school basketball star who, in an instance, decides to abandon his wife and son for no apparent reason at first.
Rabbit's Spiritual Quest
Harry is in his mid-twenties when the story begins in Rabbit, Run and you get to accompany him on his journey as the years pass, he gets older, and the story progresses. Harry has some doubts about his life and is experiencing things that are unfamiliar to him.
He is having feelings he has never had before, and is in the middle of some type of crisis, hence his impulsive decisions. The Rabbit series by Updike is something you want to start with if you want the full experience of the master.
Unpredictable Style
Throughout these 5 exciting novels, you are going to see so many things and follow Harry wherever his new journey in life takes him. The reason these five are a few of John Updike's best books is that you get to follow an exciting character on an even more stimulating adventure.
You can't even imagine how the series will end as John is known for his unpredictable writing style. There are so many things that are going to catch you off guard and surprise you every step of the way. Get ready to read a few of the all-time best John Updike books ever.
---
Short and Funny
This is a very short book that highlights Updike's feelings about Christmas. It really is quite short, around 30 pages, and is filled with 12 short texts on everything he doesn't like about Christmas. Accompanying the short and humorous texts are unique illustrations by Edward Gorey. He starts with his thoughts on Santa, the big man himself, and rants about the things that make him fake and uninteresting.
He then continues on other famous features that accompany the Christmas traditions like his reindeer, his helpers, and so on. This is a very interesting book and is among the top John Updike books out there but you probably won't want to gift it to someone who is very excited about this winter holiday as it might be a huge bummer for them.
For All the Christmas Scrooges
Many people share John's opinion on this holiday and have a fantastic time reading this book. From what many John Updike book reviews mention, it is really fun hearing what he has to say, as many others have been thinking the same things. If you feel the same then you might even complain about the book being too short and not having enough material to work with.
Take all of this into consideration before you decide that this is a book about the joy of Christmas. It is the exact opposite as it focuses on Anti-Christmas topics written in the humorous and entertaining writing style of Updike. If you share the same opinion about Christmas with John then you are going to enjoy this book a lot.
---
Mythology
If you are familiar with the legend of Chiron, the Greek Mythology story about the centaurs, the son of the Titan Cronus and Philyra, then you are really going to enjoy reading this book by Updike. It's one of the best-selling John Updike books and the story inside is a marvelous retelling of the legend of Chiron.
The way John writes it is in a modern style and here is what he changed. The great land of Olympus is now known as Olinger Highschool and is located in a very small town. Chiron himself is called George Caldwell and he works as a science teacher in Olinger. Prometheus, the God of Fire, is George's fifteen-year-old son, called Peter.
Award-Winning Book
Updike's The Centaur won a national book award thanks to the story inside that wonderfully describes the events from this Greek Mythology tale in a modern sense. His story takes place in rural Pennsylvania in 1947 and happens over three winter days.
The way that John manages to capture the essence of the story and describe Chiron's painful search for relief through these characters is what makes this book one of the best John Updike books ever and the complements by the judges of the National Book Award were remarkable for the same reason.
---
Henry Bech
John's Bech series is another one of his ways of entertaining his fans by creating some of the most exciting characters and stories around them. This John Updike books list originally contains 3 books but 4 other editions complement the original story quite nicely.
The three original works include Bech: A Book, Bech is Back, and Bech at Bay. There is another book from the series, called The Complete Henry Bech, that covers everything John has written about him from start to finish, and a few other collections as well.
Bech: A Book
This is the first book of the series that introduces you to Henry Bech himself. It's one of the most popular John Updike books about Bech and allows you to get to know the main character. Henry is a Jewish American writer in his forties who becomes famous and wealthy through his books. You get to accompany Bech on his travels across Europe, meet various mistresses, and do whatever it takes to succeed.
Bech is Back
The second book in the series brings Henry back and offers another one of his adventures in life. By now, we know Henry and his famous writer's block but that is about to change in the story that follows. He is a bit older now, in his fifties, he finds quite the woman to marry and his career as a writer is about to experience a dramatic turn.
Bech at Bay
And in Bech at Bay, our favorite character gets a bit older, but with age comes a bit of wisdom as well. In this final book of the trilogy, he is in his seventies and is still driven by his passion for writing.
His career has skyrocketed and you get to read about a different Henry than from when it all began. Beck at Bay might be the best John Updike novel from the series as you get to find out the ending to a wonderful series.
---
Scandinavian Legends
John takes his love of legends once more to write another classic hit that gathers even more fans. This one is a strong competitor for being the all-time best John Updike book ever. This time, drawing inspiration from ancient Scandinavian legends, he tells his version of the story that inspired Hamlet and the complex relationship between Gertrude and Claudius.
John's intentions with this book were to write a prequel to Shakespeare's Hamlet. You get to enjoy a wonderful story about the same characters that made Hamlet the powerful story that it is and see them in a new edition, one that happened before the events of Hamlet.
Remarkable Resemblance
It's admirable how John manages to create such a similar story to the original with all of the most important characters and also provide no shortage of drama. The story begins with the King of Denmark as he marries his lovely daughter to the narcissistic Horwendil the Jute.
They have a child together and give him the name Hamlet. Horwendil becomes King and things begin to mode rather quickly. You are going to meet new characters and see events move toward the beginning of Hamlet. It's a wonderful story about how John imagined the events before Hamlet starts and it's a nice way of looking at things.
---
Important Twists
One of the first things you are going to notice about this book by John is how similar it is to Richard Wagner's Tristan and Isolde. Even the characters have very similar names but the plot does have important changes here and there. It's one of John Updike's best novels as this story is one to remember for a long time.
The plot is filled with love, hate, endurance, tragedy, and lots more. The characters are as memorable as ever and John takes the time to describe everything that happens with passion and taste.
Lover Before All Else
This is a story of love at first sight, a strong bond between two people who meet in South America, before anything else. The first chapters that open the story and introduce you to the plot and the characters are the most difficult to read but later everything becomes much clearer.
After you get to know the main characters, Tristao Raposo and Isabel Leme, it's going to be pretty hard to put the book down until you get to the bottom of everything. It's one of the best John Updike novels with a story that progresses quite nicely as you follow these two characters on their difficult journey to make their love for each other possible and face the challenges that come their way.
---
Early Career
This is the book you will want to get if you are new to Updike as an author and you want to get to know all there is about him before checking out one of his books. It contains many of John Updike's best short stories collected between 1953 and 1975. You get to read stories from when he was a boy, about many personal experiences, and a few of his stories from early in his career.
The book opens with his autobiographical short stories in which he discusses experiences from his childhood during the Great Depression in a small Pennsylvania town. It's great how the book and the stories inside progress in chronological order as you get to read about John and his life as he grows up.
Away From Home
The book is a long one, approximately 800 pages, and there are many moments to discuss inside. You get to read about his days of being a student and how he spent his time while he was away from home. Then comes the challenge of marriage and forming a family, and then you finally reach the most exciting stuff, his earliest stories on The Single Life.
It's exciting to be able to read and find out what Updike's earliest work was like. From his experimental stages to writing the famous John Updike Rabbit novels and more. Hidden inside this book, is a lot of excitement, happiness, thrill, mystery, and much more.
---
Ahmad Ashmawy Mulloy
The eighth book we offer you is probably the most powerful one yet as the story inside is one with meaning and a message. In Terrorist, his twenty-second novel in order, John writes about a fictional character he names Ahmad Ashmawy Mulloy. Ahmad is eighteen years old and is a person with great devotion to Allah and a life that started out rough from the very beginning.
Ahmad is a child of an Irish-American mother who raised him all on her own after his Egyptian exchange student father bailed on him when he was only 3 years old. When Ahmad turns eleven years old he turns to Islam after he was influenced by a stern Imam in his hometown of New Prospect, New Jersey.
The Grooming of a Terrorist
The story inside does tend to get a bit scary and weird at some points but nothing Updike writes is without meaning. It's exciting to see where the plot will take you as you read about Ahmed and how the Imam at a local mosque influences him over the following pages. The story is, as mentioned, a serious one with many thought-provoking events and the ending is as suspenseful as it sounds.
---
Fantasy
Our list is getting shorter and shorter and the next to last pick we have to offer you is his Eastwick series. Only two books can be found in this series and their titles are The Witches of Eastwick and The Widows of Eastwick. The stories inside are full of the paranormal, fantasy, mystery, and a lot of suspense.
The Witches of Eastwick
In the first book, you get to read about Updike's thoughts on white women in America during the 1960s. There are a few main characters, women, who develop certain powers and use them to bewitch divorcees in Eastwick.
The Widows of Eastwick
The events in the second book take place three decades after the first book ends. You read about the same three characters who offer much of the excitement in the first book, Alexandra, Jane, and Sukie. They were the ones with the magical powers and are now widows. They decide to leave town, remarry, and follow where the road takes them.
---
Clarence Wilmot
The last entry in our review is In the Beauty of the Lilies. This book is an amazing historical fiction by John that takes place during the 1900s. The story starts with one of the main characters, Reverend Clarence Wilmot. He is a minister who suddenly loses his faith and plunders in a life filled with the oddest of jobs.
Teddy
Then you meet his son Teddy who won't step inside another church after seeing what happened to his father. Then you meet Teddy's daughter who becomes a Hollywood starlet, and so the story continues. This book covers the evolution of this crazy family over around 80 years. The story inside is among the best from our Updike novels list. There are many weird things to discover about this family and many things to learn as well.
---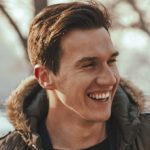 Michael is a graduate of cultural studies and history. He enjoys a good bottle of wine and (surprise, surprise) reading. As a small-town librarian, he is currently relishing the silence and peaceful atmosphere that is prevailing.