---
Best Books on Writing Poetry
---
Identify Your Style
As with almost everything in life, we learn how to write poetry by imitating others. It is vital to read the poetry of others so that you can identify which style is similar to your voice and the thoughts you want to express.
When established poets share their tips and experiences, we should listen and because they have already walked that difficult road, and their advice is invaluable. Here are some of the best books on writing poetry from poets across the centuries.
---
A Sad, Sickly Poet
Rainer Maria Rilke was born in Prague, an only child who grew up in an unhappy home. At 11, he enrolled at a military academy, but Rilke's temperament was unsuited to that environment. He was a frail, unhealthy boy. In 1891 he left the military academy due to his continued ill-health.
Best German-Speaking Poet
Rilke was a pioneer in poetry writing and experimented with innovative uses of composition and imagery. He created lyrical verse and expressed his thoughts about life through his poetry. Losing His Religion was a major influence in his life.
Rilke was unwell all his life and died of leukemia in 1926. He remained anti-Christian until his dying day and refused to have a priest at his bedside.
Wise Advice
Letters to a Young Poet is the correspondence between Rilke and Franz Xaver Kappus, a cadet he met at the military academy. Kappus respected Rilke and, as an aspiring poet, wanted encouragement from Rilke. Initially, Rilke was reluctant to mentor Kappus, but over time, he wrote letters of advice. Rilke told Kappus the only way to be a poet is to live life to the full and admire the beauty of the world around him.
Kappus published the ten letters after Rilke died. They provide an insight into the thoughts of Rilke and inspiration for his poetry. Letters to a Young Poet is one of the best books to learn poetry.
---
Practical Poetry Advice
The list of the most popular books on writing poetry would be incomplete without A Poetry Handbook by Mary Oliver. It is permeated with her solid advice, passion, and good humor. This legendary poet explains how to create a poem from the basic building blocks of meter, rhyme, and structure.
Astounding Knowledge
With her astounding knowledge about the technical aspects of poetry writing, Mary Oliver is ideally placed to advise any aspiring poet. You should add this to your collection of the best books on poetry writing, and don't forget to buy a copy for your poetry-loving friends!
---
Introduction to Writing Poetry
With the help of two of the leading poets of our time, The Making of a Poem will teach you everything you need to know about the structuring of poems. Mark Strand and Eavan Boland have collated everything you need to know about the elusive knack of writing poetry.
This is among the best-rated books on writing poetry and is indispensable for all who love poetry and want to gain in-depth knowledge of the art. It is also a practical guide offering templates for poets to practice a particular technique.
A Passionate Conversation
Poetry has a relevant place in the modern world, but today's poets can use forms that were created centuries ago. Aspiring poets are reminded that poetry is "a passionate conversation" between their thoughts and the page.
About the Poets
The two authors speak with authority on the subject due to their achievements. Mark Strand is a Pulitzer Prize winner and a past U.S. Poet Laureate. Eavan Boland, a renowned Irish Poet and respected professor at Stanford University.
Making Poetry Accessible to All
The Making of a Poem has been written in a way that makes a difficult topic accessible. There are clear explanations of the different forms of poetry and a multitude of technical vocabulary. You will not regret buying a copy of one of the best beginners' books to writing poetry.
---
Learning the Nuts and Bolts
This book by Kim Adonizio is a classic handbook for anyone wanting to learn how to write poetry. It is perfect for the poet who is learning the craft alone at home, or as a stimulating textbook for use in the classroom as one of the books on writing poetry for teens.
Help for Writer's Block
The Poet's Companion is consisting of three parts. There are topics for getting started and exploring your inspirational ideas. There are explanations of techniques and forms that might be new or reminders to improve your writing. Addonizio also understands the difficulties of being a writer and offers tips on how to persevere.
Outstanding Reviews
Reviews of The Poet's Companion say that has an "approachable" style without being clichéd. It is also highly rated for being among the best poetry books for aspiring poets. Learn how to publish your work and use technology to your advantage as a writer. In fact, The Poet's Companion is like having your favorite teacher sitting beside you as you work! One of the best books on the theory of poetry!
---
A Handbook for Life
Anne Lamott used a memory from her childhood as the title of her poetry handbook. Her father's words, "Just take it bird by bird" were said to her brother when he faced writer's block on a homework assignment. This became her motto, and she shares her wisdom in one of the top books on writing poetry.
Words Down on the Page!
Becoming a writer is a messy process. Inspiration evolves as the writer embraces life. Take the simplest moments to the most dramatic and turn them into verse. Lamott knows about the highs of love and the lows of loss. She has experienced the darkness of pain and jealousy so she writes the truth. That is what makes her a great poet and an inspiration to others.
A Gift
Her advice to writers is to get words on the page and then worry about whether they are fit for purpose. So, Bird by Bird is a gift to those who are struggling to get thoughts down on the page. Anne Lamott's best-selling book on writing poetry will guide you on getting started, and how to persevere when the writing process halts. She does this with humor and a smile. Bird by Bird is certainly among the best books on how to write poetry.
---
Full of Wisdom
The one and only Stephen Fry is a poetry lover, writer, and actor. He could also have been a great teacher. The Ode Less Travelled is jam-packed with his humble advice, thoughtful exercises, and inimitable wit.
It is one of the best How to Write Poetry Books and an essential for any would-be poet. Fry will gently lead you through the tricky technical terminology and poetic forms with enthusiasm. You can be assured that there will always be some of his sharp wit and obscenities included.
Primal Impulse
Stephen Fry believes that we all have a "primal impulse" to write poetry, and he invites us to share in the delight that poetry brings. The Ode Less Travelled will give you all the tools you need to write poetry no matter your motivation our reason for writing is. Fry will instill confidence in you to play with words and enjoy creating your rhymes and rhythms.
The Ode Less Travelled is one of the best books for writing poetry and will have you scribbling down verses in no time. It is also one of the children's books about writing poetry perfect for the classroom.
---
Writing Process Begins Within
If you need help getting started with writing poetry, or need instruction on how to improve, then this is one of the best poetry writing books available. The Writer's Process will teach you to co-operate with the creative power of your brain and the research based on the study of cognitive science will lead you to success.
What You Will Learn
The Writer's Process will teach you to:
Make the most of creative flow to enhance the writing experience
Structure the writing steps that will lead to greater efficiency
Manage distractions, accept positive feedback and persevere until you achieve success
Cultivate mindful times to give your creativity time to thrive
Award-Winning
The Writer's Process is an award-winning book and one of the books on writing poetry ranked as the best-selling. It is not a prescriptive book, but rather a guide to helping you create your writing journey. Everything you need to become a great poetry writer resides within your amazingly creative brain. Let the Writer's Process be the book that helps you to discover your inner poet!
---
Plenty of Useful Tips
Whether you are already an accomplished poet or someone who doodles rhymes, The Practicing Poet has some great tips for you! It is one of the best books about poetry writing and demands a place on the school curriculum, in the library, or on your bookshelf.
Secrets From Successful Poets
Diane Lockward has created an essential book that is full of useful advice and tips for improving your poetry writing. Sharing the expertise of 113 different poets, she has collated the most important advice and strategies to make their experience accessible to you.
The ten chapters deal with every conceivable topic related to poetry writing and will entice you to delve more deeply into the craft. There are tempting prompts that will have you itching to put pen to paper.
Pearls of Wisdom
The Practicing Poet is one of the best books on poetry for advanced writers that will encourage you to persevere in your quest to write good, or even better, poetry than you ever have before. It is up there with the best instruction books on writing poetry. Poets in classrooms, workshops, or working alone will thank Diane Lockward for sharing these refined pearls of poetic wisdom.
---
Practice Makes Perfect
Robin Behn has assembled almost one hundred exercises and tips to encourage poetry writers at all stages of the journey to becoming successful writers. He believes that practice makes perfect, and so he has created one of the best books on writing poetry.
Exercises to Inspire You
This handbook of workouts will introduce writers to a vast gathering of renowned poets and their works. It is one of the best intro to writing poetry books that also includes topics that will be of interest to aspiring poets such as finding inspiration, using your memories and experiences to enrich your ideas, and how to revise and improve your work.
Helpful Resources
Behn has helpfully included lists of poetry books and other support material that any aspiring poet will find indispensable. The Practice of Poetry is unique amongst books to learn how to write poetry, and is a great resource for all levels of poets and can be useful whether in groups or when working alone. One of the best books for poetry writers.
---
Inspirational Teacher
Natalie Goldberg has written an outstanding example of the best books on making poetry. Writing Down the Bones is brim-full of ideas, support, and inspiration, and it is all delivered with her down-to-earth attitude and a good sense of humor.
Keeping It Real
As an experienced poet and teacher. Goldberg gives reliable advice in simple language. She deals with all the usual topics like:
Keep writing down your first thoughts
Listening for inspiration around you
Using the best verbs
Keeping doubt out
Interesting ideas on places to write poetry
Try not to take yourself too seriously
Freedom and Humility
As you read Goldberg's book, Writing Down the Bones, you will find yourself believing that you can write poetry. You may even believe that you can write good poetry if you allow yourself the freedom and humility that she encourages you to nurture.
I think the most important message in this book is that you should not take yourself and writing poetry too seriously. You should enjoy playing with words and get your creative juices flowing. Writing Down the Bones is one of the best poetry writing techniques books that will help you to achieve that and more!
---
Life-Saving Poetry?
Writing Poetry to Save Your Life is on the list of the most popular books on poetry writing because Maria Gillan has a unique ability to inspire and encourage your poetry-writing attempts. Her approach is so undaunting and friendly that it feels like she is literally holding your hand as you take the first tentative steps towards writing a poem.
You Can Do It!
The title of Gillan's book is a clue to her particular endeavors to become a poet. She remembers how hard it was to get your thoughts out of your mind and onto a page in an understandable way.
Her book needs to be beside you as you begin to write, and you will sense that she is there, not to judge your words, but to translate your unique experiences and thoughts into redolent poetry. This is among the best books to help write poetry for the reason that it is about the process of expressing words rather than the technical aspects of poetry.
Poetic Genie
When you read Writing Poetry to Save Your Life you may hear the sound of a cork popping out of a bottle as your thoughts are unlocked and begin to flow with confidence and life-affirming energy! If nothing else, this book by Maria Mazziotti Gillan will reignite your compassion for yourself and others.
---
Handbook for Teachers
In the Palm of Your Hand is a vital textbook for anyone tasked with teaching poetry to others. It will enable you to spread the love of poetry and inspire others to "have-a-go" at writing poetry. No more will students have to experience that feeling of dread when Poetry is the classroom topic of the day.
Liberate Your Inner Poet
In the Palm of Your Hand is one of the best intros to writing poetry books. It will teach you how to collect your elusive thoughts, obsessions, fantasies, and torments into forms and verses that shape your poetry. If you think that somewhere deep inside you there is a poet desperately trying to get out, then Steve Kowit will show you how to unlock your gift.
This book contains everything you need to know about the craft and technical aspects of poetry. You will also find practical tips on how to get started, revising and improving your first attempts, and even how to get your poems published.
Apt, Authentic, and Accessible
There is no shortage of inspiration from accomplished poets and it abounds with encouragement for writing poetry. In the Palm of Your Hand is a well-deserving contender for the list of the best-selling books on writing poetry!
---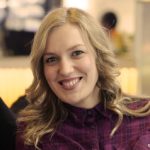 Alissa is an avid reader, blogger, and wannabe writer. (She's a much better cook than a writer actually). Alissa is married, has one human, one feline, and two canine kids. She always looks a mess and never meets a deadline.