---
Best New Romance Books
---
Old Paradigm
As we know, romance novels have changed from the ones that first came. The old featured a paradigm that needed to be followed for a novel to be (1) considered a romance book and (2) for a novel to be deemed publishable. As the years and decades piled on, things were bound to change and the customs were abolished completely.
Stark Contrast
Nowadays, a romance can feature a diverse cast, the plot can be completely in opposition or contrast to the tales of olden, and the content can vary in degree of explicitness. With time, the label of a new romance – meaning a romance book that has very, very recently been published – came and as a result of that, we are going to be giving our choices for the best new romance books now.
---
Standalone Novel
Bestselling authoress Rebecca Serle always puts out terrific novels. Most of the time, Rebecca resides in New York City, though she does take frequent trips to Los Angeles, too. Her novel named In Five Years which was published this year is just as superb as the writer's best.
Dannie Cohan
In Five Years follows Dannie Cohan. Dannie is a wonderful lawyer living and working in Manhattan. As it turns out, she has just recently landed an interview at a law firm that would secure her career's trajectory as being the right one.
However, the interviewer asks Dannie an ordinary question, though one with life-changing implications. Dannie is asked where she sees herself in a half-decade. Dannie gives an answer and after she has become engaged to her boyfriend, she seems to be on the path towards her half-decade goal.
Turn of Events
An odd turn of events unfold as Dannie finds herself waking up from sleeping. However, she isn't in her apartment, nor is the ring she's sporting the same one as her boyfriend gave her, and her boyfriend is not the same man that's with her.
Dannie finds out that she is no longer in 2020, but in 2025. She is dumbfounded at what happened, but then wakes up once more, back in 2020. Dannie doesn't think it was a dream, but she brushes it off soon enough.
Another Turn
Things take one more turn when in 2024 Dannie meets the man that was beside her in her short trip to 2025, some 4 years ago. We cannot recommend this particular novel enough. Be sure to check it out for yourself, reader!
---
Terrific
Josie Silver is a terrific novelist. At the present moment, Silver resides in a small town in England with her spouse and children. The novel of hers that we have chosen for our list of the best new romance book is none other than The Two Lives of Lydia Bird. The novel is more than worthy of being amongst the best new romance books and we will show just why.
Lydia and Freddie
The main characters of The Two Lives of Lydia Bird are the titular Lydia and Freddie. The two of them have been in each other's embrace for more than ten years now and their relationship seemed like something that could never in a million years be broken off.
Life is rarely kind to us and just as Lydia was to be turning 28, the news broke that Freddie had succumbed to the wounds sustained in an automobile accident and he had passed away.
Alone
Lydia cannot imagine her life without Freddie and doesn't want to live a life without him. She tries isolating herself at home and just crying until the tears that burn finally become tears that heal, but they never do.
Knowing that Freddie would never want her to live like this, Lydia takes baby steps in her attempt to take control of her life once more. She'll never find anyone like Freddie again, but she can put herself out there in the world of dating again.
Back With Fredie
However, she does find someone like Freddie: Freddie. By the virtue of events whose background we cannot spoil, Lydia finds herself back with Freddie who is well and alive, but the last couple of months have not transpired, it seems. As easy as that, as plight-inducing as that, Lydia finds herself back with Freddie, yet straining to juggle two lives at once.
---
Talented Duo
The infinitely talented duo that is Christina Lauren has not stopped one bit with publishing since their first novel in 2011. Their 2020 modern romance work named The Honey-Don't List is just as fascinating as any of their superb tales. Let's learn more about it in our best new romance books review.
Carey Duncan
The main character of The Honey-Don't List is none other than Carey Duncan. Carey has been employed for the home-remodeling and home-design aficionados Rusty and Melissa Tripp for the better part of the last ten years.
Carey began working with them when she was a mere sixteen-year-old and has, in more senses than one, aided them make their company what it is now. The two of them have a brand new show and even a book that they are going to come out with fairly soon and it is fairy manifest that they are going to become stars just as soon. A little caveat to the whole affair is that they aren't crazy for one another.
James McCann
On the other hand, having graduated from MIT University and being unmatched in terms of engineering, James McCann has just recently been given a job with Rusty and Melissa as a structural engineer.
However, as it turns out, the job of James entails much more than just keeping up the structure of a building or home, but also keeping the foundation of the Tripps solid. He got more than what he bargained for when he and Carey are bunched together to keep Melissa and Rusty from doing something rash. This is more than just a fun and entertaining romance novel and we cannot suggest it quite enough.
---
Wonderful Work
Vi Keeland was born and brought up in the beautiful state of New York, in the United States of America. Vi Keeland has continuously produced wonderful stories and the 2020 release of Inappropriate is no exception.
Ireland Saint James
We follow Ireland Saint James. Ireland is residing in Los Angeles, employed as a newscaster for the (very, very) early-morning slot of Lexington Industries. It is the case, though, that Ireland's BFF's wedding is approaching and the two of them went on a one-week holiday in celebration.
However, they were a bit too leisurely for the taste of Lexington Industries as an intimate video of Ireland's is made public. The career that she had been making for quite some time now goes to waste as she is fired from her job.
Ten Years Lost
Ten years down the drain and Ireland is furious for what has happened. Angered, she sends a message to Grant Lexington expressing all that she feels in the unabashed, unadulterated manner that the reader has surely come to love.
Grant, on the other hand, is not accustomed to anyone saying no to him or even putting up resistance. Being that he is so affluent, a CEO of a large company, and a dashing twenty-nine-year-old, he has never encountered such a thing. We covered this book in our article about the best MMA romance books as well. Check it out!
Fascinating
He sends an email back to Ireland in light of the intrigue he begins to feel and they go from there. He hadn't known Ireland personally, but he finds her more and more fascinating with each email and pretty soon he wants to meet her. Lucky for him, Ireland isn't averse to a date either.
---
Super Engaging
Mhairi McFarlane is a terrific authoress whose country of birth is the mesmerizing country of Scotland. Mhairi was born in the year of 1976, but her soul is very much entwined with the newest of new romances and her entry into our list is none other than If I Never Met You.
Laurie
Laurie has been together with her significant other for a long time, a decade in fact. However, things are never secure as he chooses to break it off and Laurie is left in the anguish and turmoil of a break-up. The pain and plight are double as they are employed at the same company. It is not easy at all to move on and it's even harder to think of finding a new partner.
Soon, a rumor is spread in the office that her former boyfriend's girlfriend is pregnant and it is nothing short of completely disconcerting and mortifying. Nonetheless, a bit of luck seems to be headed Laurie's way as she meets a guy in an elevator of all places – one that is not quite functional.
Jamie Carter
Jamie Carter, on the other hand, is not a believer in the potency of love, though he does require someone to be with him in order to become respected amongst his peers. Laurie is interested only in finding a way to get the gossip and rumors to veer into another direction, so the two of them seem to have an agreement of sorts.
Jamie and Laurie feign being together so as to pull the wool over the eyes of the people around them, but the shoe is on the other foot when they begin catching feelings for the other. If you had to read just one book off of our list of the hot new romance books, we would definitely suggest picking up If I Never Met You first.
---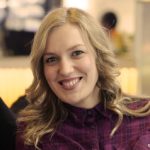 Alissa is an avid reader, blogger, and wannabe writer. (She's a much better cook than a writer actually). Alissa is married, has one human, one feline, and two canine kids. She always looks a mess and never meets a deadline.