Bio
I'm sure that many of the thrill-seeker readers out there know a thing or two about Daniel Silva's novels. He is a best-selling American author who writes thrilling stories, a lot of which happen to be related to some exciting espionage tales that he constantly comes up with.
Education
Daniel received his BA from California State University, Fresno after which he started a graduate program in international relations at San Francisco State University which he left pretty quickly after he was offered a pretty nice deal to work as a journalist at UPI.
---
Best Daniel Silva Books
---
Career
Daniel worked as a journalist for a few years, traveling and writing interesting content until he started working on his first novel in 1994 called The Unlikely Spy. Little did he know that this was the thing that would start his new and wonderful career as a novelist after the novel blew up and quickly achieved best-selling status.
After that, Daniel pursued this career choice full-time and has never looked back. You will find out how he achieves the status of being a multiple times New York Times Best-Seller when you have a look at some of his books from our best books by Daniel Silva list.
---
Everything You Desire
Here is your chance to find out why almost all of Daniel's books eventually become best-sellers. He writes many exciting stories like the one in this book that have amazing and thrilling adventures going on in them with a lot of action, drama, sometimes a bit of comedy, and romance.
He always comes up with the most memorable characters like he has known them all of his life. They are very impressionable and make you want to read about them more and more.
Gabriel Allon
In The Kill Artist, Silva introduces us to a Gabriel Allon who is an amazing assassin for his country, his mentor, Ari Shamron who had a father who was killed by Arabs, Lev Ahroni, described as the perfect headquarters bureaucrat, a dangerous terrorist who goes by the name of Leila Khalifa, and so many more interesting, unique, and unforgettable characters who will definitely have a lot of influence on the story of the book.
Speaking of the story, it's all about a few events that are in many ways connected between these characters. We mentioned Gabriel Allon, who had a relatively simple job, but as well as a brutal one that wasn't simply for everyone, no matter how simple.
Enemies of Israel
His job is to track down and eliminate all terrorist enemies of Israel. He wasn't the type to complain about this job and intended to keep doing it, but when the job got mixed up with his personal life and his wife and son ended up being in danger from it, he immediately quit that life and devoted himself to a more peaceful career like art restoration which was actually an occupation that Gabriel used as a cover story for his previous assignments.
His mentor, Ari Shamron, who is the head of Israeli intelligence needed Gabriel one more time for his specific set of experience and expertise. Ari has found out about a secret plot from the Palestinians to destroy the peace negotiations in the Middle East and he needed Allon on this mission to destroy that plot and make sure it never happens.
Mastermind
A twist appears when we find out that the mastermind who plotted this, named Tariq, was a lethal part of Gabriel's past and the story gets much more interesting when these two start their battles. They both find themselves in a situation where they absolutely must win as life and death is on the line and they were both powered by personal as well as political motives.
We find that this book tells a brilliantly thought out story that just consumes the reader in the thrill and excitement of it. You get to meet all of these exciting characters take part in an amazing adventure that has a pretty interesting end that you can find out for yourself.
---
Perfect Mix
This wonderful best-seller that just had to be on our list of best books by Daniel Silva is actually based on a pretty real story.
For the sake of making it a bit more exciting, Silva has actually edited the story a little so that he can turn it into one of his famous thriller espionage novels and added a few fictional characters that just swoop the readers of their feet with how exciting they make things.
World War II
He sets the happenings during World War II which was a dangerous and anything but passive and boring time. We meet a few of the characters like Alfred Vicary who is a great historian and close friend to the famous politician, army officer, and writer Winston Churchill.
Knowing the fact that he was injured during World War I while serving as an officer for the Intelligence Corps, Alfred still decides to join the British Intelligence service and immediately gets assigned the job of protecting an important operation called Operation Mullberry.
German Spy
Things get tricky fast as a German spy who goes by the fake name of Catherine Blake actually gets herself close enough to almost learn the secret of this operation. Catherine knows that she is getting very close to revealing the secrets but does not know that Alfred has actually caught on to her fake identity but devised a little double-cross plan and doesn't reveal her true identity immediately.
False Secrets
This is actually a strategy that some of us might have seen in movies where one side learns about a spy within their circle, but instead of capturing them and just avoiding revealing secrets, they actually feed false intelligence to the spy so that they can mess with the enemy's plans and make them think like they know what is really going on. It's the almost exact story in this tale as they do not capture Catherine immediately and start letting her find out false secrets.
Excitement
You will definitely be super excited to find out what happens next in this amazing thriller from Daniel as he sure knows how to bring out the full excitement in his stories. There is much more to find out about this story and many more interesting characters to meet.
---
Harsh Politics
The Mark of the Assassin introduces us, the readers, to another story that involves harsh politics and brutal decisions between enemies. It introduces us to a few more interesting characters who all differ from each other quite a lot.
Witness
We have President James Beckwith who is facing reelection that he believes will lose until he conveniently happens to witness a situation where 250 people die from a plane crash that is believed to be set up by a Palestinian terrorist group called Sword of Gaza.
He uses this as an opportunity to win back the voters after he orders a strike on that terrorist group to act as revenge for his people after which he wins the election quite easily. A nice plan if you ask me.
Michael Osbourne
We then meet a CIA agent called Michael Osbourne who believes that the motives for this situation were very political from the very beginning. A conspiracy starts flowing among the people which gets a bit clearer after everyone witnesses the death of a reporter who was looking into the ties between this President James and a ruthless industrialist by the name of Michael Elliott.
Osbourne becomes a threat to those who can get away with murder which is when Daniel introduces us to a new mysterious character called October. He is an assassin who is hot on Osbourne's trail with the intent of removing him from the equation.
Common History
Things get very interesting when we find out that Osbourne and October actually have a history when years ago October killed Michael's lover and now he faces a similar threat for his pregnant wife.
Overall, this book is the last one on our list about the best books from Daniel Silva but it is definitely not the least. You will find that all of his books provide this similar way of writing from him and many more exciting stories like these.
There's More
Daniel Silva is definitely an author who can create some thrilling espionage novels that are filled with a little bit of everything like action, romance, drama, mystery, and much more.
These are our top picks for the best books by Daniel Silva, but you can feel free to check out some of his other amazing work like Moscow Rules, The English Girl, or some of his newer stuff such as The New Girl, and many more thrilling books from him that are sure to offer you a nice way to relax and enjoy some thrilling and exciting stories.
---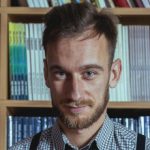 Robert is a science fiction and fantasy geek. (He is also the best looking Ereads writer!) Besides reading and writing, he enjoys sports, cosplay, and good food (don't we all?). Currently works as an accountant (would you believe that?)