Colleen Hoover
Margaret Colleen Fennel was born in Sulphur Springs, Texas, United States of America, to father Eddie Fennel and mother Vannoy Fite. Margaret Colleen Fennel is the birth-name of the extraordinary authoress Colleen Hoover.
Achievements
In her illustrious career, Colleen has published, so far, 11 novels and 5 shorter novellas. Her genres of preference are New Adult and Young Adult romance novels, though she has dipped her toes in the thriller genre as well. The novels of Colleen Hoover have often been on the coveted bestseller lists.
---
Verity Book
---
Life and Education
As we noted, Colleen was born in Sulphur Springs. However, the family moved soon after to Saltillo, also in Texas, and this is where they brought up Colleen. It was in 1998 that Hoover ended her high school days and graduated from Saltillo High School. Only two years later, in 2000, William Heath Hoover and Colleen married. They have been together ever since and have brought up a total of three kids, so far.
For her college or university days, Colleen attended the Texas A&M Commerce. She majored in social work and received her Bachelor of Arts not long after. From the start, Hoover worked jobs that involved social work and teaching, however, this was scarcely sustainable as she wanted to become a writer.
Career
It was in 2011 that Colleen began and finished writing her first book. In just a little more than a year, Colleen had been told that her novel was definitely an auspicious one and Colleen was prompted to publish it. Since then, Colleen's novels haven't ceased to amaze readers around the world. With that behind us, we can now give our book review of Verity.
Standalone Novel
Colleen Hoover's brilliant thriller romance Verity is without a doubt one of her most absorbing novels. It is on a completely different note from Hoover's previous romance novels, such as Maybe Someday, and this adds to the liveliness of the novel. Verity book is a standalone novel that was published in the year of 2018.
Readers and Hoover fans are surely used to the superb authoress' work to be a romance. Everyone adores Hoover's Slammed and Hopeless, but Verity book is on the other end of the spectrum. While Colleen's other works have a note that eases tension and one feels pleasant when reading it, this novel indulges and bathes in the tension.
The novel is an entrancing, nightmare-inducing, unnerving, and mindboggling novel that will be sure to stay with the reader for years to come. Now, let's move deeper into our book review and meet Lowen and the Crawfords.
The Pain Under
Lowen Ashleigh is an authoress whose struggles don't know any bounds. Additionally, Lowen doesn't exactly have a home. Lowen barely has any money to get by each month. She is indebted and is as close to eviction as she is to breaking down. Additionally, Lowen's mother very recently died. She is regarded as a novelist whose talent is very high, but Lowen isn't exactly the most charming in terms of marketing her works. This is one of the reasons why her works aren't as loved as other less capable writers.
Now, Lowen Ashleigh is on the brink of losing everything she has in life, which isn't much, but also on the verge of losing herself. Then, like a miracle – or a curse? – an opportunity that she could never have expected presents itself.
Verity Crawford
Verity Crawford is a writer's writer in Lowen's world. She is extremely popular and famous. However, things don't usually go the way that we like just because of our financial or commercial success. She was injured rather badly in an accident and is not in the position to end the final three novels in one of her series.
The struggles don't end with her accident, though. Jeremy and Verity lost their twin daughters in two accidents, as well. Now, Jeremy Crawford, the husband of Verity, offers Lowen the chance to become financially stable if she finishes the series. There is a bit of a catch, though. She has to stay at Crawford's residence and rummage through the manuscript there.
A Chance Never to Repeat
Lowen doesn't have much choice in the matter since this is quite literally the opportunity of a lifetime. She can set herself up for the rest of her life if she complies and does the work. Accordingly, she feels sad for Jeremy and his dismal son. They have lost a lot and it is surely not easy to have another woman in their home, sleeping in Verity's bed, doing her work, and touching her things.
On the topic of Verity's things, Lowen comes by something very odd. She was writing her autobiography, though she hadn't finished it yet. Lowen finds out that she intentionally drove her car into a tree and that is just the tip of the frosty iceberg.
Upside Down
The mood that Hoover creates is nothing short of masterful. One gets the creepiest of sensations possible as Lowen begins being closer to Jeremy and his son; in a sense, assuming Verity's position. Then, she digs up secrets that could flip the Crawford's life topsy-turvy. Something wicked their way comes and the story's tension and thrill never lets up. Colleen Hoover's novel is a superb entry into her oeuvre.
If you like Verity book, Slammed, Hopeless, and It Ends with Us are a few novels that you are sure to love from Colleen Hoover.
---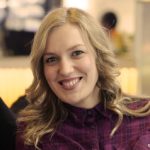 Alissa is an avid reader, blogger, and wannabe writer. (She's a much better cook than a writer actually). Alissa is married, has one human, one feline, and two canine kids. She always looks a mess and never meets a deadline.