---
Best Romance Thriller Books
---
We Love to Be Afraid
As humans, we have several things inside of us that are inextricable; we have our compassion and empathy, which acts as an extension of our intrinsic capability for loving others; we have our fear of things that could imperil or endanger our livelihood.
When these two congenital concepts of man are taken in tandem, we can see how man is both capable of being sympathetic to those around him while he retains his inborn aptness for fear. Accordingly, for the ability to love of man, we have our romance novels, while for the ability to be fearful, we have our thriller and horror novels.
Bone-Chilling Combination
When both sorts or genres are taken together, we get something that is wholly entertaining, soothing, bone-chilling, and something that we are drawn to. We get to the point of romance thriller novels and as a result of that, we are going to take a look at our picks for the best romance thriller books.
---
Legend Herself
Margaret Colleen Hoover, born as Fennel, is from Sulphur Springs, Texas, USA. Colleen is a brilliant author whose works are never underappreciated. Her 2018 standalone novel Verity is what we have chosen for today.
Lowen Ashleigh
The main character is Lowen Ashleigh. Lowen's life hasn't been the easiest or even the best. Lowen is in debt, her eviction date is inching ever closer seeing as she can't make ends meet, her mother passed away not too long ago, and her writing, though it is impeccable, doesn't draw any larger crowd.
Lowen has no clue what to do with her life seeing as her career isn't exactly taking off, but luckily – for once in her life – for Lowen, she's to be given a chance to make a name for herself. Lowen is asked to write the final few books in a series that acclaimed writer Verity Crawford had begun.
Proposition
Verity couldn't possibly continue the novels because of injuries she's sustained. Doubly so, Verity's and her husband Jeremy's life twisted when their 2 young twins died. Verity is unable to write thus and being that she is a fan of Lowen's prose style and storytelling prowess, she asks her to help her out in exchange for financial compensation.
A bit of a curious point is that Lowen is supposed to stay at their home during the whole process. Lowen accepts seeing as it's probably going to be the last chance she'll ever get at becoming a star. However, when things begin getting eerier and more bizarre, she can't help but feel odd.
Manuscript
Soon, Lowen begins feeling like she's masquerading as Verity herself and she's somehow assuming her position in the household. By no means is the story over yet, as Lowen digs up an autobiographical manuscript that Verity had been writing before her accident, and what it reveals will absolutely shock you, kind reader.
---
Death Series
Famous writer Nora Roberts was born as Eleanor Marie Robertson in Silver Spring, Maryland, USA. Nora has used a fair number of pseudonyms and J. D. Robb is no exception. The Naked in Death novel is the first in a series named In Death. Naked in Death was released in 1995.
Distant Future
The story of Naked in Death is set in the not so near, not so distant future. In fact, the year in which the events transpire is 2058. The planet has changed very much. Eve Dallas, the protagonists, is employed as a Lieutenant and she has just landed a substantial case.
A person named Sharon DeBlass was murdered, the sixth in a line of murders that seem to point at a single perpetrator. Eve is notable for her deduction skills and she is handpicked for the job. The fact that Sharon lived a double, secretive life, by no means makes the job of Eve easier.
Roarke
The investigation leads Eve towards wealthy businessman Roarke. While Roarke might have an influence on things being that he is known all over the world, he is still a suspect and he is going to be questioned by Eve, nonetheless.
Tangible Attraction
However, Eve finds that Roarke is more than happy to comply. As the questioning begins, both Eve and Roarke sense a tangible attraction between them, though they resort to the jab-trading and banter-exchanging paradigm. Soon enough, they embrace their attraction, though the world of evil is closing in on them and they have to be wary of the proceedings. Naked in Death is a no-brainer entry for our list of the best romance thriller books.
---
Standalone Novel
Authoress Linda Howard was born and raised in Alabama, the U. S. Linda's novels have not stopped amazing readers ever since her debut novel and her 2000 release of Mr. Perfect is no exception.
Jaine Bright
Protagonist Jaine Bright has just moved into the neighborhood. The dynamic between Jaine and her siblings isn't anything to brag about seeing as they are a bit envious of Jaine. Nonetheless, Jaine is not at all interested in feeling insulted by them. If they could stoop that low, then why would Jaine reciprocate?
Especially when she can observe her neighbor Sam. Jaine notices Sam at odd hours coming home, less than suitably dressed, and with bloodshot eyes. She thinks of him as an alcoholic, though she finds out that he's actually on the police force.
Obvious Attraction
Sam and Jaine oftentimes find themselves trading insults, though always in a semi-lighthearted way. They don't actually want to drive each other away, but only to flirt with the attraction that is obvious between them.
Accordingly, while Sam is out "saving the world", Jaine is having fun with her colleagues. On one of these occasions, Sam and her three friends come up with the idea to make a Mr. Perfect list: what they would like their ideal man to be like. The list was supposed to be a one-off, though soon everyone at the office is privy to the covert lists.
Murder
The wrong crowd seems to have been attracted as one of the founders of the list, Marci, is found murdered. Soon enough, another is slain and everyone is scared out of their minds. Sam and Jaine get closer, though it might be helped by the intimate link between the fear of dying and the attraction between them. That, or it may be that they actually like each other, though a serial killer lurking might be intending to cut their affair short.
---
Standalone Book
Obsession is a 2013 standalone novel by the prominent author Jennifer Lynn Armentrout, who comes from Martinsburg, Virginia, USA.
Serena Cross
The main character of this alien romance novel is Serena Cross. Immediately, we are transported into the dismal world of Serena. Serena's mother was murdered after a robbery gone wrong, while her dad isn't present in the life of Serena, and Serena pretty much only has her friend Mel.
If it weren't for Mel, Serena would be pretty much all alone in the world. When Mel has something horribly terrible happen to her and shows up to tell Serena what transpired, both of their worlds are turned topsy-turvy. What can we say when Mel ends up dead? Serena is now a completely solitary person in the world.
Hunter
Nonetheless, a hit has been put on Serena because of the info that was imparted to her by Mel. Another person, an Arum – a preternatural being that has to keep his or her appetite in check or everything will be subject to a rampage – named Hunter is sent to find out what Serena knows and to protect her. When Hunter and Serena do meet, sparks fly and they can' deny it. However, Hunter tries his best not to let his urges go knowing that Serena won't survive his viciousness.
Closer and Closer
In the background, the beings known as the Lux have put a tab on Serena and they are getting closer and closer to finding her. Hunter and Serena have to be careful or they might end up in the same position as Mel, though Serena is adamant about needing help. The novel truly is a superb tale and we can't recommend it enough. It is with a reason that we chose it for our list of the best romance thriller books.
---
For Me Series
Without a doubt, Cynthia Eden with her work in the paranormal, contemporary, and, as we will be focusing, thriller romance genres, is not to be understated. The 2013 novel Die For Me is the first of a series titled For Me. Let's now proceed to the last book of our best romance thriller books review.
Katherine Cole
The main character of Die For Me is Katherine Cole. A few years ago, Katherine was living the best possible version of her life. She had a fiancé, whom she adored, named Michael. The two of them were on top of the world until one day Katherine comes home to see Michael torturing and killing a young lady in the basement.
In a scurry, Michael gets away, the police come to investigate, and everything is absolutely off-kilter. From being engaged to having to run away from the city, everything has been changed completely and Katherine finds herself in New Orleans.
Katelyn Crenshaw
Katherine Cole is no more, long live Katelyn Crenshaw. As Katelyn, Katherine has found a peace of mind for her, or she thinks so. She has a boyfriend who works as a doctor and things are going alright. That is, when a local journalist is found killed.
Emotions and the grim memories of that tumultuous day three years ago rush back as Katherine hurries to the police station to get more information. She learns that the journalist had been befallen and left in the same manner as how her Michael – or Valentine as he is known in the media – was known to leave his victims.
Past Strikes Back
Katherine thought that she had found a place for herself away from that terrible period of her life, but the past has come back to bite her. Her relationship Trent becomes strained, she gets closer to a detective named Dane whom she likes a lot, and the murders begin piling up. This time, however, Katherine is not backing down.
---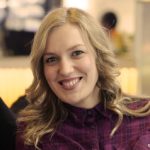 Alissa is an avid reader, blogger, and wannabe writer. (She's a much better cook than a writer actually). Alissa is married, has one human, one feline, and two canine kids. She always looks a mess and never meets a deadline.