Alice Clayton
Alice Clayton is a terrific writer who was born on the 10th of January, 1950, in the United States of America. Clayton's works belong to the romance genre and her most famous series are the Cocktails series, Redhead, Hudson Valley, and Broads Abroad.
Clayton, prior to beginning her career as an author, was entwined in the cosmetics industry and worked there for more than ten years. However, now she is a full-time writer whose works are adored by her ardent fan base.
---
Wallbanger Book
---
Hobbies
When she isn't spending her time writing her next bestseller, Clayton is focused on making her garden the prettiest back home in Saint Louis. Accordingly, she loves to bake and a portion of her time is devoted to her boyfriend of long years. Alice Clayton also loves her Bernese Mountain Dog. Now, with all of that noted, we can proceed with our review.
The Cocktail Series
It is a novel by Alice Clayton that is commonly spoken of when Clayton's best contemporary romance novels are being discussed. Wallbanger book is a part of her Cocktail series which is composed of four primary novels and one tie-in novel for good measure. It was published in the year of 2012.
Caroline
The main character of Wallbanger book is none other than Caroline. Caroline is in her mid-twenties and is an interior designer. Caroline resides in San Francisco in a brand new apartment that she got from her new boss – whom she hasn't met yet – and it's the top spot she needs to get rolling with her career.
The first night that she does spend in the apartment, though, is somehow not very comfortable. For one, on the opposite side of her wall, where her bed is located, an astoundingly loud bang, thud, or thump can be heard. This thudding sound is so noisy and strong, in fact, that her picture frames are beginning to fall down. The next sound that she hears upon awakening is one that both unsettles Caroline and, curiously enough, intrigues her.
Just a Special Night?
Caroline hears a lady's voice calling on someone to spank and slap her bottom. A growl later and her partner complies completely. The banging gets even louder and it feels like the wall is going to fall down. It's Caroline's first night there so she can't exactly set up rules for older tenants and she supposes that it might have just been a special night, one that won't be repeated in the nearer future.
Not Really…
The next night comes and she tries to go to sleep when the bangs have seemingly become even louder than the previous night. A moment later and Caroline can hear a lady imitating a cat's meow.
Now, she can't exactly reconcile with the fact that she's both hearing an erotic wall-banging and a kitten's mimicked meow, but she somehow dozes off after a bit. The third night isn't exactly anything better, though it is even more peculiar. This time, the lady at hand is not meowing, but she is laughing amid the sensual, very loud moans she releases.
Three Ladies
With a little bit of meticulous listening and ascertaining whom the voice belongs to – seeing as Caroline can't exactly enjoy a night's rest –, Caroline deduces that there are three ladies that frequent the wallbanger's home.
Soon, all three ladies have received a title from the creative mind of Caroline and they are – The Giggler is the one that cracks a laugh in the middle of her moans, the one that has a cat imitation act is Purina, and the spanking enthusiast is Spanx. In a little while, Caroline has caught a few peeks at how they look like; in short, they are all varying by style, though undeniably attractive.
Again and Again
The wall-banging and various activities related to the aforementioned nomenclature repeat, again and again, each night until Caroline can't take it anymore. Sleep-deprived, having lost a number of precious picture frames, and with a precarious stability of her wall, Caroline marches over to the apartment of wallbanger.
Though she didn't notice it initially, she had waltzed over in one of her most alluring nightgowns – what can she do? it's not like it's easy to do laundry with all the thudding.
Step Into the Wallbanger's Office
When inside, she sees that the man in question is as attractive as she might have expected. She finds out that his name is Simon and she doesn't hold anything back while she delivers a tirade of her own.
Of course, the man is only covered in a few sheets seeing as he was in the middle of some wall-banging, but Caroline doesn't hold back one bit. It, of course, doesn't spell a bright future for Caroline when she finds herself at the housewarming party of her new boss and meets a lot of people. One of these many people is Simon, the wallbanger.
Pink Nightie Girl
In line with Caroline's own naming, Simon recalls her in his mind as Pink Nightie Girl and he is less than happy about the night of fore. Things twist and turn until the two find themselves becoming social, then friends, and who knows where they may be led to.
Before they know it, Caroline is trying to erase the memories of the wallbanger's concerts and Simon is questioning whether or not he can be faithful to just one single lady.
Little Encore
What may become of them, our book review of Wallbanger can't say, but we do know, for a fact, that the wallbanger has not made his last appearance and picking up the novel will ensure that you see whether he has a little encore towards the end. The Cocktail series of Clayton, which includes Wallbanger book, is one series that never disappoints. Be sure to check it out!
---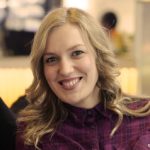 Alissa is an avid reader, blogger, and wannabe writer. (She's a much better cook than a writer actually). Alissa is married, has one human, one feline, and two canine kids. She always looks a mess and never meets a deadline.