---
Best Dragon Coloring Books
---
Countless Species
When it comes to coloring books, dragons definitely present a cool way of having fun as there are countless species of dragons throughout our history of myths and legend, all of those different and unique kinds of dragons present a thrilling way of keeping entertained in one of the most creative ways around.
For Both Children and Adults
The books in this review are some of the best dragon coloring books in our opinion and they are both perfect for children and for adults who wish to pass the type in a very fun and creative way.
---
Different Cultures
This is the book that will be starting off our review and it's the perfect one for the job as it introduces you to tons of dragon species from different cultures such as Egyptian, Polish, Norse, Fars East, Latin America, and plenty more. The book offers 30 full pages, on all of which there is an amazing illustration of a different type of dragon.
Explanations
A great added bonus in this amazing dragon coloring book for children is that next to each illustration of the dragons, there is a neat little paragraph explaining a thing or two about the specific dragon, what type it is, where it originates from, and simple yet informative things such as those.
---
100 Illustrations
This is one of the best dragon coloring books that has a thing or two more to offer from the previous one because it has quite a few more illustrations inside.
The list of 100 amazing dragon illustrations waiting to be colored are definitely something to get excited about as they are perfect for almost anyone.
Unique Dragons
There are tons of unique dragons inside that express different emotions such as angry and fierce ones, friendly and happy ones, and many more.
One more great thing about this coloring book is that it offers a lot of choices for the kids as there are full-body illustrations inside and there are also portrait ones that offer only the dragon's head to be colored.
---
Mythology and History
Ernest Drake is known to be a fascinated guy by dragons who has all sorts of books about dragons, there are even adult books for dragons which allows them to learn all sorts of facts about them from the deepest sources of mythology and history.
Younger Audience
Dragonology, however, is for the younger audience and it offers a lot of amazing illustrations of dragons as well as some outstanding facts about these creatures which will make sure that everyone who reads them will be prepared for meeting their first dragon.
64 Pages
The book has a total of 64 pages and it should be plenty of space for you to enjoy some relaxing coloring time and let out your creativity to create some of the best looking dragon illustrations ever.
---
Complex Illustrations
This coloring book is for the adult audience only as it offers a bit more complex illustrations and it wouldn't even be fun for kids as there is no way they could carefully color the detailed illustrations inside. We covered another book by this amazing author in our article about Japanese coloring books for adults. If you are interested, take a look!
Mythical Creatures
The title says it all, the book offers illustrations of mythical creatures such as the fierce dragons, some of the best scenery from popular fantasy realms that have the power to take your breath away, and some of the coolest illustrations of magnificent warrior women who can also take your breath away.
---
150 Illustrations
The next book in our review is one of the best dragon coloring books that offers you 150 unique and outstanding illustrations that have been collected from all sorts of stories done by Rossy Zapata. The book has single-page illustrations which helps the images stay clear after coloring and not bleed with the other side of the page.
Not Too Detailed
The book is perfect for children who love dragons as the pictures are not extremely detailed which allows the younger audience to not feel stressed and have the tie of their lives coloring the dragons inside.
---
Perfect for Children
Jade Summer appears for the second time in our review as she brings you yet another wonderful coloring book that is designed for children who absolutely adore everything that is related to dragons.
Adorable Baby Dragons
This author is very experienced when it comes to coloring books and what's special about this one is that it is filled with adorable baby dragon illustrations inside which is perfect for the younger audience as simply no one can resist these cute baby dragons.
---
Magnificent and Detailed
Here is one of the best dragon coloring books for adult as this masterpiece is actually specifically created for the more experienced colorist as the detailed illustrations of some of the most magnificent dragons inside are going to present quite the challenge for kids who are too young.
31 Designs
It offers 31 outstanding designs that are perfect for the older audience and you will get to find out why as soon as you open the first illustration inside. The images are also not simply of a dragon on a blank background but they offer amazing scenery behind all of them which also adds to the excitement of its contents.
---
Own Species
You get to see some of the most unique designs of dragons in this coloring book for adults as this author has managed to create her own dragon species and has not taken too much inspiration from the regular old traditional dragons that everyone knows.
Inspiration From Nature
The contents inside allow you to see some of the coolest dragons ever as Tatiana has drawn inspiration from nature itself and the amazing creatures that already exist there to create a few of the most unique and outstanding dragon species ever, and you get to decide which colors they will be marked with
---
Bestseller
Kerby Rosanes is no joke when it comes to coloring books as his books have often been in the New York bestseller lists and this time he brings you another one of his famous coloring books for adults.
Complex Designs
The theme here is mythical creatures and there are plenty of complex illustrations of dragons, unicorns, griffins, and more inside as well as a bonus challenge that requires finding some hidden objects throughout the images.
---
Bit More Advanced
Here is Rossy Zapata's second version of his The Book of 100 Dragons as this is the level 2 version of it which means that you get to see a few more complex illustrations than the level 1 version.
Next Level
This book has a lot of potential if you are seeing it in our review as these 100 more illustrations from Zapata are definitely next level when it comes to complexity and design. Be prepared for even cooler illustrations than the first one and to have an even more exciting time than before.
---
Thrilling Experience
Here is another very high-quality book for the more experienced colorists as this book comes from Blush Design and that means that you are about to have quite the thrilling coloring experience, even more so if you happen to be a huge fan of dragons.
30 Illustrations
Inside are 30 beautiful illustrations of dragons just waiting to be colored and to offer you hours of relaxing and creative activities that you can easily get addicted to.
---
Dragon Families
This book offers quite the unique illustrations as you get to see entire dragon families in here, dragon couples, dragons engaged in epic battles, and so on.
Various Levels of Difficulty
There are also a few levels of difficulty as you get to do the easier levels first and proceed up as you get the hang of it and adopt a more natural feel to it. This book will definitely offer you a lot of entertainment and relaxation as you color the awesome dragon designs inside.
---
Adorable
The last book in our best dragon coloring books review is a book that shows you a few more adorable-looking dragon illustrations which make this a perfect book for the younger audience again. Standing at only 46 pages long, it is still a fun and creative way to spend the time and get rid of stress.
Plenty to Choose From
There are plenty of books to choose from our review as you can see and you also get to choose from a wide variety of books for children and books for adults as all of them have different levels of difficulty and complexity.
---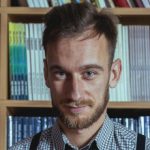 Robert is a science fiction and fantasy geek. (He is also the best looking Ereads writer!) Besides reading and writing, he enjoys sports, cosplay, and good food (don't we all?). Currently works as an accountant (would you believe that?)