Penny Reid
Novelist Penny Reid is a mysterious author, to say the least. Barring a few keen points of information, not much information is readily available so that a proper view of the writer can be attained. For one, Reid for a large part of her career was not a full-time writer, even though it might be exceedingly mindboggling to think such a thing.
Nonetheless, Reid worked as a researcher in the biotech branch, while writing was considered more of a side-gig, though undeniably a passion, too. However, in a little while, Reid did resign from her job so that she could focus wholly on writing, so there's that.
---
Neanderthal Seeks Human Book
---
Career
For her tremendous works, Reid has been featured on the bestselling lists of USA Today, Wall Street Journal, and New York Times for many books in her most famous series, Knitting in the City, for one, and the Winston Brothers, as a close second.
Today, Reid lives along with her spouse and three children. She enjoys crocheting, sewing, knitting, arts and crafts, and of course writing and reading. Now, with that all jotted down, we can go ahead with our book review.
Knitting in the City Series
This book is a terrific novel and there is no way around this fact. It is one of the best books that Penny Reid has written and there isn't a fan of Penny's novels that doesn't adore this one. It is also the first novel in Reid's Knitting in the City series which is comprised of seven works in total. Neanderthal Seeks Human book was published in the year of 2013.
What Kind of a Story Is at Hand?
The story is an exceedingly thought-out one; one that perfectly blends wit with romance and brilliant humor with raw emotion. The characters aren't ones that you've read or watched hundreds of times, but realistic, true to life ones.
The storytelling of Reid is not to be understated, either, as it is the foundation of a novel of this magnitude. All coupled with the prose of Reid make this book to be the worthwhile novel that it is. Now, we can jump deeper in our book review of Neanderthal Seeks Human and get to meet the diverse cast.
Who Is the Driving Force in the Novel?
It does not take long at all for us to see that the main character, Jeanie Morris, is a bit of an oddball. She can be awkward in social situations and she is a geek to the highest of degrees, but she isn't one to shy away from these facets of her personality.
In fact, Jeanie owns up to herself and her character completely. However, when we first do see and read of Jeanie, we see that she isn't exactly having the best of times. To be completely frank, the day that Jeanie is having can quite easily be dubbed as being the worst of her life; though, like the infinitely wise Homer Simpson would be eager to say, it is the worst day of her life, so far.
Just a Little Complication
As it turns out, Jeanie just found out that her boyfriend of many years and even fiancé has been cheating on her. She has lived with him for some time now, and since their relationship is officially and unequivocally over, she is without a home. No biggie, right?
Jeanie can always figure something out. At least she has a job. And, after all, it can't possibly get worse than becoming essentially homeless and breaking up with your fiancé, can it? Well, on her way to work, Jeanie managed to somehow break the heel of her shoe, so there's that. That is only the tip of the iceberg, it seems, as she is swiftly fired from her job. A little bit of an incident in the bathroom and the day has capped off.
Is There Anything Good Coming Jeanie's Way?
The only thing that might have left Jeanie with an impression of being good or fortuitous was her interaction with an exceedingly attractive, handsome, and intriguing security guard. The same one that escorted her on her way out of her former job, that is.
Luck might be on the plate of Jeanie as she encounters him once more the following day. As it happens, the man in question, Quinn, offers Jeanie a chance to get an interview for a job with his help. While this is happening, Jeanie is completely in awe at Quinn and can't help but be drawn to this smoking hot hunk of a man. Quinn, it appears based on their interactions, reciprocates.
Knitting!
On a lighter note, Jeanie is a part of a knitting group and they all meet each week. Now, if one were a part of a knitting group, it would be reasonable to expect that person to be a knitter, true? Well, Jeanie's not a knitter and she only goes there so she can gossip and drink wine.
This time, she has something quite fascinating and naughty to tell her friends, though. As the novel develops and we see the introverted Quinn getting closer to Jeanie, the insecure and nerdy young lady, the reader can't help but fall into fits of laughter. The novel is sweet, romantic, and very, very funny. We cannot recommend it enough.
Recommendation
Friends without Benefits and Love Hacked are the two next novels in the Knitting in the City series, not counting the Neanderthal Marries Human tie-in – we don't often suggest tie-ins, though this one is a worthy exception.
---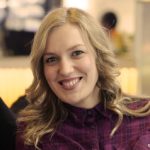 Alissa is an avid reader, blogger, and wannabe writer. (She's a much better cook than a writer actually). Alissa is married, has one human, one feline, and two canine kids. She always looks a mess and never meets a deadline.