Penelope Douglas
Penelope Douglas is a very talented writer. Penelope was born and raised in Dubuque, Iowa, USA. Douglas' birthday is on February the 1st. As we know, Penelope is a prominent American novelist who primarily writes in the contemporary romance genre.
So far, Penelope's novels have been translated in more than a dozen languages, and they have been present on the prestigious bestseller lists of USA Today, The New York Times, and The Wall Street Journal.
---
Punk 57 Book
---
Career
Douglas studied in Public Administration at the University of Northern Iowa and she attained her Bachelor's Degree from there, as well. Douglas attended Loyola University, too, where she earned he Master of Science in Education.
Douglas began by working in the fields she had studied in University, though she found that writing was her true calling and she devoted herself to becoming an author soon after. At the present moment, Penelope, along with her child and husband, lives in Las Vegas. With all of that noted, we can now take a look at our book review.
Standalone Novel
This is a terrific high school romance novel by Penelope Douglas that fans of Douglas' works have found to be one of her most fascinating tales, yet. Punk 57 book is a standalone novel that was published in the year of 2016.
The story of Pun 57 follows Misha Lare and Ryen Trevarrow. The two of them reside a mere town away, though they have yet to have met each other. As it so happened, when they were both in their fifth grade, they were paired up by manner of a misunderstanding – always a healthy way to begin a friendship.
Bit of a Mess
Because of their names, their teachers had supposed they were the opposite gender than what they actually were – a bit of a mess, as one can easily deduce. However, while the vast majority of their respective classmates forwent the pen-pal shtick, Misha and Ryen didn't. They went on to send letters to one another long after finishing fifth grade.
As time passed, they formed an odd little bond between each other, one built on being themselves and talking about their desires, dreams, aspirations, their insecurities, and a little bit of music.
How Long Can Such a Thing Last?
The letter exchanges continued long past just the one year, but eventually, they had been sending letters for a whopping 7 years. The only way to go on speaking to a person for seven years without having seen them at all is by setting up a few rules: they can't see each other by any circumstances.
This rule encompasses social media, meeting up in real life, and even temptation by way of phone calls. Their little rule worked for the length of their writing, though. Misha is a musician and many of his songs had Ryen as the topic.
Leap of Faith
Ryen, on the other hand, would talk about the problems she had at school, how she wanted to be the most popular and beloved girl in her class, to be cheered on, and to be loved. As it turns out, Misha couldn't hold up any longer without seeing Ryen and he took a leap of faith and went to see who his muse truly was.
The True Colors Revealed
We come to learn that Ryen hadn't been quite forthright and honest about her position at school. The person that was writing to Misha seemed so genuine about the struggles and troubles that she faced each day.
However, Misha had seen that she was vastly different. Instead of being the one being ridiculed or humiliated, she would be the one that ridicules and humiliates. Of course, we do see that this aspect of Ryen comes from the fact that she doesn't know how to stand her own ground, and the only way for her to keep the friends – the term is used loosely – is by picking on others.
Lying to Yourself
One can understand how it must have felt to be so weak that you would have to treat others in order to keep what little control over things you had. Her plight, despite its apparent quality of deception, is real and Ryen is a real character. Surely the reader feels quite like Misha must have felt when we first see how Ryen is with the other students.
But, we see get to see her in her own element, an element that is based on putting up a guise for others and lying to one's self. On the other hand, Misha surely didn't have it easy to see that the person in whom he had put his trust just turn out to be a liar. Misha stops talking to Ryen for a bit after the little incident, for a couple of months in fact, and Ryen senses that things are obviously askew.
Can They Make Amends?
Eventually, they clash heads and Misha reveals that he knows she has been lying to him this whole time. Instead of just standing down like she does with her so-called friends, though, Ryen stands up for herself and Misha sees this as a noteworthy and remarkable thing.
There's More
Whether he can find it in his heart to trust Ryen again and to be close like they once were is a question that our Punk 57 book review can't answer. However, nothing will give you the answer better than yourself upon picking up the book and entering the world of Ryen and Misha. Bully, Birthday Girl, and Aflame are three other novels from Penelope Douglas that we suggest wholeheartedly.
---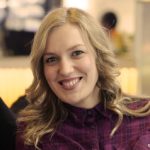 Alissa is an avid reader, blogger, and wannabe writer. (She's a much better cook than a writer actually). Alissa is married, has one human, one feline, and two canine kids. She always looks a mess and never meets a deadline.