Multiple Careers
Megan Abbott is a very successful woman who has proven herself in multiple fields. Her writing carrier which will be the subject of this writing has been crowned by multiple notable awards like the Edgar Allan Poe Awards and the Anthony Awards. She also has been a writer and producer for the movie adaptations of three of her books, she writes for major newspapers regularly, and she even worked as a co-showrunner for a TV series.
Inspirations
The author's main sources of inspiration are the noir sub-culture, the 40s-80s -approximately- crime classics, and gender sciences. She mainly takes classic tales of crime fiction and reimagines them from a woman's perspective. She not only changes the characters like some of today's authors do but she creates a new world where almost everything fits in with each other and makes sense. In my opinion, Megan Abbott is on a steady path being an iconized crime/mystery writer of our time.
---
Best Megan Abbott Books
---
Just as the Title Says
As is usual, I will be starting this list with the most popular of Megan Abbott's books. It is about a desire that every one of us regularly fell in our lives and that is the desire to be known, to be exceptional. It is also about the doubts that come with this desire and the frustration we feel when our goal is obscured or compromised. Finally, it is about what someone can be willing to give up for their goal.
All the Makings of an Olympic Athlete
The book revolves around the young gymnast Devon Knox. She is an ambitious person with the full support of her parents who want her to be the best she can be. The conflicts in the story start when a friend of Devon from the gymnastics group is met with a horrible death not even a month before a key competition. From that point on, everything starts to get blurry and Devon finds herself not able to feel sure of anything.
Confident Writing
The author does not show even a glimpse of hesitation as she fully exposes the world of her creation. She feels completely sure of her tone and her story. She also shines in filling your bones with dread flavored with low confidence, self-doubt, envy, loneliness, and much more. She is an excellent writer with all the charisma she needs and You Will Know Me definitely deserves to be on the list of best Megan Abbott novels.
---
Girl Friends, Best Friends
Dare Me, one of Megan Abbott's best selling books is a creation of the same quality as You Will Know Me. While I did not mention it above, the competition between the girl peers was a concept handled in that book. In this one, it is the main theme along with friendship and the group mentality -the social one- of our day. In fact, it is almost an examination of the friendship between girls.
The book is about two high school "queens", Addy Hanlon and Beth Cassidy who managed to take complete control of the school's cheerleading squad and are respected as well as feared by all. As the girls are going through their senior year though, things change. A new coach is assigned and she seems to exclude Beth from the group. This messy situation gets even messier when a suicide investigation is opened on the new coach.
A Challenging Feat
What I really liked about this book was how the author could get into the mind of a high school girl and present it in a way that will not paralyze us with cringe. And yes, this is a genuine compliment. She manages to portray their thought processes in a way that would make sense to an adult. Dare Me is a solid contender for the best Megan Abbott novel title
---
It's all Too Hard
Third among our best books by Megan Abbott list is Give Me Your Hand. It is another story that blurs the line between friendship and rivalry. It mainly concerns itself with the hardships of being a woman, especially giving a big space to the hardships women create for each other in their mutual friendships. Yet, she subtly but persistingly emphasizes that these things are created solely out of compassion.
Ominous Secret
The story is about Kit Owens and Diane Fleming who were high school friends. They had a lot of curiosity and love between them even though they were very different people. Yet, everything changes when Diane shares a secret with Kit. A decade and some passes to the point where the two are out of each other's lives. But by a turn of fate, they come face to face with each other to compete for a dream job.
A Detailed Examination of Emotions
What I like about this book is that it explores very interesting concepts without needing something big to happen. It widens the scope of the intense emotional surges we feel during a time of conflict with our friends, almost as though put under a microscope. It is a great read that can open up your eyes to some emotions you could not put your finger on before and it points out some unique aspects of women's intellect.
---
An Open Rejection
The End of Everything is the first of the non-noir Megan Abbott books in publication order and it is surely a strong start. We live in a society where women's -especially younger women's- sexuality and romantic needs are seen as things that should be kept secret. Well, I think what the author did with this book was to provide a completely non-filtered account of a young girl's sexuality as an open rejection of this ideal.
A Friend Left Behind
The story -in the literal sense- is about the thirteen years old Lizzie Hood and her inseparable neighbor Evie Verver. When the tragic loss of Evie happens, Lizzie is the one who people come to for the answers. Everyone, including her, thinks Evie would not keep a secret from Lizzie and she might have shared some clues with the girl. However, she had no answers. From there on, she takes it upon herself to find out what happened.
Not a Completely Easy Read
The story of The End of Everything is certainly a heartbreaking one. Not just because of the events but because you are also subject to cold hard truths you might not be ready to hear, hence the author's unfiltered tone that I mentioned. As a matter of opinion, these truths even get a little "hard to face" at times. All in all, this book is a strong contender for the best Megan Abbott book title.
---
A Little Horror
Next up in our Megan Abbott books ranked list, we have The Fever. It includes in its boundaries the mystery and contemporary fiction sections the author likes to handle but on top of these, there are also a lot of horror elements worked into the book. The way the horror elements are worked into the book is through the sexualities of high school girls who seem to be the author's favorite characters of choice when she is writing outside of the neo-noir genre.
At the center of the story is the diligent student Deenie Nash who has good and close relationships with her family, has friends she can rely on, and overall has a comfortable life. One day though, her best friend breaks out into a seizure-like fit in the middle of a class. Whatever the cause of this event seemed to be spreading like a disease as time goes on and Deenie believes herself to be the cause of everything.
Good in all Aspects
What can I say about this book? The author depicts the strong yet sometimes too close bonds of the small community in a unique and impressive way, she does a great job in presenting us with the social dealings of high school girls as usual, and she portrays the tension and the thrill of the event surprisingly well for a first-timer of horror. Definitely one of Megan Abbott's best books.
---
What You Have Been Waiting for
Queenpin is the first in the order of best rated Megan Abbott books and is definitely one of her most iconic works. Despite being only the author's third book, it wins the author Edgar Allan Poe and Barry awards that I mentioned above. It is also the first noir-influenced piece of the author that I will review in this list so, it is a great deal different from what we've talked about thus far.
We have an unnamed narrator in the book who is responsible for the accounting of a nightclub owned by Gloria Denton, the Queenpin herself who basically runs the town. Eventually, the Queenpin takes interest in her humble bookkeeper and decides to make her some sort of an apprentice. As the narrator is presented with the opportunity to possibly be the next queenpin, the only thing standing in front of her is her love.
It's a Woman's, Woman's, Woman's World
What I've always liked about the noir genre was how quickly the tables could turn in the criminal underworld. Megan does an excellent job with this as we see the narrator take on different roles throughout the story. More so, the story includes a lot of double-dealings, twists, and cross-fingered promises which are always welcome in these kinds of books. I don't even have any criticisms for the book, it's just a great, consummate story.
---
Shared Ingredients, Different Recipe
Next up on the list, we have The Turnout which is the latest book by Megan Abbott. It is another mystery and contemporary fiction book with some horror sprinkled on top and it has an awful lot of similarities with the bestseller You Will Know Me. Still, this did not really bother me during the read as the events were shown under very different lights.
Megan Abbott's new book tells the tale of two dancer sisters Dara and Marie. Thanks to their recently passed mother -sole founder of a dancing school- the girls were born into dancing and they were molded by it. They teach in the dancing school for five years before deciding to move there and horrible, chaotic events start to unfold from there on like the tapes of a ballerina shown on the cover of the book.
Dive Into the Non-Noir
You could probably notice the similarities that I mentioned above. You can probably also guess how the widely different settings of the books would set the stories apart with each being unique. Besides that, I also want to mention that this is the first non-noir of the author that isn't about adolescence friendships or experiences. It felt to me like the author no longer had to fit her ideas into adolescent brains and could explore them freely.
---
Debut Piece
Die a Little is the second noir book by Megan Abbott on our list. More importantly, it is the debut piece of the author that was published in 2005 and started off her writing career. Although it didn't achieve any official titles, it was the finalist for the Edgar Allan Poe, Barry, and Anthony awards it was a contender in. With this piece, Megan Abbott's exceptional potential as a writer was undeniably clear.
The story starts off with the protagonist Lora King's detective brother Bill marrying a mysterious Hollywood worker named Alice Steele. When Lora can not get rid of the feeling that Alice is no-good despite her perfect appearance, she decides to find out about Alice's real life as well as past by herself. She thrusts herself to the backstreets, shady alleys, and dirtiest corners of Hollywood.
Showing Her Confidence From the Start
Clearly one of the best novels by Megan Abbott, Die a Little fiercely and fearlessly gives the spotlight to the women in it. The no-good groom becomes the mysterious femme fatale bride, the caring and fearless brother is replaced by the sister, and most importantly; they are not just men with long hair but real women crafted masterfully by the author.
---
True Crime
The second last piece on our Megan Abbott books reviews article is a noir story with a more jazzy setting in a lot more desperate times. Bury Me Deep is the retelling of a true crime story from the great depression era. It shows how the worst in people; envy, self-centered desire, and selfishness in people coming out of their caves in a chaotic, rapidly changing, and mostly lawless environment.
The book reimagines Marion Seeley's life in 1931, just after her doctor husband abandons him in an unfamiliar city. She eventually finds employment at a medical clinic and makes friends with her co-worker Louise and her beautiful but sickly roommate Ginny. Marion finds herself spending her nights out with the wildest men of the town thanks to her newly made friends. When Marion puts her mind on a man she meets at a party, she unknowingly ties the fates of herself and her friends together.
Destined to Fail
I am afraid Bury Me Deep is the furthest book by Megan Abbott from being the best. Her writing is peculiar as always and the attitude she writes with is enough to kill a man with a weak heart but the only problem is that the story is not that interesting. I've praised the author for being able to create a lot from small events but as to be expected from true-crime pieces, the story puts itself in the center of the book regardless of what Megan Abbott does.
---
True Crime, Fictional Story
I decided to end this list with another one of the top rated Megan Abbott books, The Song Is You. It is another true-crime piece but it is an unsolved case unlike Bury Me Deep and gives the author a lot of freedom to create the story she wants. Another thing to mention is that it is the second published book by the author.
To Save His Name
The story starts off with the Warner Bros. publicity worker Gil Hopkins' commission to cover up the two-year-old case of a lost woman. He is a witty man who thinks fast and talks sweet yet is a little lacking in the morals department. He is eventually noticed by a friend of the lost woman and accused of trying to cover up the case for those responsible. While this isn't "exactly" the case, Hopkins now must solve the case.
"Noire" to the Core
What I will say about the book is that it is noir. It is filled to the brim with noir and then some more. Almost every sentence in the book feels like it was written by a 50s woman with curled short hair, a cigarette at the end of a holder, and a double glass of rye whiskey. For this reason alone, it is my personal best Megan Abbott book and I politely but firmly suggest that you give it a shot too.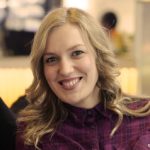 Alissa is an avid reader, blogger, and wannabe writer. (She's a much better cook than a writer actually). Alissa is married, has one human, one feline, and two canine kids. She always looks a mess and never meets a deadline.