---
Best Young Adult Romance Books
---
Immediate Traction
Young Adult fiction has not been with us for quite as long as other genres of writing have. For one, YA fiction first came to public view somewhere in the 19th century. It did not take long for the genre to gain traction and for a large number of respected authors to try their hand at YA fiction writing.
In the beginning, the public towards which the Young Adult novels were geared for was between the ages of fourteen and twenty-one. With time, the genre became very popular.
Popular Genre
As the novels in the YA genre were increasing in number, a classic emerging was bound to happen. Today, YA fiction is one of the most popular genres. Accordingly, YA has been blended with a number of other genres creating mixes. A personal favorite of ours and of many, many people is the Young Adult Romance subgenre, which is why we will be giving our picks for the best young adult romance books, now.
---
Classic
Terrific writer John Michael Green is from Indianapolis, Indiana. Green's works belong to the romance genre, with his YA romance novels being his most famous and beloved by far. One of his beautiful stories is The Fault in Our Stars and it was released in 2012.
Hazel
The main character of The Fault in Our Stars is Hazel. Hazel not too long ago found out that she has lung cancer. Since this discovery, Hazel has been pushed towards joining a support group. Hazel initially pushed back, though she eventually does give in and dips her toes with being part of a support group.
It didn't take long at all for Hazel to find out that she really does like it and that is an interesting thing getting to learn of all these people and their stories. One such person is Augustus and his story.
Deeper Feelings
As we meet Augustus, we see that he is enthusiastic, charismatic, and very humorous. Augustus, as he tells Hazel, recently won his battle with Osteosarcoma and he is much the better for having passed the milestone. As the two of them get to know each other and begin developing feelings, the reader can't help but feel that something is going to happen.
Bombshell
However, the time that they do spend in each other's company is one that elates us. They go through a lot together and so does the reader with them. And then the bombshell is dropped and everything is altered completely.
---
Bestseller
Authoress Rainbow Rowell comes from Omaha, Nebraska, US. Rowell is a well-known and notable American author of Young Adult romance novels.
The Rowell's works have garnered her a devoted fan base that just can't wait for her next bestseller. Eleanor & Park book is without a doubt one of the most famous works of Rowell's and it was published in 2013. Now, let's proceed further with our best young adult romance book review.
Eleanor Douglas and Park Sheridan
The main characters are Eleanor Douglas and Park Sheridan. They are both in the tenth grade, though they don't know each other. Eleanor, herself, is used to being bullied and made fun of. Her hair is a part of her that is very noticeable, as it is both curly and very red. Her clothes, also, don't do her any favors among her peers as they're often something that one expects a boy would wear.
At home, Eleanor's family is impoverished, without much money. The kids frequent one room and Eleanor's relationship with her stepdad isn't one to boast about. Park, on the other hand, is rarely ever noticed by his peers. He is a quiet and shy teenager, though he does feel like he is different from others. He isn't ridiculed like Eleanor is, but he senses that he is an outcast.
A Little Gesture
Eleanor and Park first meet each other as they share a seat on the bus; this little gesture opens the doors for a romance that warms the heart and soothes the mind. Eleanor and Park are so nice together, but a pervading feeling is that something bad is coming their way. There is no way to understand how great a novel it is without reading it, so get to work.
---
To All the Boys I've Loved Before Series
Jenny Hann is a very exceptional novelist who was born on September 3rd, 1980, in Richmond, Virginia, USA. Han's works are devoured as soon as they are published by her ardent fans.
One of her most adored works is Always and Forever, Lara Jean that was released about six years ago, in 2014. Worth mentioning is that Always and Forever, Lara Jean is the third novel in the romance series called Han's To All the Boys I've Ever Loved.
Lara Jean
Lara Jean, the titular character, is in her final year of high school. She has a boyfriend named Peter and the two of them hope that they can enroll in the same college, namely UVA, and remain together for their University days.
As the two of them are prepping slowly for moving out of their hometown, a bit of a bittersweet aura is present seeing as they are going to be going away and leaving a lot of people back home.
Year Apart
Unfortunately, while Peter did get his acceptance letter from UVA, Lara Jean did not. The two of them agree that they'll spend the first year at separate colleges, see each other whenever they have an opportunity, and that Lara will transfer in their second year of college.
Things between the separate members of Lara's family get sorted out, and the story is truly a happily ever after, insofar as our imagination lets it be. Absolutely brilliant high school romance here by Jenny Han.
---
Our Next Pick
Novelist Maurene Goo comes from Glendale, California, USA. Maurene is a Korean-American writer whose works belong in the YA romance genre. The best novel, in our opinion, of Maurene is I Believe in a Thing Called Love that was released in the year of 2017. It is a great novel and our next pick for the best teen romance books.
Desi
The main character of I Believe in a Thing Called Love is Desi. Being a student with straight A's and a track record that could make anyone envious isn't something that presents trouble or even an obstacle for Desi. In Desi's case, anything that she sets her mind to is also something that Desi will be proficient in rather soon.
After all, she's a Varsity soccer player, the president of the body of students, and her grades are top-notch. What could there ever be that Desi hasn't done or she hasn't accomplished yet? Well, she's trying to get into Stanford and so far it has been going in her favor. And, Desi still hasn't had a boyfriend.
Where to Start?
Now, that her mission has pretty much become getting a boyfriend, Desi doesn't know where to start. Her flirtation skills aren't all that great – among her group of friends, they often make fun of Desi's advancements, though it is all lighthearted with even Desi participating.
However, Desi is determined to get a boyfriend and it will be the most attractive person ever. How could Desi learn how to bag such a person? Why, her father's TV shows, of course. However, this only sets Desi up for failure and for a story fun, hilarious, enjoyable, and character-driven. Maurene Goo did a brilliant job with this novel and we tip our hats to her.
---
Perfect Chemistry Series
Simone Elkeles is a brilliant writer that was born on April, the Twenty-fourth, in Chicago, Illinois, U. S. Elkeles' works never disappoint and it's the same case with her terrific novel named Perfect Chemistry. In 2008, Perfect Chemistry was first able to be found in bookstores.
Alex and Brittany
The main characters are Alex and Brittany. The two of them are vastly different, though connected on a fundamental level. For one, Alex is a gangbanger for most of his waking life, despite the fact that his looks surely signify something less menacing.
Alex needed to become a part of the Latino Bloods so that his family can be safe and as of yet he hasn't broken the law. The day is coming, though, when he will be tasked to do something criminal and he needs to be prepared.
Barbie Doll?
Brittany, on the other hand, might seem like just a Barbie doll: looks are dialed up to one-hundred, while the character is non-existent. Truthfully, though, Brittany is a pleasant human being, humane, and always trying to bring out the best in people.
However, she tries not to be so forthright for fear of being mistaken as naïve by the people around her. Things at home aren't anything worth admiring. Day in and day out, Brittany is faced with the intrinsic suffering of life and so is Alex.
Braving the Obstacles
However, when they meet, they see that the innate pain of life can be overcome by coming together and braving the obstacles in front of them.
---
Anna and the French Kiss Series
Novelist Stephanie Perkins is a one of a kind talent. Stephanie was born in South Carolina, though she was raised in Arizona, United States of America.
The works of Perkins belong to the YA romance genre, so she is a prime candidate to be featured on our list of the best young adult romance books. Our choice is none other than Perkins' Anna and the French Kiss book, released in the year 2010.
Ordinary Teenager
To get to the bottom of who the main character of Anna and the French Kiss is, is a lightweight feat. What isn't as easy is to dissect a volume that is as powerful as this one is. Anna seems to be an ordinary teenager.
She has gone to her high school for three years now and is supposed to be starting her senior year when she is told that she will be attending a boarding school in Paris. This is quite the bombshell to take in, but there's nothing really that Anna can do.
Etienne St. Clair
It isn't odd to see Anna be unwilling to go to a boarding school a hair away from graduating and going to prom seeing as those are things that many people of Anna's age can relate to. However, there might just be something to look forward to in Paris, after all.
For one, it's Paris and Paris is nothing short of magnificent and majestic. For two, a peer of hers, Etienne St. Clair has caught the eye of Anna and she cannot believe how attractive and alluring he actually is. One might even say that he is prettier than Paris.
Closer and Closer
As they get to spending time, Anna finds out something that might be a debilitating factor in her mission to try and get her French kiss, but things might change out of their own volition. As the pages turn and the reader's attention only grows, we see them get closer and closer and the reader can't help but feel genuinely happy for Anna. This great novel of Perkins' is one that we cannot recommend enough, truly.
Heartwarming
Our choices for the best young adult romance books are those and we believe that the reader will find them to be quite the satisfactory reads. They warmed up our hearts and we are sure that they will warm yours, as well.
---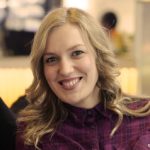 Alissa is an avid reader, blogger, and wannabe writer. (She's a much better cook than a writer actually). Alissa is married, has one human, one feline, and two canine kids. She always looks a mess and never meets a deadline.