---
Best Science Fiction Books for Kids
---
Amusing
We all know how thrilling the science fiction genre is for adults so you can imagine how amusing this type of book would be for children, they got tons more imagination than adults so these stories would be almost like movies to them, or real-life action.
If you are looking for some of the best science fiction books for kids, then you have come to the right place, stick around and find out what some of our top picks are.
---
Main Characters
We start this list off with an amazing book that has 3 main characters inside. All of these characters are children and the story follows them as they are about to hear some terrible news that will be the start of their new and dangerous adventure.
Something in Outer Space
Two of these kids are brother and sister and when they find out that there is something in outer space, eating galaxies and planets, and also that their father who is on a space mission is missing, they decide to take action themselves and head to rescue the galaxy.
This book is suitable for a young audience too and you can find it on our list of the time travel books for kids. You can also read more about one of Madeleine's works in our Time Quintet review.
---
Abduction
This great story is about a girl named Zita and she is about to witness the biggest change in her life that will make sure that nothing is ever the same for her.
The adventure that this story will be talking about begins after her best friend was abducted by an alien cult and she knows that she must do whatever it takes to rescue her friend.
Plenty of Action
This is the perfect story for younger children and belongs to science fiction books for 3rd graders as there is quite a lot of action inside and many out of the ordinary things to discover and strange worlds to visit.
---
Kip
Robert Heinlein is an amazing sci-fi author who almost never disappoints with his books. This time, he has a science fiction story that is perfect for children and you are about to find out why. The story inside is every child's dream, to win something as cool as a spacesuit which is exactly what happens in this story to Kip.
Getting Abducted
The story that follows later involves this character getting abducted by aliens. A series of breathtaking events, that we won't spoil for you, take place later and one thing leads to another which eventually leads to Kip saving the whole human race.
---
Jonas
This is a book that will introduce you to a very intriguing character, one who will make sure you have a splendid experience while reading this astonishing book. This character that we mentioned is a boy named Jonas and the whole story follows him as he lives in a dystopian world that initially seems like utopian.
No More Pain
The world that he lives in has taken away pain from the people which might seem like a good thing but you will find out why it isn't. He also thinks that this world is utopian until he is given an important assignment which will eventually reveal how bad his community has it.
---
Charlie
This book is perfect for the younger audience as the fun stories inside are complemented nicely with some amazing and simple illustrations of the events and characters that are present inside. This is the second book from the series about Charlie who visits the chocolate factory.
Thrilling Adventures
This time, his adventures take him to even more thrilling places, and together with Grandpa Joe and Willy Wonka, of course, they get to have even more fun than before. The books in this series by Roald Dahl are perfect for children as they tell stories that all of them want to hear.
---
Franny K. Stein
We have yet another amazing sci-fi story for the younger audience and this time, the main character who will be bringing most of the fun is a girl named Franny K. Stein. She is not like the rest of the kids in her class as she gives out a dark vibe.
Interesting Experiment
She likes poison ivy instead of delicate flowers and she is actually a mad scientist with a very grumpy look. This story will tell you about her most interesting experiment yet, she will try to fit in with the other kids and just after she performs the experiment, a giant monster attacks the school and it will up to her to save the day, but it won't be so easy with the changes she has made to herself.
---
Mrs. Frisby
Behold, a thrilling story in which the main characters are a bunch of mice who are about to face some hard and dangerous times. Mrs. Frisby is the mother of four small and adorable mice and she has an important task to carry out.
Intelligent Rats
She has to move her children to their summer home before it is too late. But it won't be as easy as her little son Timothy has fallen ill with pneumonia and he must rest. Luckily for her, she encounters a bunch of highly intelligent rats from the NIMH and it is up to them to create a brilliant plan to solve this whole problem.
---
Min
Yoon Ha Lee brings us another one of the best science fiction books for kids as the story here will be telling you about the 13-year-old character named Min who comes from a family of fox spirits.
Min doesn't have it easy as her mother insists that no one from their family uses their fox spirit powers because she doesn't want them drawing unwanted attention to themselves.
Min's Brother Jun
The excitement from this story arrives when you read about a character named Jun, he is Min's brother and when she hears some disturbing news about him, she will have no other choice than to go looking for him and finally unleash her incredible powers.
---
Sweet Tale
This is a very short children's sci-fi book that might even prove as the perfect book before bedtime. It talks about two characters, a robot and a boy who meet in the woods. The story that follows is simply a sweet tale about the friendship that these two characters form and share with each other.
Two Friends
You get to read how they have fun and start to care about each other. The story is nothing more than a sweet and simple tale about these two friends as this type of story will be enough to fulfill the needs of a young kid who has too much imagination to go around.
---
Gratuity Tucci
This book is simply one of the best science fiction children's books out there as these 400+ pages are about to tell you a bunch of stories, all of which involve a character called Gratuity Tucci. She is a 12-year-old girl who has just been given a task to write a five-page essay on The True Meaning of Smekday.
Crazy Adventure
You are about to read her crazy adventures in this crazy world of hers that is never short of fun and excitement. You have 400+ pages of pure excitement, strange and mysterious places, a bunch of unique and unforgettable characters, and much more.
---
Cinderella Herself
This story is basically the sci-fi, space version of the real Cinderella with a bunch of twists that makes it simply irresistible for the biggest of science fiction fans among children.
The story starts with you reading about Cinderella herself as she is about to go to a ball, nothing out of the ordinary yet as you can see. But then, you read about her robot who will be assisting her to get ready for the ball, now that's not in the original Cinderella.
Mechanical Issues
Then you read about how the prince's ride is having some mechanical troubles and the story only gets more tricky after that. It's the perfect story for young kids who enjoy a little sci-fi bonus in their fairy tale stories. For more similar books, check our article on science fiction picture books.
---
Tripods
Here is one of the science fiction books for 5th graders and up in our opinion as this one is not too simple for younger kids to enjoy. The story talks about an event that happened a long time ago as huge killing machines called the Tripods simply appeared on Earth and started terrorizing everything.
Will
The main plot takes place in the present as humanity has accepted their control over Earth, but not everyone feels this way. You get to read about Will, a young man who will not spend his life this way and unless he escapes to the White Mountains, his freedom will also come to an end.
---
Thorby
Our next choice for another one of the best science fiction for kids out there is this one, the story of a character named Thorby, an orphaned boy who was sold at auction. This story that you are about to read about this boy happens in a galaxy far away, one where slavery is a very prosperous industry and it makes a lot of people rich, and much more miserable.
Baslim
Thorby's life later becomes a lot more interesting when he is adopted by a man who appears as a disabled beggar. This man is called Baslim and he is actually an abolitionist spy who leads a very thrilling life.
---
The Tripods Series
This book is the second one from John Christopher's book series called The Tripods. It's the sequel to the book we reviewed above, The White Mountains, and the story about how the Tripods managed to invade and conquer Earth continues.
Protagonists
The three characters who take the spotlight in this story are Beanpole, Will, and Henry and they have fortunately managed to run away from the deadly Tripods and join the very small community of free people in hiding. What comes next is a very dangerous mission with unpredictable outcomes.
---
Akiko
We present to you one of the science fiction books for 4th graders as the main character in this story is a 4th grader herself. She is Akiko and the story follows her as one night, there was a strange spacecraft hovering outside her window. The next thing she knows, Akiko has been hurtled through space to a planet called Smoo where she must rescue a Prince in danger.
Testing Her Limits
Akiko is not the heroic type, however, as she has many fears and this adventure of hers is about to test her limits and either make Akiko a stronger person or mess her up even more. There are also a bunch more characters who get added to her team and the exciting story can now finally begin.
---
Book of Ember Series
The City of Ember is another amazing science fiction book for children that is about to unleash an amazing story, one that will not be enough for one book as this one is a part of Jeanne's series called Book of Ember. This is the first book and in it, you find out about the City of Ember, an ancient place that was built for the purpose of human survival.
Darkness
It had everything humans need to survive a terrible event. But now, things have gone bad as resources are running out and darkness has consumed everyone there. Two kids become the main characters as they find fragments of an ancient parchment and start to wonder if there is a way out of this wretched place.
---
Very Tall
How about this awesome sci-fi book that talks about an 11-year-old boy who is one of the tallest kids you will ever meet.
This boy is super tall and although this has its own annoying problems, it also has its benefits like the fact that he is the first 11-year-old ever who gets to ride the super-fast, super high, Cosmic Rollercoaster.
Adventure Begins
So begins his journey to compete for a chance to take this ride and go to space, you can imagine how fun this would be for the science fiction enthusiasts out there who have dreams of becoming astronauts.
---
Jonah
Found by Margaret Peterson Haddix might be able to fit in as one of the science fiction books for 6th graders and up because the main character in this book is a 13-year-old boy and he has just become a teenager.
His name is Jonah and although unfortunate, he has always known that he was adopted, it's not a very big deal to him now as it gets less painful as you grow up.
Chip
He has a friend named Chip who is also an adopted child and these two are about to experience the thrill of a lifetime as they get some mysterious letters in some kind of FBI mix-up and their lives are now involved in a mystery that will drag them along on the adventure.
---
Tory Brennan
Virals is one of the best science fiction books for kids that are more appropriate for older children as the story is not as simple as some other sci-fi ones, although not too complex as well.
Anyway, the plot follows Tory Brennan, she is the niece of the famous forensic anthropologist Temperance Brennan, if you have watched the Bones TV series you will know who that is.
Upside Down
Her and a bunch of her friends' lives change forever after they are exposed to a strand of canine parvovirus and a transformation happens to them that will leave them changed forever. You get to see for yourself what this virus does to these kids and how the story proceeds after that.
---
Wilnick
Sanity and Tallulah are the names of the two main characters in this sci-fi book and the story follows those two as they are best friends and they live in a place called Wilnick. Wilnick is actually a space station that is almost in ruins but they still call it home as they have nowhere else to go.
Brilliant Scientist
Sanity is actually a brilliant scientist and she uses her skills and knowledge to create a kitten with three heads. This kitten later becomes the main thrill of the story as it escapes from their reach and starts causing all sorts of problems around the space station.
---
Short Stories
This brilliant book is a collection of a bunch of short science fiction stories that all have one thing in common, the planet Mars. These interesting short stories are about to show kids a bunch of fiction tales about man's attempt to colonize the red planet and what the author has imagined to be present on Mars.
Entertaining
There are tons of unpredictable events to read about, a few interesting characters, and the book is simply a very entertaining read as you will find out for yourself should you decide to check out.
---
Final Volume
This book is the third and final volume of John's The Tripods series that we have reviewed in this article and this story is just as thrilling as the previous two, if not more.
You get to read about Will Parker again, he manages to escape with his life again from the Tripods as in this world of his it's all about running and knowing which battles to fight, and those are very few trust us.
Escape
So, this time he escapes the City of Gold and Lead where he used to be a slave for a while and where he has discovered where the Tripods get their power from. This is the final story of the series and you are finally going to learn how this series ends and if Will manages to save his planet.
---
Young Cleopatra
We are getting near the end of our best science fiction books for kids review as we introduce yet another fantastic sci-fi book for children. Target Practice talks about young Cleopatra, a character that is a part of this one of the science fiction children's picture books.
Strange Tablet
This one has a cool story inside and more even cooler graphics that fit in super nicely. The story follows the young Cleopatra as she finds a strange tablet that zaps her into a very far futuristic world. She starts going to school there and a lot of funny and interesting things follow in her new life now.
---
Fiction and Fantasy
This book is a cool little mixture of science fiction and fantasy content and it actually fits perfectly as this story has to offer some very cool places to read about and even cooler characters who will be taking you on their exciting adventures.
Matteo Alacran
The main character in this book is Matteo Alacran and he lives in a world where there are all sorts of things like vampires, dragons, and other fascinating creatures like those. There is a lot to find out about this Matteo character and his eternal life as he is a mysterious boy who will be making sure this read is as exciting as possible.
---
Chuck and David
The last book on our list of the best science fiction books for kids is just as thrilling as the rest and the story here talks about the fun adventures of two amazing boys, Chuck and David.
Basidium
The story follows these two boys as they travel to an alien planet known as Basidium and the way they are able to do this is with their homemade spaceship. Make sure to expect a very interesting children's story here.
---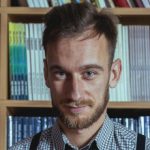 Robert is a science fiction and fantasy geek. (He is also the best looking Ereads writer!) Besides reading and writing, he enjoys sports, cosplay, and good food (don't we all?). Currently works as an accountant (would you believe that?)