Bio
Gillian Flynn, whose full name is Gillian Schieber Flynn, was born on the 24th of February, 1971, in Kansas City, Missouri. She is an American mystery author and writer, known primarily for her exuberant, dark stories of subterfuge and killing. Gillian was the younger of two children, born and raised in Kansas City. Her parents were teachers.
Flynn attended the University of Kansas, where she graduated with a Bachelor's degree in English and journalism, in 1994. Luck wasn't on her side for a bit, as she had a two-year gig at a trade magazine in Los Angeles. After that, she got her Master's degree from the Medill School of Journalism.
---
Best Gillian Flynn Books
---
Career
The desire of Flynn initially was to become a crime reporter, though she soon found that the job was a bit too much, too intrusive for her. In that job's stead, Flynn worked as a stringer for the periodical U. S. News & World Report.
Following that, Flynn became a staff writer for the magazine Entertainment Weekly. Unfortunately, in 2008 there were cuts due to austerity, and Flynn was met with a termination of her writing position. Flynn didn't fret, though, and opted to become a full-time writer of fiction.
Writing
Even before being sacked, Flynn had finished the writing of Sharp Objects and Dark Places, published in 2006 and 2009, respectively. The fiction writing of Flynn has been loved and adored by readers and critiques universally, praising the author signature way of narrating.
Her books have gone on to become adapted into TV Series and films. One of her novels, Gone Girl, widely regarded as Gillian Flynn's best book, was adapted into a movie directed by David Fincher.
---
Most Famous Work
Gone Girl is Gillian Flynn's most celebrated work, and rightfully so. It is, at its core, an ice-cold, deftly written crime thriller that readers cannot help but feel enthralled by. Rereading the brilliant novel is a must, as readers find that upon the second reading, they've missed a lot of points and hints.
Suicide is Painless
The story starts out in an innocent manner. We see Nick and Amy Dunne celebrating their fifth wedding anniversary. Amy made crepes while humming the foreshadowing, peculiar theme song from 'M*A*S*H.'. What the reader is being hinted towards is the 'suicide is painless' line that will come into play with time.
Though everything may seem fine and dandy, we have our first view into their relationship as Nick doesn't seem all that elated to see his wife. Oddly, he gets his wish after coming back from work as Amy is nowhere to be found.
Marriage Problems
We go back in time to see how it was that Nick and Amy actually met. It was at a party in Brooklyn, the arrow of Cupid doing its job dutifully. Things, unfortunate in nature, happened and they had to move to Nick's hometown. Amy was not very keen on this happening.
We even find out that other people, their family and neighbors, weren't exactly in the shadow when it came to the problems concerning their living together and marriage. Infidelity, issues with money, etc. all come up when the news breaks that Amy is gone.
Conflicting Stories
The narrative moves towards Amy and Nick, creating a proper, brooding atmosphere where the reader can become as perplexed as is allowed. We learn of Amy's and Nick's viewpoint regarding why and how their marriage went wrong. Their stories, each to their own, are conflicting, to say the least.
We see Nick pleading that he isn't the culprit in this case, while Amy's own thoughts are expressed via emotional diary. It's no secret that they lied to each other about almost everything, and the reader is tricked into thinking that they are being honest with us, now. Actually, they're lying to us just as easily as they deceived each other.
Unique Twists
The story has unique twists and turns to entertain any kind of reader. Details added intelligently, with little, very subtle hints about the truth of the matters only make the reading experience a more wonderful one. One of the best in recent memory in its genre, and, like we said, the best Gillian Flynn book, to date.
---
Literary Success
Though the immense success of Gone Girl might shroud Flynn's other works, it was, in fact, Sharp Objects that first set Flynn on the stage of bestselling novels, movie adaptations and literary fame.
With that said, Sharp Objects is in many ways a better book than the one that raised Flynn to literary success, as many Flynn fans will be eager to note.
Camille Preaker
The narrative follows the tale of Camille Preaker. Camille works as a journalist, currently in Chicago, though she'd lived in Missouri for the greater part of her life.
Camille used to cut herself as she was struggling with anxiety and depression. Even as an adolescent, Camille would make incisions in her skin – thighs, stomach, legs, calves, hands, chest – while writing certain words that, at that particular time, expressed her emotional state.
Troubled Family
Camille comes from a very troubled family. Her mother is a control freak, to say the least, she lost her sister when they were both younger and her stepsister and she don't have the best relationship. Her boss persuades her to go to her hometown for a news piece about a brutal one-off murder.
Eventually, it becomes a series of murders, and Camille along with a detective are at the forefront of the investigation. The case and all the secrets from Camille's and her family's past begin to unravel. Camille deals with coming out to a sexual partner, having someone actually see the scars and cuts she's been keeping under wraps for so long, and her emotional progression is one that inspires.
Very Dark Novel
The novel itself is a very dark one, and this shouldn't be understated. The secrets, and things from the past, the brutal murders, the way that the sisters are being manipulated, makes up for an all-around grim, sad story that hooks the reader from the first chapter.
The suspense and tension build up flawlessly and the payoff is one that satisfies immensely. It is a murder mystery that cannot help but stay in your mind for weeks after reading it.
---
Gruesome Story
Dark Places was the second book released by Flynn, having been published in 2009. Just as the title implies, the story is a very dark one, at times brutally gruesome, irrevocably engaging and a brilliant piece of thriller fiction. The protagonist of the story is Libby Day. Libby, today – pun intended –, lives a sulky, morose life, as she herself will be eager to say. She is, by all accounts, an unlikeable person.
She feeds herself by the donations of people that have wished her well following the cruel, violent murder of her family when she was seven years old. Her brother, fifteen-year-old Ben, a worshipper of the devil, was the perpetrator in this case. It was Libby's own testimony at the stand that sent Ben to prison for his crimes.
Kill Club
Now, Libby is a 31-year-old, and her funds aren't as deep as they once were. Luckily, she receives and promptly accepts an invitation from a creepy club, calling itself 'Kill Club', whose main obsession is true crime. It is their conviction that Ben was not the culprit is what causes Libby to reevaluate her own account of the events, as she starts an investigation of nearly twenty-five-year-old history.
Gems in Their Own Right
The narrative is split by time periods, making the ambient and atmosphere feel as eerie, sinister and inhumanly macabre as it sets out to. Fantastically written and absorbing, Dark Places splits – just as the narrative does – readers and fans of Flynn. To be truthful, fans can't unanimously pick one of Flynn's books as her best. They are all gems in their own right and this is no overestimation.
---
Observations
Here we have a Gillian Flynn book that you are definitely going to want to add to your TBR list! It's a short story, but I promise that it is worth your time. The story follows an unnamed female narrator, a young woman who is struggling to get by, resorting to various levels of (and mostly harmless) fraud.
One rainy morning in April, our narrator is reading auras when a woman named Susan Burke walks in. Our narrator is a keen observer of human behavior and immediately identifies the rich and beautiful Susan as an unhappy woman looking to add some drama to her life. When the narrator visits Susan's eerie mansion, she realizes that there is more than meets the eye.
House Of Terror
In Susan's home, the narrator comes across the source of her terror and grief. Our narrator may not have to pretend that ghosts are real – she may have to become a true believer. Susan's son, Miles, doesn't help matters much, as he reveals a somewhat grim and disturbing imagination. Soon, the three characters are locked in a battle, trying to discover what evil is lurking.
If you want to know whether or not they escape it, then you will just have to give this latest book from Gillian Flynn a read! If you're familiar with Flynn's work, the beginning of it is similar her other work. But once you get further, you realize that things have taken a turn, and it is very psychological. There are twists and turns you won't see coming.
Dead End
The last part of the book gets a bit nuts, and the big "reveal" makes it seem like the twists and turns go back on themselves – but do they actually? The ending is quite ambiguous, but it works with the tone of the story.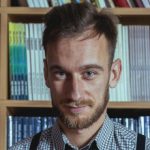 Robert is a science fiction and fantasy geek. (He is also the best looking Ereads writer!) Besides reading and writing, he enjoys sports, cosplay, and good food (don't we all?). Currently works as an accountant (would you believe that?)